UK Property - Locking in a new mortgage now could save borrowers hundreds of pounds a month
22.09.2022
The most significant rise in the base rate in more than thirty years puts headline five year fixed mortgage rates on track to surpass 5% next year.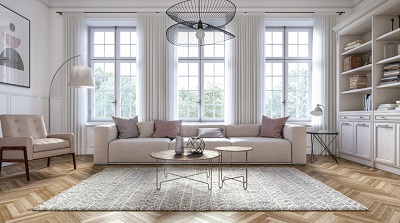 The Bank of England opted to raise the base rate to 2.25%, guaranteeing that mortgage rates have further to rise during the weeks ahead.
The 0.5% hike puts interest rates at their highest level since 2008 and there are surely more to come, according to comments from the Bank published alongside the decision.
The mortgage market has changed rapidly in a matter of months. Back in December, with the base rate at 0.25%, headline five-year fixed rates were as low as 1%. Today, headline rates sit around 3.5%.
That's still low by historic standards, but it does represent a significant uptick in outgoings for homeowners coming off fixed deals that are locking in deals now.
Those that act swiftly can still save a lot of money relative to where mortgage rates are likely to sit in six months. The base rate could peak at 4% around the summer of next year, according to forecasts from consultancy Capital Economics. Margins charged by the banks tend to fluctuate, so the path of mortgage rates is subject to significant uncertainty. However, based on pricing charged during the most recent six months, headline mortgage rates are likely to sit close to 5.35%* (see chart).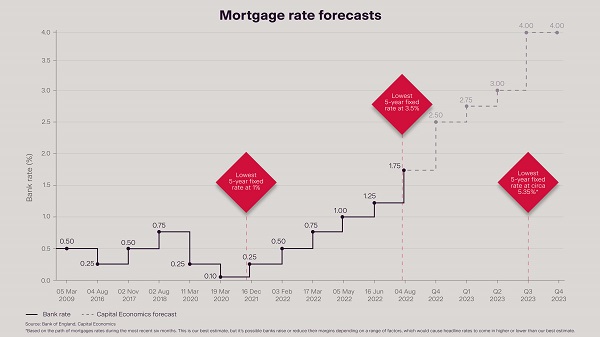 Source: Bank of England, Capital Economics
Locking in a rate today could save hundreds of pounds a month in interest payments. A £500,000 mortgage at 75% loan-to-value, fixed for five years and on a 25-year term, for example, would face a monthly payment of a little more than £2,500 pounds at 3.5%. That will rise to £3,025 should the rate more to 5.35%.
That's naturally creating a sense of urgency among borrowers, and lenders have reacted by allowing borrowers to lock in deals as many as nine months before the end of their term.
If you are looking to buy a property or remortgage this year and would like to discuss your options, speak to one of our experts. We have access to over 200 lenders, and can help find the most suitable and cost-effective mortgage for you. You can request a mortgage consultation with a member of our team here.
* Based on the path of mortgage rates during the most recent six months. This is our best estimate, but it's possible banks raise or reduce their margins depending on a range of factors, which would cause headline rates to come in higher or lower than our best estimate.
Courtesy: Knight Frank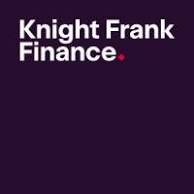 Get in touch
Call +44 (0) 20 3411 0292
Disclaimer
Mortgage Advice. The choice of interest rate and product terms will depend on your circumstances and the amount of the mortgage. Before you make a mortgage application, we will carry out a full review to establish your needs and preferences and if you meet the criteria, we will give advice and make a recommendation to you. We do charge a fee for mortgage advice. All mortgages are subject to status.
Please note that all products show an indicative rate only and may not be suitable for you. You must be 18 or over.
Your home may be repossessed if you do not keep up with mortgage payments.
Knight Frank Finance LLP is a limited liability partnership registered in England and Wales with registered number OC322399. The principal office of Knight Frank Finance LLP is situated at 55 Baker Street, London W1U 8AN. Knight Frank Finance LLP is authorised and regulated by the Financial Conduct Authority under Financial Services Register number 459093.