Property Accolades - Clean Sweep for Portfolio Property Investments (PPI) at the Redefine KZN Awards
Portfolio Property Investments (PPI) is pleased to announce that it has won the 2 most coveted awards at the recently held Redefine Broker Awards at the Durban Country Club.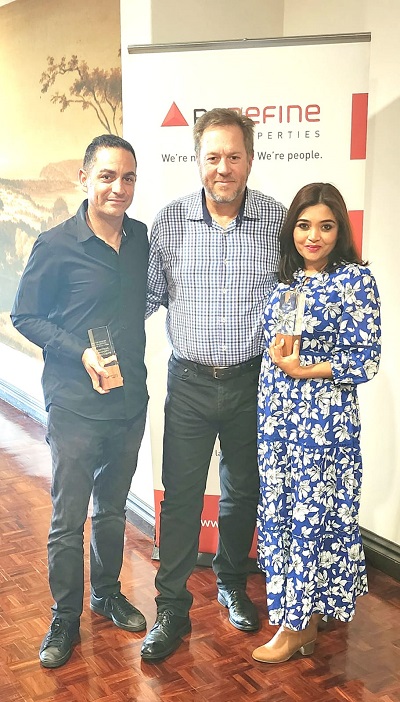 Johann Nell from Redefine Properties with PPI Principal Yianni Pavlou and top broker Fiona Khan
These awards are testament to the hard work, dedication and professionalism of the PPI team as well as the effectiveness in sourcing tenants and buyers across the Commercial, Office, Retail and Industrial property sectors in KZN.
The last year was extremely challenging for property in KZN with the impact of Covid -19, the looting in KZN and more recently the devastating floods all having a material impact on the confidence in the region as well as the supply and demand dynamics of certain property types.
Regardless, the PPI team has delivered. Redefine, one of the largest Property Real Estate Investment Trusts (REIT's) in the country and a long standing valued client of PPI hosted its annual KZN Broker awards whereby it recognised its top performing Agents and Agencies for the year.
PPI was awarded the following:
TOP BROKER HOUSE 2022 KWA-ZULU NATAL
TOP BROKER FIONA KHAN 2022 KWA-ZULU NATAL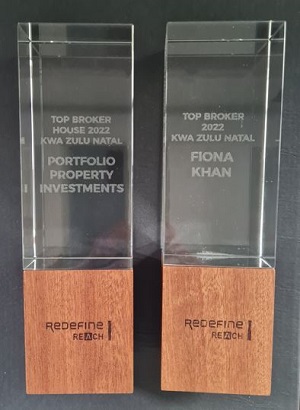 Special mention must be made of Fiona who only joined the PPI team in October last year with a focus on Office Leasing and Sales. Congratulation to you Fiona and we look forward to you winning many more awards with us.
Author: Yianni Pavlou - Founder and Principal of PPI

Contact our Team if you are looking for a Boutique type brokerage to assist you with your Sales, Leasing, Auctions and Property Management requirements across the Industrial, Commercial, Retail and Residential property sectors.
PPI – Your partners in Property!