UK Property - Prime London Lettings Index: July 2021
The lettings market in London and the Home Counties continued its journey back towards normality in July.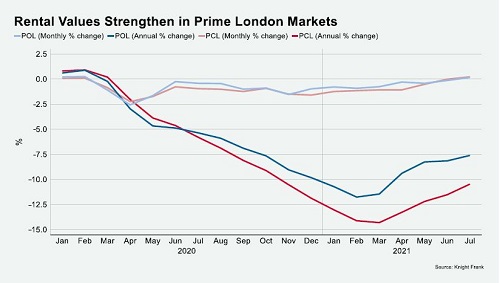 Rental values rose month-on-month for the first time since the start of the pandemic, as the steep declines experienced over the last 17 months begin to reverse.
There was an increase of 0.2% in prime central London, meaning the annual decline narrowed to -10.5%. In prime outer London, the same monthly rise meant the annual fall was 7.6%, the lowest it has been since September 2020.
As supply becomes tighter and demand continues to strengthen, upwards pressure on rental values will intensify in the second half of the year. Knight Frank forecasts that rents will end the year flat in both prime central and outer London as the bounce back from the pandemic gathers pace.
Supply spiked during the pandemic as short-let properties moved onto the long-let market, a trend that is now reversing as lockdown rules are relaxed.
On the demand side, the "race for space" and the "return to the office" are helping to drive the recovery. The former means the supply of certain types of property remains low, such as houses in areas like Chelsea and Richmond.
Meanwhile, as more workers head back to the office, activity has picked up around London's business districts. The number of enquiries from corporate relocation agents reached its highest level in July since November 2019.
Underlining the current strength of activity, the number of tenancies started in July was 48% above the five-year average.
A third and increasingly important factor in the equation is "back to school", or "back to university" in the case of the lettings market in London.
Students typically make up around a quarter of tenancies agreed in the capital by Knight Frank and as more get ready for the new academic year, demand is being driven higher.
The number of new prospective tenants reached a record high in July, which followed a record month in June.
Furthermore, a recent survey by IDP Connect found that 86% of international students applying to study in the UK said they expected to start their courses as planned this year, compared to a global average of 79%.
"The see-saw of high supply and low demand is tipping back the other way," said Tom Bill, head of UK residential research at Knight Frank. "Demand is coming from multiple sources and rental values are getting stronger as a result."
"More students are now committing to take property ahead of the next academic year," said John Humphris, head of corporate and relocation services at Knight Frank. "Demand will be more evenly spread throughout the year but we can see the shape of things to come. In some areas that will inevitably mean a squeeze on supply."
The ratio of new prospective tenants (demand) to market valuation appraisals (supply) was 6.5 in July, the highest it has been since before the pandemic in January 2020
Courtesy: Knight Frank

CONTACT DETAILS FOR FURTHER INFORMATION:
Mary Worrall - Associate, London PR Manager
T: +44 20 7861 5468
S: +44 20 7629 8171
M: +44 7968 622 535
Email: [email protected]
Website: www.knightfrank.com
Knight Frank
55 Baker Street
London
W1U 8AN
United Kingdom
Important notice
© 2021. All rights reserved. Knight Frank Research provides strategic advice, consultancy services and forecasting to a wide range of clients worldwide including developers, investors, funding organisations, corporate institutions and the public sector. All our clients recognise the need for expert independent advice customised to their specific needs. This report is published for general information only and not to be relied upon in any way. Although high standards have been used in the preparation of the information, analysis, views and projections presented in this report, no responsibility or liability whatsoever can be accepted by Knight Frank LLP for any loss or damage resultant from any use of, reliance on or reference to the contents of this document. As a general report, this material does not necessarily represent the view of Knight Frank LLP in relation to particular properties or projects. Reproduction of this report in whole or in part is not allowed without prior written approval of Knight Frank LLP to the form and content within which it appears. Knight Frank LLP is a limited liability partnership registered in England with registered number OC305934. Our registered office is 55 Baker Street, London, W1U 8AN, where you may look at a list of members' names.