UK Property - Prime London Sales Index: July 2021
After a record month for the prime London property market in June, it was no surprise that transaction volumes dipped in July as the stamp duty holiday began to wind down.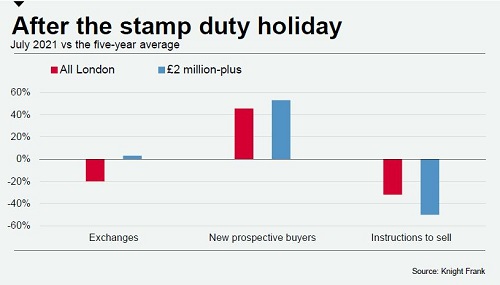 The number of sales in London was 20% below the five-year average in July (excluding 2020) but this decline was skewed towards lower price brackets.
Below £1 million, the drop was 39%, underlining the proportionately larger impact of the maximum £15,000 stamp duty saving. Above £2 million, the number of transactions was 3% higher than the five-year average in July.
However, this discrepancy shows a greater urgency to beat the June 30th deadline in lower price brackets rather than a higher propensity for deals to subsequently fall through. The number of sales in June below £1 million was three times higher than the five-year average, whereas the increase was 78% for properties valued above £2 million.
"The stamp duty deadline drove transactions across all price brackets in June," said Tom Bill, head of UK residential research at Knight Frank. "However, the deadline was less pressing for higher-value transactions because of the proportionately smaller saving, which will support activity in the prime market over the summer."
Prices in London will also be buoyed in coming months due to lower levels of supply, which is something previously more notable in property markets outside of the capital. The decline is the result of the summer break and end of the stamp duty holiday.
The number of new prospective buyers registering in London in July was 46% higher than the five-year average. Meanwhile, the number of new instructions to sell was 32% lower.
For properties valued above £2 million, the imbalance is more marked, with houses that have outdoor space in particularly short supply. New prospective buyers above £2 million were 53% higher than the five-year average in July, while instructions to sell were down by half.
We expect more balance to return after the summer and will address this subject in more detail next week.
We will also monitor the impact of relaxed travel restrictions for the EU and US, which has not yet had a discernible impact on demand.
For now, the imbalance will continue to exert upwards pressure on prices.
Annual price growth in prime central London was 0.8% in July, the highest figure since May 2016. In prime outer London, annual growth was 3.1% for the third consecutive month. Annual growth exceeded 5% in markets including Queen's Park (5.9%), Richmond (6.7%), Dulwich (6.7%), Belsize Park (5.1%) and Wandsworth (5.4%).
Price growth was broadly stronger in the higher price brackets, particularly in central London where there is a clearer divide between the flat and house markets.
Annual growth was 1.6% in PCL above £10 million, while the figure was 0.5% for properties valued between £1 million and £2 million.
Courtesy: Knight Frank

CONTACT DETAILS FOR FURTHER INFORMATION:
Mary Worrall - Associate, London PR Manager
T: +44 20 7861 5468
S: +44 20 7629 8171
M: +44 7968 622 535
Email: [email protected]
Website: www.knightfrank.com
Knight Frank
55 Baker Street
London
W1U 8AN
United Kingdom
Important notice
© 2021. All rights reserved. Knight Frank Research provides strategic advice, consultancy services and forecasting to a wide range of clients worldwide including developers, investors, funding organisations, corporate institutions and the public sector. All our clients recognise the need for expert independent advice customised to their specific needs. This report is published for general information only and not to be relied upon in any way. Although high standards have been used in the preparation of the information, analysis, views and projections presented in this report, no responsibility or liability whatsoever can be accepted by Knight Frank LLP for any loss or damage resultant from any use of, reliance on or reference to the contents of this document. As a general report, this material does not necessarily represent the view of Knight Frank LLP in relation to particular properties or projects. Reproduction of this report in whole or in part is not allowed without prior written approval of Knight Frank LLP to the form and content within which it appears. Knight Frank LLP is a limited liability partnership registered in England with registered number OC305934. Our registered office is 55 Baker Street, London, W1U 8AN, where you may look at a list of members' names.