Wealth Report - Hermés handbags tops Knight Frank Luxury Investment Index with prices up 17% in 2020
London, UK – According to Knight Frank's forthcoming edition of The Wealth Report 2021, Hermés handbags have, for the second year in a row, topped the Knight Frank Luxury Investment Index (KFLII) with prices up 17% in 2020, according to data supplied by AMR. An established online auction presence and the appetite for relatively affordable luxury pick-me-ups during the pandemic, particularly in Asia where many bag collectors are based, helped the asset class retain pole position.
Andrew Shirley, editor of The Wealth Report at Knight Frank said, "The market for luxury collectables, which relies on the auction market for much of its profile, is clearly badly affected by the Covid-19 pandemic. But some sectors like handbags are weathering the storm better than higher-value assets like the top end of the art market where no painting sold for over US$100 million for the first time in number of years."
Fine wine comes in second place in the KFLII. Following a year of consolidation, wine markets experienced strong growth in 2020, up 13% compared to a year earlier according to Wine Owners which pulls together the Fine Wine Icons Index. Unlike the global financial crisis, the wine market has held its nerve throughout the pandemic, merchants did not mark down prices and the market has been stable.
After a sluggish 2019 where the value of the HAGI Top Index – which Knight Frank uses to track the value of classic cars – fell by 7%, 2020 saw cars race back up to third place in KFLII with growth of 6%. Ferraris performed particularly strongly.
Unlike fine wine, the Knight Frank Whisky Index, compiled by Rare Whisky 101, lost some momentum in 2020, dropping by 3.5%. Against many other investments that doesn't seem too much of a decline but when compared to 2018, when the value of whisky rose by circa 40%, making it the best performing luxury asset class in the KFLII – it points to the volatility of ultra-rare-top-end whisky as an investment.
The art market also didn't fair quite so well with the auction tracking AMR All-Art Index dropping 11% in 2020. But with so many factors impacting the market, there was no single reason for the fall in average values.
"For obvious reasons one of the biggest changes was a shift towards private sales at the major auction houses last year," says Sebastian Duthy of AMR. "The volume of all sales that were publicly auctioned at Sotheby's and Christie's were down 26% and 46% on 2019, respectively. The problem was compounded by the slowing the supply of quality works as consigners who could afford to wait, preferred to sit it out at home. Having said that, there was still plenty of enthusiasm from buyers. With a new emphasis on home working, there was a surge in demand from collectors sprucing up their homes."
The coloured diamond market was also somewhat stymied by the pandemic, prices remained flat as a consequence but this year could see a bounce.
The Knight Frank Luxury Investment Index Q4 2020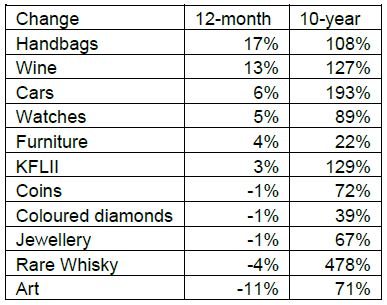 Source: Compiled by Knight Frank Research using data from Art Market Research (art, coins, furniture, handbags, jewellery and watches), Fancy Color Research Foundation (coloured diamonds), HAGI (cars), Rare Whisky 101 and Wine Owners
Notes: *All data to Q4 2020 except furniture (Q2 2020) and coloured diamonds (Q3 2020). Due to insufficient data we have removed stamps from the index. The AMR Watch Index has been updated to include collectable "sports" watches. The AMR Furniture Index now focuses on Art Nouveau to mid-20th Century furniture.
Investments of Passion (taken from The Wealth Report Attitudes Survey 2021)
Respondents who said their clients have increased their spending on tangible investments of passion, such as art and classic cars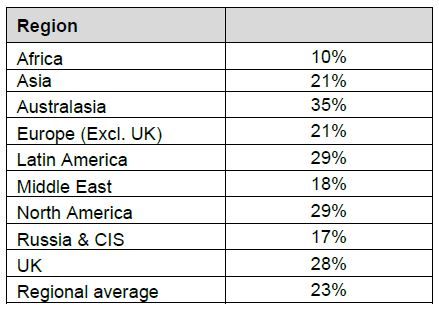 Courtesy: Knight Frank

For more information, please visit: http://www.knightfrank.com/wealthreport
For further information, please contact: [email protected]
Knight Frank LLP is the leading independent global property consultancy. Headquartered in London, Knight Frank has more than 20,000 people operating from 488 offices across 57 territories. The Group advises clients ranging from individual owners and buyers to major developers, investors and corporate tenants. For further information about the Company, please visit knightfrank.com