UK Property - Prime London Sales Report for January 2021
Prime central London sales index: 5300.3
Prime outer London sales index: 258.0
The annual price decline in prime central London was 4.3% for the third consecutive month in January, indicating a holding pattern while international travel restrictions remain in place.
While prices are broadly flat, the number of transactions in PCL was 12% higher in January than the same month last year, highlighting how the release of pent-up demand after the market re-opened last May is translating into exchanges.
The impact of international travel restrictions can be seen when comparing price changes in PCL and the wider London market, as the chart below shows.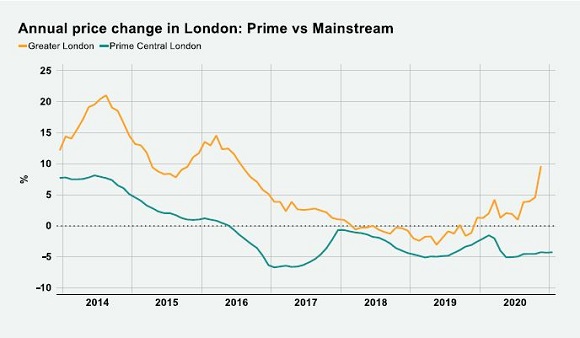 The spread between the annual price growth in Greater London (9.6%) and PCL (-4.3%) in November was 13.9 percentage points, underlining the extent to which domestic demand has sprung back in the capital, accelerated by a stamp duty holiday.
The last time annual price growth in the mainstream London market was this far ahead of prime central London was in September 2003, a time when stock markets were in recovery mode after the dotcom crash and the Gulf War was affecting investor sentiment. PCL prices were down 6.2% in the year to September 2003 compared to a rise of 8.1% in Greater London.
This relatively weaker performance in PCL comes ahead of a 2% stamp duty surcharge for overseas buyers in April and may limit any downwards pressure on prices when the hike is introduced.
"The absence of international travellers means we are in the unique situation of having a stamp duty surcharge that is largely baked into the price before it is introduced," said Tom Bill, head of UK residential research at Knight Frank. "Overseas buyers will need to take this weaker performance into account once restrictions are lifted and price negotiations restart."
Meanwhile, in prime outer London, average prices fell 2.9% in the year to January, which was the smallest decline since the first national lockdown last March. Suburban London markets have benefitted from the hunt for more space since the pandemic struck and annual growth was recorded in markets including Dulwich (2.9%) and Wandsworth (1.7%).
There is an emerging supply/demand imbalance in prime London markets that is keeping upwards pressure on prices, as we have highlighted here. The number of new prospective buyers was 14% higher than the five-year average in January. Meanwhile, the number of market appraisal valuations was 27% below the five-year average as more sellers than buyers hesitate during the third national lockdown.
An analysis of transactions over the whole of 2020 also shows the impact of stronger domestic demand. The £5 million to £10 million price bracket in PCL experienced the biggest jump in the number of sales, rising 16.1% from 2019, the largest such increase since 2013. Exchanges fell 10% across all price brackets in PCL.
Demand between £5 million and £10 million is typically skewed towards houses and UK-based owner-occupiers, who have been more active since the pandemic.
Courtesy: Knight Frank

CONTACT DETAILS FOR FURTHER INFORMATION:
Mary Worrall - London PR Manager
T: +44 20 7861 5468
S: +44 20 7629 8171
M: +44 7968 622 535
knightfrank.com
55 Baker Street
London
W1U 8AN
United Kingdom
DISCLAIMER
Knight Frank Research provides strategic advice, consultancy services and forecasting to a wide range of clients worldwide including developers, investors, funding organisations, corporate institutions and the public sector. All our clients recognise the need for expert independent advice customised to their specific needs. © Knight Frank LLP 2020. Terms of use: This report is published for general information only and not to be relied upon in any way. All information is for personal use only and should not be used in any part for commercial third party use. By continuing to access the report, it is recognised that a licence is granted only to use the reports and all content therein in this way. Although high standards have been used in the preparation of the information, analysis, views and projections presented in this report, no responsibility or liability whatsoever can be accepted by Knight Frank LLP for any loss or damage resultant from any use of, reliance on or reference to the contents of this document. As a general report, this material does not necessarily represent the view of Knight Frank LLP in relation to particular properties or projects. The content is strictly copyright and reproduction of the whole or part of it in any form is prohibited without prior written approval from Knight Frank LLP. Knight Frank LLP is a limited liability partnership registered in England with registered number OC305934. Our registered office is 55 Baker Street, London, W1U 8AN, where you may look at a list of members' names.