SA Property Development - Umgeni Deco & Lifestyle Park
Eris Property Group a leading property developer and services group in South Africa and Sub Saharan Africa, with their development partner Intersite, has designed the Prime Destination park to provide 90,000sqm of modern business space. The park is ideal for users requiring commercial, retail, showrooms & offices space.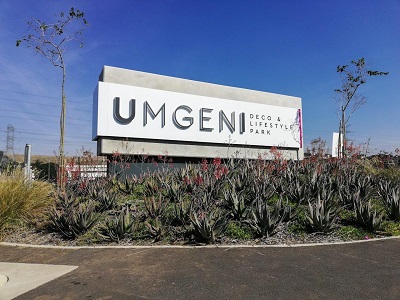 The new kid on the old block: Umgeni Deco & Lifestyle Park is ideally located within the Springfield Industrial and Retail precinct and takes advantage of the thriving node. The land is the last centrally located undeveloped piece of land in Durban and will create a vibrant extension to the precinct.
The Park is highly visible and access to the precinct is exceptional following major upgrades to the Umgeni interchange and Umgeni Road allowing ease of vehicular access to the national road network as well as to the city road network. Visitor access into Umgeni Deco & Lifestyle Park is via the efficient road network or by train via the future rail network currently being planned by the eThekwini Municipality, added to its excellent accessibility, it offers great visibility and brand exposure, too.
Phase A of the Umgeni Deco & Lifestyle Park consists of sites suitable for approximately 45,000sqm of building area. The brand new high-spec infrastructure offers a secure and comprehensive framework of services. The landscaped "green" environment is managed by a park management association to ensure continuity of the stunning environment. Umgeni Deco & Lifestyle Park seeks to create a mix of tenants that add value to the park and its occupants trading potential, therefore becoming a single destination to source décor, lifestyle and other related products or services.
Existing tenants CTM and Zebbies Lighting are soon to be joined by the Jonssons Workwear flagship store opening soon in the Park. Eris Property Group, with their build-to-suit turnkey development approach can accommodate space that is flexible enough to meet the demands of businesses today and adaptable enough to meet the challenges of the future. Umgeni Deco & Lifestyle Park provides a fresh, modern business environment. The décor-park will offer occupiers the opportunity to manufacture, run an office and offer visitors a final purchasing experience with a showroom that meets the occupiers requirements perfectly.
Umgeni Deco & Lifestyle Park is ideal for tenants looking for premises for;
Home Improvement & Appliances – DIY,
Building Supplies & Accessories,
Furniture & Accessories,
Bathroom & Accessories,
Tiles, Flooring & Blinds,
Outdoor Lifestyle & Accessories,
Kitchens & Kitchenware,
Motor Showroom & Related Services,
Offices,
Call Centres,
Mini-Warehousing,
Electronics, and,
Lighting.
For further information on the Umgeni Deco & Lifestyle Park, please click on the following link: https://www.portfolio-property.com/properties/view/id/6923
or contact Yianni Pavlou on 082 494 4555 or via email