Property Development - KZN is SA's most investable province
KZN is home to a number of key catalytic developments, one of which is the Sibaya Coastal Precinct. Its strategic placement on the North Coast of KZN has unlocked value for both property developers and homeowners. Due to the massive property value growth experienced within Sibaya, it has now become South Africa's best performing residential precinct. The success of Sibaya's placement is not only a result of its thoughtful, holistic design but also its placement within the province of KZN; which is fast becoming SA's most investable province for a host of reasons.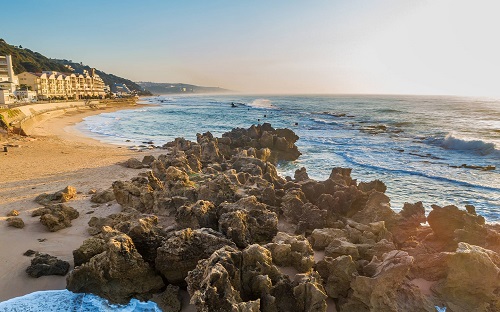 Coastal proximity
Coastal property, like that in Sibaya will continue to grow in value. Using the nearby suburb of Umhlanga as an example, sea-facing homes have seen a sharp rise in the price-per-square-metre over the last decade. Much of this value is owed to placement and positioning, but there is also one key factor that adds massive value – infrastructure. Umhlanga's value has steadily climbed over a fairly extended period, and its desirability has remained stable. Sibaya, however has set a new benchmark with 40% capital appreciation achieved in less than 5 years. Sibaya is vastly different in that it has been plotted, planned, and well designed to create value for its investors. Additionally, Sibaya's infrastructure, for the most part, has been laid and upgraded by private developers like Devmco Group, in order to ensure uninterrupted services within the precinct. Sibaya's strategic placement along the coastal side of the M4 draws on the best of KZN's North Coast and is the golden key that unlocks true value.
Sustainable ethos
Along with good infrastructure, Sibaya upholds a genuine sustainability ethos, seen through the 60% of undeveloped natural environment. With the value of natural assets, like those within Sibaya, being at the forefront of property development and urban planning, Sibaya's 350-hectare coastal forest will lend even greater value to the homes within the precinct. Having a strict 'no-development' zone, the design of Sibaya recognises the importance of these natural areas, not only to property values but also to the long-term vision of a precinct that upholds sustainability and is future-proofed.
Easy access
Running along a portion of one of Durban's major highways, the M4, makes getting to and from Sibaya quick and easy. This is one of the factors which resonate deeply with buyers from Gauteng. For many, the commute between work and home takes up a fair portion of their day, and with that valuable time for business or leisure. The ease of commute is one of the lifestyle factors which adds value to an area like Sibaya. Another facet of accessibility is where schools are placed in relation to one's home – just between Ballito and Umhlanga area host of the country's top private schools operated by top education providers, which continue to attract people from all over Durban. Sibaya itself will also include a Curro school from Grade R to Matric, and a private university and modern student residences. This creates a development model is unseen in SA; the ability to live within a new, well-planned, holistic precinct which offers sea-facing homes, is secure and well-managed with a new, modern university within. In light of this, KZN is poised to set a new benchmark by offering students the chance to attend a top-class private university which is literally in walking distance from home. Furthermore, the proximity of the university to the various residential estates within Sibaya means that it will undoubtedly attract many more families from outside of KZN's borders. Over the last 10 years, the corridor between Durban-Umhlanga-Ballito has experienced approximately R54 billion in wealth growth, which is largely owing to the influx of families into the region.
Business confidence and busy airports
King Shaka International Airport has become one of SA's busiest airports. An easy 10-minute drive from Sibaya, the airport's accessibility makes it ideal for those who commute in and out of the province for business purposes – you could touch down after a 55 minute flight from Joburg, walk off the plane, get in your car and be home within 20 minutes. Many families are choosing to semigrate to KZN for a host of reasons – from top schools and pleasant weather to less congestion and traffic, and also the chance to live a slower pace of life. Families from other provinces like Gauteng, have bought up property in Sibaya for primary residential use knowing that the proximity of the airport enables business travel to continue seamlessly.
Business confidence is not only an indicator of a growing regional economy, but also an indicator of where to invest. KZN is undergoing a huge transformation and is becoming the destination for business. Durban's new CBD has established itself in Umhlanga Ridge, with the likes of Investec and Nedbank having set up there. Further north, the Dube Tradeport forms part of the growing Aerotropolis, which will link business, manufacturing, freight, and cargo together in one strategically planned region.
The volume of greenfield development taking place in KZN indicates the growth and desirability of the region. By way of its design, Sibaya has set a new regional and national benchmark for what a city of the future looks like. The Sibaya Coastal Precinct is one of the factors which makes KZN South Africa's most investable province.
Courtesy: DEVMCO