Umhlanga Arch - To welcome world's first completely smart hotel
"As an international brand, Hilton is known as a reliable and desired holiday accommodation option for international and local travellers. Having partnered with us, we have been able to collaborate in bringing global smart technology to our shores and create a dynamic, safe and effortless experience. We can't wait for the doors of the Hilton Garden Inn to open. We are very proud that this will be the first completely smart hotel in the world to be launched," explains Charles Thompson, Director of Devmco, the developers behind the Hilton Garden Inn at Umhlanga Arch.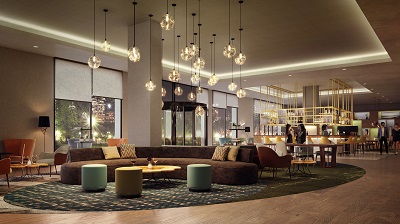 Notably as the flagship Hilton Garden Inn in South Africa, the hotel will span across 10 000m² and will provide 207 affordable, luxury suites as well as its own business and fitness centre and outdoor pool. In order to gain entry into the hotel and to your room, everything will be card-less and geared towards smart tech that either operates from the visitor's mobile phone app or their room key. The Hilton mobile app has been designed to allow the person to control the appliances remotely, like the lights, TV and the aircon. The hotel will be using UV cleaning systems for sheets and other regularly used material items, which ensures that sheets and gowns are practically brand new as it sanitises and removes all stains.
"Security is a big thing whenever travelling and these features really allow guests to feel safe without feeling inundated. Aside from boom gates into the underground parking, technology will play a vital role in making the experience seamless; from cameras strategically located across the hotel, to smart lifts which, when you present your mobile screen face or key to the sensor, the lift will take you directly to your floor so there is no travelling between floors," shares Thompson.
Despite the slowdown of the tourism and business travel sectors this year, KwaZulu-Natal is set to see major increases, especially with South Africa's first smart city earmarked for Durban's Aerotropolis; merely a 10-minute drive from Umhlanga Arch. According to the United Nations World Tourism Organization, post Covid-19 restrictions, the demand for domestic travel and tourism will recover quickly, as soon as the fourth quarter of 2020, while South Africa's international tourism industry is only anticipating to kickstart operations in 2021. As it stands, business traffic through King Shaka International has increased by 37% year-on-year, and the international airport is expected to hit the 1 million mark in passenger arrivals in the next 5 years.
Thompson ends, "Hilton Garden Inns across the world identifies the world's most vibrant destinations to set up, and it's no surprise that Umhlanga Arch was a winner for this hotel group. Located in the heart of Umhlanga, one of South Africa's most sought-after property destinations, Umhlanga Arch offers an iconic destination for travellers to visit."
Compiled on behalf of Devmco Group
By Rainmaker Marketing

Contact: Taryn Fleming
Tel: 073 451 4075
Email: [email protected]