International Research - Global House Price Index Q2 2020
Key findings include:
4.7% - the average annual change in prices across 56 countries and territories
Turkey leads the annual rankings in the year to Q2 2020
Eight European countries are in the top ten annual rankings
New Zealand is Asia-Pacific's top performing country in terms of annual price growth
9% of countries and territories have registered annual price declines in Q2 2020
The data in this report is backwardlooking covering the year up to 30 June 2020 when the Covid-19 pandemic had hit most global markets.
It is not unusual for official house price indices to be published with a two or three-month time lag but this quarter 29 of the 56 countries and territories we track (those in italics in the main table) have yet to report their figures for Q2 2020, no doubt as a direct result of Covid-19 and operational challenges. Yet, despite this the data still offers a glimpse into the impact of Covid-19 with the number of countries and territories seeing a decline in prices on the rise again (figure 1).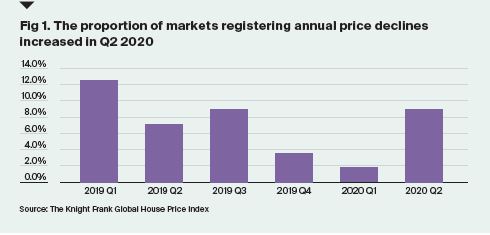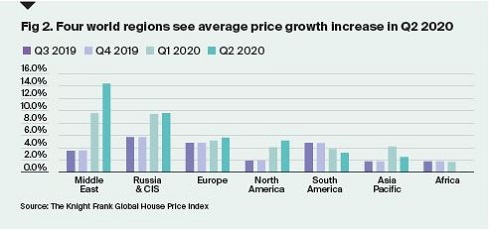 Turkey leads the annual rankings with prices up 25% year-on-year but it's worth noting inflation currently sits at around 12%. European countries occupy eight of the top 10 rankings this quarter with Baltic and Central and Eastern European nations well represented.
New Zealand, Germany and South Korea, three countries that were initially thought to have dealt with the pandemic most effectively registered mixed results. Germany has yet to report Q2 figures, New Zealand slumped from second to 11th place in the rankings between March and June – although it still recorded 9% annual price growth – and South Korea, where price growth was anaemic at 0.1% in Q1 has seen annual price growth pick up to 1.3%.
These trends suggest the impact of the pandemic on global housing markets is likely to be inconsistent and irregular. Much will depend on the state of the housing market prior to the pandemic, the length and severity of the lockdown and each country or territory's reliance on international demand which has dried up in recent months due to travel restrictions.
What we'll be watching in Q3 2020:
Any sign of a correlation between the length and stringency of lockdowns and price performance
If reporting rates by national statistics offices improve as national lockdowns reduce in number or if indices are halted due to a lack of transactions
If markets reliant on tourism and with a high proportion of second homes register weaker price growth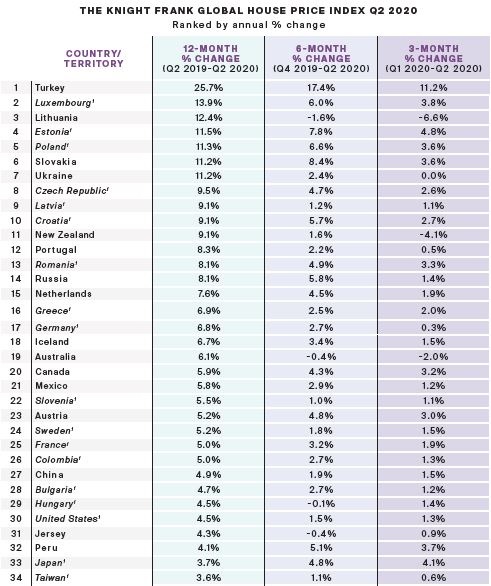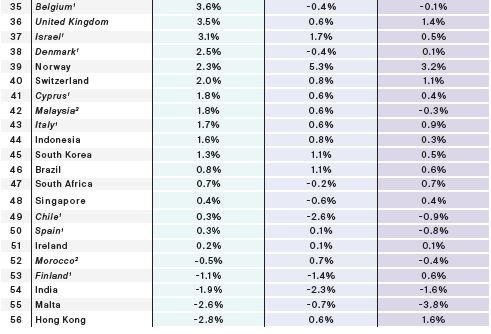 Source: Knight Frank Research
* Provisional **Asking prices *** Island-wide price index for non-landed properties
Data for Belgium, Bulgaria, Chile, Colombia, Croatia, Cyprus, Czech Republic, Denmark, Estonia, Finland, France, Germany, Greece, Hungary, Israel, Italy, Japan, Latvia, Luxembourg, Poland, Romania, Slovenia, Spain, Sweden, Taiwan, United Kingdom and United States is to Q1 2020; 2 data for Malaysia and Morocco is to Q4 2019.
Courtesy : Knight Frank

For further information or to speak to the Knight Frank research team, please get in touch.
Sales enquiries
Mark Harvey
+44 20 7861 5034
Research enquiries
Kate Everett-Allen
+44 20 7167 2497
DISCLAIMER
Knight Frank Research provides strategic advice, consultancy services and forecasting to a wide range of clients worldwide including developers, investors, funding organisations, corporate institutions and the public sector. All our clients recognise the need for expert independent advice customised to their specific needs. © Knight Frank LLP 2020. Terms of use: This report is published for general information only and not to be relied upon in any way. All information is for personal use only and should not be used in any part for commercial third party use. By continuing to access the report, it is recognised that a licence is granted only to use the reports and all content therein in this way. Although high standards have been used in the preparation of the information, analysis, views and projections presented in this report, no responsibility or liability whatsoever can be accepted by Knight Frank LLP for any loss or damage resultant from any use of, reliance on or reference to the contents of this document. As a general report, this material does not necessarily represent the view of Knight Frank LLP in relation to particular properties or projects. The content is strictly copyright and reproduction of the whole or part of it in any form is prohibited without prior written approval from Knight Frank LLP. Knight Frank LLP is a limited liability partnership registered in England with registered numberOC305934. Our registered office is 55 Baker Street, London, W1U 8AN, where you may look at a list of members' names.