Property Growth - Prime Global Cities Index Q2 2020
This is the first opportunity we have had to take the pulse of prime residential markets globally since the Covid-19 pandemic hit large parts of Europe and the Americas. At the time of our last update (Q1 2020) Asia and parts of the Middle East were already reeling from its effects and this was evident in the index results – the five cities registering the weakest growth in Q1 were all in Asia.
Fast forward three months and the story, as well as the pandemic, has moved on. The index, an unweighted average of the change in prime prices across 45 cities, has reached its lowest rate of annual growth since Q4 2009 when the world was in the grip of the global financial crisis. Prices increased by 0.9% on average in the year to June 2020, down from 2.3% in March.
While our focus is usually on price performance over a 12-month period, to gauge the impact of the pandemic a look at data over the three months to June is most pertinent. Of the 20 cities that saw prime prices decline in the second quarter, nine were in Europe, seven in Asia, two in Australasia, one in the Middle East and one in Africa.
Analysis by world region shows prime prices in Australasia and North America were the most resilient in Q2 2020. In cities such as Sydney, Vancouver and Los Angeles higher value properties, often large detached homes, are in demand, which is supporting prime residential values in these regions.
In contrast, Europe and Asia saw average prime prices weaken significantly in Q2 2020, falling from 2.8% to 0.7% and from 2.5% to 1.1% respectively.
However, it is unlikely we will see a large volume of distressed prime sales as in 2008. Lending criteria is tighter, new supply is constrained in several cities, interest rates are low (negative in some markets), plus furloughing schemes and mortgage holidays are cushioning incomes and repayments.
Manila, Tokyo and Seoul are Asia's top performers year-on-year, with Stockholm, Geneva and Paris leading Europe's rankings. Nonetheless, five of these six cities registered flat or falling prime prices in the three months to June. We expect the index to display muted growth in the second half of 2020 before recovering in 2021.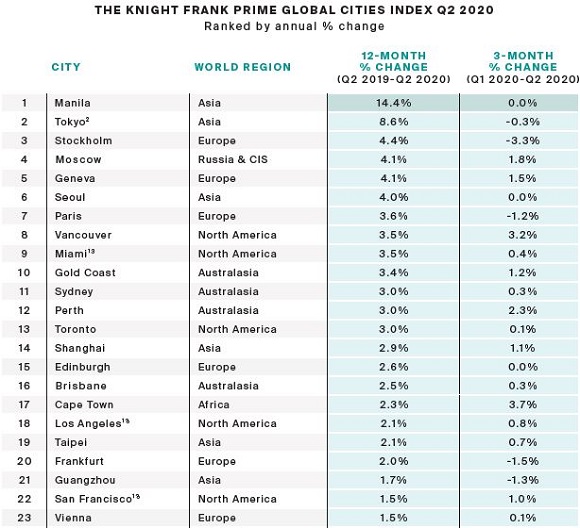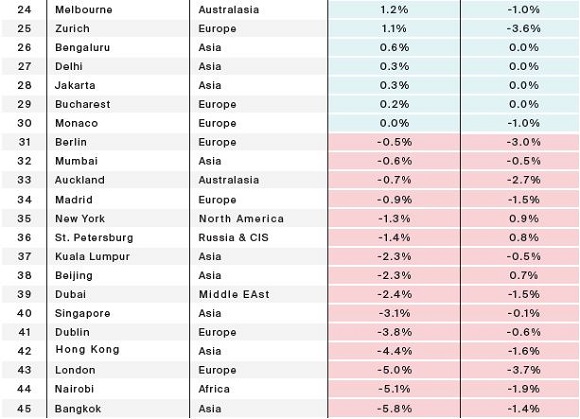 Notes: Data for New York relates to Manhattan; Data for Los Angeles, Miami, and San Francisco is to April 2020. Data for New York is to May 2020. Data for Cape Town is to Q1 2020. Data for Auckland is to December 2019.
¹ Based on top-tier of mainstream market in metro area. ² Based on all contracts above Yen100m 3 Provisional
Source: All data comes from Knight Frank's global network with the exception of Tokyo (Ken Corporation); New York (StreetEasy); Los Angeles, Miami and San Francisco (S&P CoreLogic Case-Shiller); Berlin and Frankfurt (ZIEGERT Research/ ImmobilienScout 24); Stockholm (Svensk Maklarstatistik); Toronto (Real Estate Board of Toronto); Vancouver (Vancouver Real Estate Board); Zurich and Geneva (Wüest Partner); and Dubai (REIDIN)
Courtesy: Knight Frank

Sales enquiries
Paddy Dring
+44 20 7861 5271
Research enquiries
Kate Everett-Allen
+44 20 7167 2497
DISCLAIMER
Knight Frank Research provides strategic advice, consultancy services and forecasting to a wide range of clients worldwide including developers, investors, funding organisations, corporate institutions and the public sector. All our clients recognise the need for expert independent advice customised to their specific needs. © Knight Frank LLP 2020. Terms of use: This report is published for general information only and not to be relied upon in any way. All information is for personal use only and should not be used in any part for commercial third party use. By continuing to access the report, it is recognised that a licence is granted only to use the reports and all content therein in this way. Although high standards have been used in the preparation of the information, analysis, views and projections presented in this report, no responsibility or liability whatsoever can be accepted by Knight Frank LLP for any loss or damage resultant from any use of, reliance on or reference to the contents of this document. As a general report, this material does not necessarily represent the view of Knight Frank LLP in relation to particular properties or projects. The content is strictly copyright and reproduction of the whole or part of it in any form is prohibited without prior written approval from Knight Frank LLP. Knight Frank LLP is a limited liability partnership registered in England with registered number OC305934. Our registered office is 55 Baker Street, London, W1U 8AN, where you may look at a list of members' names.