Global Property - Super-prime residential market
London, UK – Research released today by Knight Frank confirms that despite Covid-19 inspired lockdowns around the world, 153 residential real estate transactions above US$10m have taken place globally since March 2020, with a total value of US$3.2bn.
However, despite the positivity that the global super-prime market didn't buckle during lockdown, transaction levels to the end of H1 2020 are far below the levels seen in H1 2019 with 281 super-prime (US$10m+) transactions taking place January to June 2020 compared to 594 over the same period 2019.
The research looks at how 12 key super-prime markets around the world performed in H1 2020 compared to H1 2019 and delves into the number of transactions completed since March 2020 when Covid-19 was officially labelled a pandemic, lockdowns were enforced around the world and international travel ceased.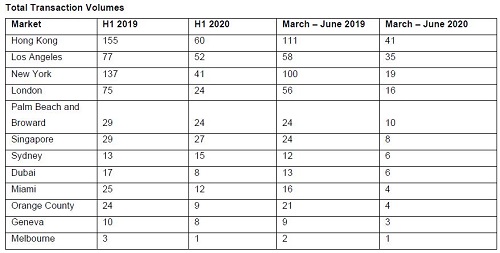 Flora Harley, global residential research at Knight Frank said, "Whilst the number of transactions were down in 11 of the 12 markets analysed, two markets saw sales volumes increase and over half saw the average value of transactions increase.
"Sydney was the standout market with 15 super-prime sales in the first half of 2020 compared to 13 in the first half of 2019, however looking at the period between March and June period there were only six compared to 12 in the same period last year."
Overall, four markets were within seven of their March to June 2019 levels of transactions, Melbourne only one below, Sydney and Geneva both six below and Dubai seven below, with a total of six sales
Total Sales Volumes
Despite the falling number of transactions, average sales values were generally higher. Overall, the global average transaction value increased by 15% for the March to June period, at US$20.7m compared to US$18m for the same period in 2019.
London saw the largest increase and takes the top spot with an average transaction value of US$38m, compared to US$16.9m in 2019 – the average in Geneva also jumped, whilst Hong Kong which usually sits in first place, has fallen to third position.
Paddy Dring, head of global prime sales at Knight Frank said: "The impact of Covid-19 has been felt across all our international markets with most coming to all but a complete standstill for a number of months as various lockdown measures were put in place globally. Despite this, there has been some very positive activity in the super-prime market with significant sales forging ahead. Hong Kong, New York, Los Angeles and London all witnessed a healthy number of sales despite the conditions. London has a particularly interesting story to tell, although transaction volumes were down considerably at the US$10m+ level between March and June 2020 compared to 2019 – it has seen the largest increase in average transaction values – up by US$22m compared to average value levels seen the previous year."

However, Hong Kong ranks highest for the number of transactions and the total value of those sales, with 60 having taken place in 2020 so far worth a combined US$1.2bn. There have been 41 since March and, whilst this is less than half of the 155 in the first half of 2019, it is only marginally down from the 74 in the second half of 2019 when the city grappled with social unrest.
New York has the third highest number of super-prime sales this year with 41, behind 52 in Los Angeles, and almost half of these, 19, having taken place since March. With the city being particularly hard hit by Covid-19, accounting for approximately one in six of all US cases in April, this demonstrates resilience and that the fundamentals remain.
Ultra-Prime Market (US$25m)
The research also takes a look at the ultra-prime market (above US$25m) in these 12 areas. It highlights that eight of these markets saw one or more transactions in the ultra-prime market over the March to June 2020 period - two saw more sales than the same period last year and two held steady – a total of US$1.3bn was transacted.

Sydney and Palm Beach went from no sales or one sale above US$25m in March to June 2019 to one and two respectively, London saw six in each period and Geneva saw two.
Hong Kong has once again seen the highest number of ultra-prime sales in this time period with eight and a total of 10 so far in 2020, down from 30 in the first half of 2019. However, in terms of total volume of sales, London leads the way with US$434m in sales followed by Hong Kong's US$372m.
The momentum in this segment could continue as ultra-high-net-worth individuals look for more spacious options post-lockdown. This is already evident in, for example, LA where half of this year's ultra-prime sales have taken place since the beginning of April.
*Data correct as at 22 June and corresponds to publicly available sales and therefore may not capture all sales in the market. Exchange rates as at 22 June 2020.
Courtesy: Knight Frank

For further information, please contact: [email protected]
Knight Frank LLP is the leading independent global property consultancy. Headquartered in London, Knight Frank has more than 19,000 people operating from 512 offices across 60 territories. The Group advises clients ranging from individual owners and buyers to major developers, investors and corporate tenants. For further information about the Company, please visit knightfrank.com.
DISCLAIMER
Knight Frank Research provides strategic advice, consultancy services and forecasting to a wide range of clients worldwide including developers, investors, funding organisations, corporate institutions and the public sector. All our clients recognise the need for expert independent advice customised to their specific needs. © Knight Frank LLP 2020. Terms of use: This report is published for general information only and not to be relied upon in any way. All information is for personal use only and should not be used in any part for commercial third party use. By continuing to access the report, it is recognised that a licence is granted only to use the reports and all content therein in this way. Although high standards have been used in the preparation of the information, analysis, views and projections presented in this report, no responsibility or liability whatsoever can be accepted by Knight Frank LLP for any loss or damage resultant from any use of, reliance on or reference to the contents of this document. As a general report, this material does not necessarily represent the view of Knight Frank LLP in relation to particular properties or projects. The content is strictly copyright and reproduction of the whole or part of it in any form is prohibited without prior written approval from Knight Frank LLP. Knight Frank LLP is a limited liability partnership registered in England with registered number OC305934. Our registered office is 55 Baker Street, London, W1U 8AN, where you may look at a list of members' names.