UK Property - Residential Market Outlook: No ordinary summer
Activity in UK property markets shows no sign of fading over the next several months, says Tom Bill
This will be no ordinary summer.
Not just because overseas holidays and the Olympic Games have been postponed until 2021. There will also be an unusual pattern of activity in UK property markets for buyers and sellers to navigate.
First, a recap.
The election of a majority government at the end of last year was the starting pistol the property market had been waiting to hear and 2020 started with a bang.
Things came to a juddering halt at the end of March and, like many other sectors of the economy, the property market went into a state of suspended animation.
After the re-opening in mid-May came a surge in activity that caught most people by surprise. We analysed last week the records broken in June.
Records broken in first full month since lockdown lifted
Supply and demand have surged since lockdown restrictions were eased, the uncertainty is how long it can last
The number of offers accepted by sellers hit a record level in June, in a further sign that traction has returned to UK property markets since the lockdown was lifted
The figure was 46% higher than the second highest month on record, which was March this year, underlining how the property market has picked up where it left off before the Coronavirus pandemic struck. Knight Frank records go back 20 years.
"A large number of buyers registered their interest after an eight-week lockdown but what's happening is bigger than that," said Tom Bill, head of UK residential research at Knight Frank. "Sellers are coming back in meaningful numbers and deals are being agreed at record rates. You can question how long it will last but right now the market is as robust as it has been in years."
The property market has recovered quickly since it was re-opened on 13 May, despite the fact social distancing rules remain in place.
However, there are doubts around the longer-term economic performance of the UK as well as the impact of any second wave of Covid-19. The announcement of a stamp duty holiday last week is designed to boost the housing market and wider economy in the face of such uncertainty.
As well as a record number of offers accepted, June was also the second highest month on record for new instructions to sell, underlining how the recovery is not purely demand-led. It was the tenth highest month for new prospective buyers. This was one place below January 2020, which benefitted from a bounce in demand following the election of a majority government in December.
It was the 16th highest month recorded for viewings and the top-performing month this year, despite the rules around social distancing and personal protective equipment.
Outside London, June 2020 was:
The highest month on record for offers accepted
The second highest month on record for viewings
The third highest month on record for new instructions to sell
In London, June 2020 was:
The second highest month on record for new prospective buyers
The fourth highest month for offers accepted
The seventh highest month for new instructions to sell
The regional breakdown underlines that current levels of activity are particularly strong in UK regional markets as buyers seek more outdoor space following the lockdown. However, strong buyer registration figures in London suggest that deal activity in the capital will get stronger.
The result, as the charts below show, is that there is unlikely to be any seasonal lull in July and August this year. The stamp duty holiday announced last week makes this even less likely.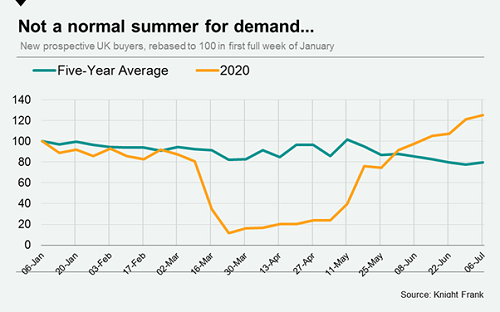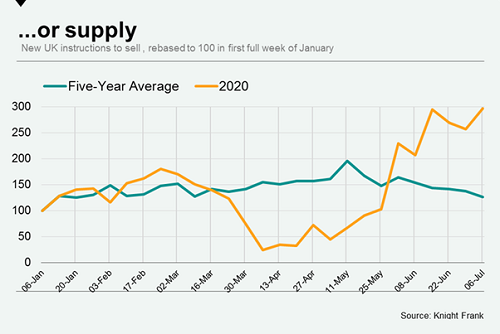 New supply in the first week of July was three times higher than the first week of the year. That compares to an average increase of 26% over the last five years. Meanwhile, demand was 25% higher than the first week compared to a five-year average decline of 20%.
If you're a buyer, it will clearly pay to do your homework. Indeed, many agents are reporting that first viewings have become the equivalent of second viewings with the more widespread use of video technology.
If you're a seller, the traditional wait until September before listing your property may not be the most fruitful option this year. The perfect buyer is less likely to be on an overseas beach.
As well as the release of pent-up activity, a number of buyers and sellers are also acting now because they are unsure what the final few months of the year will bring.
For some, uncertainty around the impact of a second wave of Coronavirus and the potential economic fallout as the government unwinds its financial support measures is causing them to act sooner rather than later.
Either way, the third quarter of this year will undoubtedly look very different from the second quarter. In time, we will know whether this remains true into the fourth quarter.
Courtesy: Knight Frank

CONTACT FOR FURTHER INFORMATION
Mary Worrall - London PR Manager Knight Frank
55 Baker Street, London, W1U 8AN, United Kingdom
T: +44 20 7861 5468
S: +44 20 7629 8171
M: +44 7968 622 535
knightfrank.com
DISCLAIMER
Knight Frank Research provides strategic advice, consultancy services and forecasting to a wide range of clients worldwide including developers, investors, funding organisations, corporate institutions and the public sector. All our clients recognise the need for expert independent advice customised to their specific needs. © Knight Frank LLP 2020. Terms of use: This report is published for general information only and not to be relied upon in any way. All information is for personal use only and should not be used in any part for commercial third party use. By continuing to access the report, it is recognised that a licence is granted only to use the reports and all content therein in this way. Although high standards have been used in the preparation of the information, analysis, views and projections presented in this report, no responsibility or liability whatsoever can be accepted by Knight Frank LLP for any loss or damage resultant from any use of, reliance on or reference to the contents of this
document. As a general report, this material does not necessarily represent the view of Knight Frank LLP in relation to particular properties or projects. The content is strictly copyright and reproduction of the whole or part of it in any form is prohibited without prior written approval from Knight Frank LLP. Knight Frank LLP is a limited liability partnership registered in England with registered number OC305934. Our registered office is 55 Baker Street, London, W1U 8AN, where you may look at a list of members' names.