UK Property - Prime London Lettings Index
This report analyses the property of single-unit rental properties in the existing home market in London between £250 and £5,000+ per week.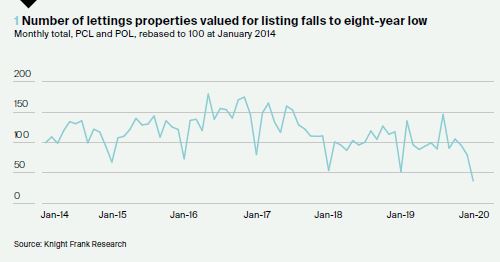 Figure 1 — The number of properties in London valued by Knight Frank for prospective listing on the lettings market reached its lowest monthly total in more than eight years in December. Demand in the sales market has picked up following the general election and the figure suggests more owners may attempt to sell, putting further upwards pressure on rental values.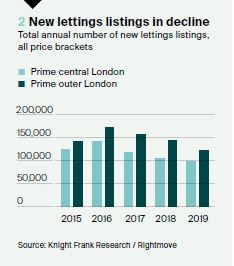 Figure 2 — The number of new lettings listings in prime central London declined 7.7% in PCL in 2019 compared to 2018, while the decrease was 14.4% in POL. Supply levels have declined in response to tax changes, which may be accelerated by rising activity in the sales market.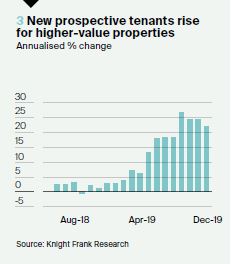 Figure 3 — The number of new prospective tenants for properties valued between £1,000 and £4,000 per week increased 22% in 2019. Demand in this section of the market typically comes from senior executives and the uptick suggests growing confidence among businesses despite lingering Brexitrelated uncertainty.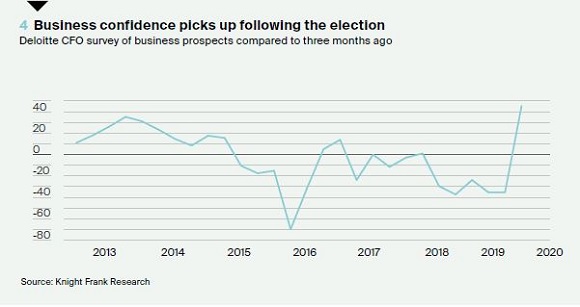 Figure 4 — Some 45% of chief financial officers said the financial prospects for their company had improved compared to three months ago, according to a survey by accountant Deloitte. This was the highest proportion in more than a decade and echoes the renewed sense of optimism that is driving activity levels, if not prices, in London's prime residential markets. The Purchasing Managers Index showed business activity at a 16-month high, in a further boost for the UK economy.
Courtesy: Knight Frank

Knight Frank Research provides strategic advice, consultancy services and forecasting to a wide range of clients worldwide including developers, investors, funding organisations, corporate institutions and the public sector. All our clients recognise the need for expert independent advice customised to their specific needs. Important Notice: © Knight Frank LLP 2020 This report is published for general information only and not to be relied upon in any way. Although high standards have been used in the preparation of the information, analysis, views and projections presented in this report, no responsibility or liability whatsoever can be accepted by Knight Frank LLP for any loss or damage resultant from any use of, reliance on or reference to the contents of this document. As a general report, this material does not necessarily represent the view of Knight Frank LLP in relation to particular properties or projects. Reproduction of this report in whole or in part is not allowed without prior written approval of Knight Frank LLP to the form and content within which it appears. Knight Frank LLP is a limited liability partnership registered in England with registered number OC305934. Our registered office is 55 Baker Street, London, W1U 8AN, where you may look at a list of members' names.
CONTACT FOR FURTHER INFORMATION:
Tom Bill - Head of London Residential Research
+44 20 7861 1492
Garry Hall - Partner, Head of Lettings
+44 20 7480 4474