International Research - Knight Frank launches its Prime Ski Property Report 2019
The prime Ski Property Report provides an overview of prime market conditions across Knight Frank's key ski destinations.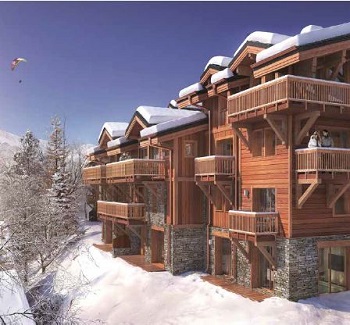 Key takeaways include:
Val d'Isere leads the Prime Ski Property Index with annual price growth of 2.9% in the year to June 2019
The impact of the EU referendum decision was largely priced in to the Alpine resorts back in 2016
Due to negative interest rates, an increasing number of Swiss residents are looking at a ski home as a means of preserving wealth
In 2008, around 50% of our clients made their property available to rent, now it is close to 100%
Beyond the Alps, Aspen Snowmass, Whistler and Niseko are investing heavily in new resort villages, ski and non-ski infrastructure
Our spotlight on the French & Swiss Alps and Aspen shows:
Price per square metre comparisons across major resorts
Key market drivers for each area – why are people buying
We nominate the best resorts for – family time, après ski, adrenalin junkies and non-skiers
Five trends to monitor:
Alpine Fitness: The fitness and wellness industry has taken off in the last decade and the mountains have become a perfect place for this
Family Time: Buyers cite this as a key motive behind purchasing a ski home
Non-skier Appeal: Around 35% of visitors to The Three Valleys are now non-skiers
Tech Up: Technological advances are helping reduce the hassle of monitoring and maintaining a second home
Maxing Out: Some resorts are joining forces to offer access to multiple resorts or domains
OVERVIEW
Healthy rental demand, low mortgage rates and strong resort-led investment is supporting demand.
Visits to the French and Swiss Alps in the 2018/19 ski season increased by 5.3% and 10.6% respectively year-on-year, according to The International Report on Snow and Mountain Tourism. This growth was reflected in the property market through strong rental demand, steady sales rates and strengthening prices in most resorts.
As a lifestyle asset, the purchase of a ski home is often an emotive decision but investment rationale is becoming more compelling. Few purchase a ski home expecting double-digit capital growth each year but a look at the performance of ski homes over the last decade reveals average price growth of 19% over the period, outperforming a number of tier one cities.
Most Alpine purchasers have a defined tick list which includes; easy accessibility, low mortgage rates, hassle-free rental, stable or rising prices, market liquidity to facilitate their future exit strategy and ideally a currency advantage.
With this last point in mind, perhaps now more than ever, British buyers need to keep one eye on currency shifts. Capital Economics forecasts that with a general election now confirmed we may see Sterling jump to 1.30 or even 1.35. For a €1 million chalet this could result in savings of £93,000 or £121,000 respectively compared to current rates.
To stay relevant in a world of changing consumer habits, ski resorts are reinventing themselves and in a number of cases successfully so. Several resorts are emerging as hubs for luxury brands in their own right, whether through their hotel, retail or spa offer, and this is attracting a new type of tourist, one that rarely if ever ventures onto the slopes. Resorts are evolving and most Alpine resorts are embracing this change.
THE SKI INDEX RESULTS
France out in front, Val-d'Isere its peak performer
Established in 2008, our unique Prime Ski Property Index tracks the price of a four-bedroom chalet in a central location across key resorts in the French and Swiss Alps. This year we have added Saint-Martin-de-Belleville, Zermatt and Grimentz bringing our total to 18.
A year ago the Swiss resorts of Villars and Verbier led our Index but the leaderboard has changed in 2019 with Val d'Isere now taking poll position. This switch reflects a wider trend – a split between the French and Swiss resorts – all six top rankings are occupied by French resorts this year, most located in The Three Valleys.
With prime prices rising by 2.9% Val d'Isere's lead can be explained by a simple demand/supply imbalance. The resort has seen a moratorium on new development and strengthening demand – at 1,850 metres Val d'Isere boasts one of the longest ski seasons.
The ranking of the Swiss resorts can be attributed to the complexity of the rules surrounding who can buy what, and where. Some international buyers are put off by the red tape – the Lex Koller and Lex Weber legislation – and in some cases by the strong currency, although for others looking to spread their currency risk a Swiss Franc asset remains a key draw. The result has been an expanding market share for The ranking of the Swiss resorts can be attributed to the complexity of the rules surrounding who can buy what, and where. Some international buyers are put off by the red tape – the Lex Koller and Lex Weber legislation – and in some cases by the strong currency, although for others looking to spread their currency risk a Swiss Franc asset remains a key draw. The result has been an expanding market share for local buyers in Switzerland, many keen to find a home for their capital given negative interest rates and the resulting cost associated with storing capital in the bank.
Chamonix (2.6%) sits in second place this year and has a strong track record, occupying one of the top four rankings for the last five consecutive years. With a permanent resident population of nearly 10,000, Chamonix continues to offer an appealing combination – a lower market entry point and the Alps' only truly year-round destination.
Two of the newcomers this year – Grimentz (2.0%) – have seen sales activity and prices strengthen due primarily to their relative value compared to other neighbouring resorts.
For Verbier (1.5%) and Villars (0.4%) the 2018/19 season was mixed. Verbier saw strong sales activity but it was limited to the CHF1 million – CHF3 million price bracket. Whilst Villars, arguably Switzerland's best all year resort, paused for breath following strong growth of 6% last year.
Of note this year is the disappearance of the outliers. Since 2015 the highest and weakest-performing resorts have been separated by a minimum of 13 percentage points, this year it has shrunk to just three percentage points. Indeed, 2019 represents the first year on record that not one of the ski resorts tracked in our index registered a decline in prime prices.
SPOTLIGHT ON THE FRENCH ALPS
We highlight the latest trends influencing France's prime ski hotspots
Covering costs: Since we started the Ski Property Report in 2008, we have seen many changes in the French Alps, from design and technology to planning rules and public investment, but arguably the single biggest change has been the propensity of our clients to rent out their property. In 2008, around 50% of our clients opted to rent-out or let their ski home, now it is close to 100%. Although not expecting a high yielding asset, most are looking to cover the maintenance and running costs as well as personal visits.
From new homes to renovations: New-build stock continues to attract interest due to the 20% VAT rebate and reduced transfer tax. The challenge is finding new stock given planning restraints which vary from resort to resort according to their Plan Local d'Urbanisme (PLU). As a result, this pool of demand is being pushed back into the resale market with buyers opting to renovate existing properties instead, often extensively.
Futureproofing: Public investment in a resort remains critical to buyer demand. The French resorts continue to forge ahead by renewing and expanding their ski and non-ski infrastructure. In Chamonix, the Compagnie du Mont Blanc has detailed the next phase of its €477 million, 40-year investment plan for the Chamonix Valley. A new replacement gondola will be in service at Flegere this season and the Charamillon lift in Le Tour is under construction. In The Three Valleys, plans for the 2023 FIS Alpine World Ski Championships continue with €42 million earmarked to upgrade lifts and gondolas along with new luxury hotels.
Demand flows: Since 2017 we have seen thethe return of the domestic buyer across the French Alps as confidence in the French economy picked up. Scandinavian buyers have increased in number in Chamonix and some Swiss buyers have been evident in the resorts closest to Geneva.
In Courchevel, Chinese rental demand has surged and now accounts for most pre-Christmas demand. Two years ago there was no almost Chinese demand. This is a trend to monitor if tourism is a sign of future property demand.
SPOTLIGHT ON THE SWISS ALPS
We highlight the latest trends influencing Switzerland's prime ski hotspots
Property as a store of capital: It is almost five years since the Swiss National Bank took interest rates into negative territory and the base rate now sits at -0.75%. Although this has not yet been passed on to consumers some banks are expected to begin charging larger depositors in the near future. Not surprisingly, high net worth residents keen to remain in the country to enjoy the privacy and security it affords, are looking more closely at property as a means of wealth preservation and one which can potentially secure a gross yield of around 2.5%.
The impact of legislation: Depending on whether a Swiss resort is focused on encouraging more primary residents or second homeowners will have a significant bearing not just on the volume of sales but on the property type available and the price points achieved. Largely dominated by primary residences, Gstaad for example is home to a significant number of large chalets and here sales above CHF20 million are not unusual. The smaller resort of Grimentz by comparison, where the bulk of the resort's inventory is made up of second homes sees prices typically below CHF10,700 per sqm (€9,900 per sqm).
Education matters: What do Gstaad, Villars, Crans-Montana, Verbier and St Moritz have in common? Aside from being ski resorts, they are all home to private schools, in Villar's case, ones with over 800 students. This means the resorts have a large pool of permanent residents, not just the students but their families that visit, who often go on to buy or rent, as well as the wider schools' workforce. Le Regent School in Crans-Montana recently opened whilst College Alpin Beau Soleil in Villars has recently extended its facilities.
Working from home in the Alps: With 4G now available across the Swiss Alps and flexible working a growing phenomenon, more Swiss residents are moving back to the mountains and working from home – over a thousand jobs are available in the Canton of Valais alone. With resorts investing heavily to expand their amenities and a packed social and sporting calendar on offer, a primary residence in The Alps is an increasingly viable option.
SPOTLIGHT ON ASPEN
We highlight the latest trends influencing Aspen's prime ski hotspots
Investment ramps up: The Aspen and Snowmass resorts are investing heavily in their resorts and mountain infrastructure. The new Snowmass BaseVillage ($600m) is now open comprised of the Limelight Hotel, 55 residential units and a public events plaza withice skating rink, new restaurants, bars and a community center. In Aspen, the W Hotel opened this year, which has 88 rooms and 11 branded Sky Residences. The exclusive Aspen Club is under renovation, and the Gorsuch Haus (a new hotel development) and 1A redevelopment on the west side of Ajax is also taking shape.
Super-prime sales supercharged: The top end of the Aspen market wasrecharged in 2019 with 10 sales above US$15 million recorded, up from six in 2018; but perhaps most notable was the jump in US$20 million+ sales which accelerated from one in 2018 to six in 2019. Wealthy US buyers are increasingly looking to luxury homes as a means of storing capital against a backdrop of heightened stock market volatility and global trade tensions.
Changing buyer profiles: Younger buyers, particularly tech millionaires and young families are increasingly evident in Aspen – with the resort home to the top ranked High School in Colorado. US buyers predominate with many originating from New York, Chicago, Texas, South Florida, Los Angeles and San Francisco, with an increasing number opting to have a base in Aspen to allow them to escape the summer heat. Overseas buyers still account for around 20% of all purchasers with Australian, German and UK buyers prominent.
Lift One Corridor boost for Downtown market: The new Lift 1A, which will be constructed by Aspen Skiing Company, is to be positioned closer to the city centre near Dean Street. The lift, will provide easier access off the mountain to the Downtown core area, potentially influencing values in the area west of Monarch Street and surrounding Wagner Park.
Courtesy : Knight Frank

© Knight Frank LLP 2019 - This report is published for general information only and not to be relied upon in any way. Although high standards have been used in the preparation of the information, analysis, views and projections presented in this report, no responsibility or liability whatsoever can be accepted by Knight Frank LLP for any loss or damage resultant from any use of, reliance on or reference to the contents of this document. As a general report, this material does not necessarily represent the view of Knight Frank LLP in relation to particular properties or projects. Reproduction of this report in whole or in part is not allowed without prior written approval of Knight Frank LLP to the form and content within which it appears. Knight Frank LLP is a limited liability partnership registered in England with registered number OC305934. Our registered office is 55 Baker Street, London, W1U 8AN, where you may look at a list of members' names.