EO Accelerator - An Entrepreneurs' Organization Progam
Durban 15 November 2019. With business confidence at an all-time low and companies buckling under the pressures of a lack lustre economy, it comes as no surprise that more and more South African businesses are struggling. But the flip side of that is that businesses that survive during tough economic times are the ones that will prosper in the medium to longer term and leave the legacies envisaged by the passionate entrepreneurs who established them.
The Entrepreneurs' Organisation (EO), a global, peer-to-peer network of more than 14 000 influential business owners with 193 chapters in 60 countries, launched its ground- breaking EO Durban Accelerator Programme at the Oyster Box on November 15.
For entrepreneur and motivational speaker, Cindy Norcott, owner of Pro-Appointments and Pro Talent and the local representative for the EO Durban Accelerator, this couldn't have come at a better time for local businesses.
This programme, which was "created by entrepreneurs for entrepreneurs" in 2011 has been rolled out worldwide, chapter by chapter. This is the first time that it will be available in Durban.
"The Durban chapter is now ready to launch! So many of our potentially vibrant local businesses are focussing on the negative right now. But we know that they need to grow and develop and to move to that next level. This programme, which has been developed by EO members in partnership with the Gazelles Business Coaching Organisation (https://gazelles.com/) which focuses on scaling businesses, is the perfect way to catapult a business from first to second-stage," she explains.
The overall aim is to get graduates to hit that all important $1 million annual turnover mark to qualify for full membership of EO.
The programme, which runs for, on average, 24 months, is open to founders, owners or controlling shareholders of businesses with gross revenues of over US $250 000 (approximately R3,5 million) per annum.
It includes quarterly learning events facilitated by EO members with EO content that encourages participants to focus on working "ON your business, not IN your business," says Norcott.
Accountability groups, headed by an EO leader, each with four to six participants, meet quarterly and focus on goal setting and accountability.
The overall aim is to develop a million-dollar focus plan that will allow each participant to set and track goals and progress.
Norcott says EO's Durban Chapter is looking forward to welcoming its first graduates.
Meanwhile, she quotes Derek Greene, an Accelerator graduate from Arizona in the US:
"There are two types of value (to Accelerator), both tangible and emotional. When it comes to the emotional value, one is surrounded by other successful, driven, positive people who inspire you to continue to be better and push through the low points. Having a group of peers and mentors that are fighting the same fight gives you an extraordinary level confidence. On the tangible side, we have implemented dozens and dozens of ideas and concepts picked up from the program to make my business more efficient, effective, and scalable."
A similar approach continues after graduation with EO seen as a catalyst that enables leading entrepreneurs to continue to learn and grow, leading to greater success in business and beyond.
Since its launch in 1987, EO remains the only global network that provides an open playing field for entrepreneurs to expand their interests and learn from others who challenge their perspectives and question their presuppositions. EO encourages both personal and professional growth through connections to experts, mentoring and networking.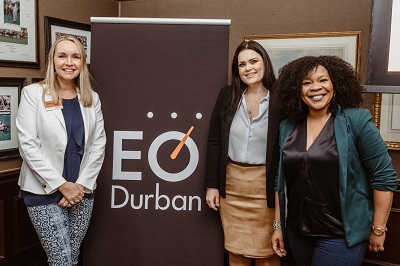 The Entrepreneurs' Organisation (EO), a global, peer-to-peer network of more than 14 000 influential business owners launched the ground- breaking EO Durban Accelerator Programme at the Oyster Box on November 15. Pictured at the event is Accelerator champion Cindy Norcott with Wendy Mahoney and Uyanda Manana.
To apply or for more info:
e-mail - manage[email protected] or https://www.eonetwork.org/eo-accelerator
Distributed by Shirley Williams, contact Shirley on 083 303 1663