London Property - Office for National Statistics latest data on internal moves within the UK
London leavers reach new high.
Migration from London to other parts of the UK reached its highest ever level in 2018, according to data from the Office for National Statistics which tracks internal moves within the UK.
Scotland was the most popular destination for London leavers, though there is no breakdown of where specifically individuals moved within the country. Birmingham was the most popular destination with England, followed by Brighton and Hove, Thurrock and Bristol.
"Relative housing affordability is likely to have influenced the decision of some to leave London," said Oliver Knight, an Associate in the Knight Frank residential research team. "As will the desire and opportunity to 'trade up the housing ladder'. The flow of families out of London forms a natural part of any city's life cycle, but increased employment opportunities in cities such as Birmingham and Manchester also act as a draw. Improvements to transport infrastructure, including the Elizabeth Line and HS2 will extend the scale of the commuter zone."
Some 340,500 Londoners left the capital for another destination within the UK in the year to June 2018, 1.3% higher than in 2017.
The number of individuals moving into the city from other parts of the UK, meanwhile, was 237,270 - a 3.4% increase from 2017 - giving a net migration figure out of the capital (the number of people leaving minus the number of people moving in) of 103,230 – some 3.2% lower than in 2017 when net internal migration out of London stood at 106,608.

Net migration out of the capital was highest among Londoners in their 30s, with the most popular destinations concentrated around the capital's commuter belt with places including Elmbridge, Epping Forest and Reigate in the top ten.
Whilst overall net migration may be negative, London's population continues to grow thanks to birth rates and migration from outside of the UK.
The only age group that had a positive net migration figure in the capital, according to the statistics, was those in their early twenties. This is likely to reflect the large number of graduates who move to London after their studies.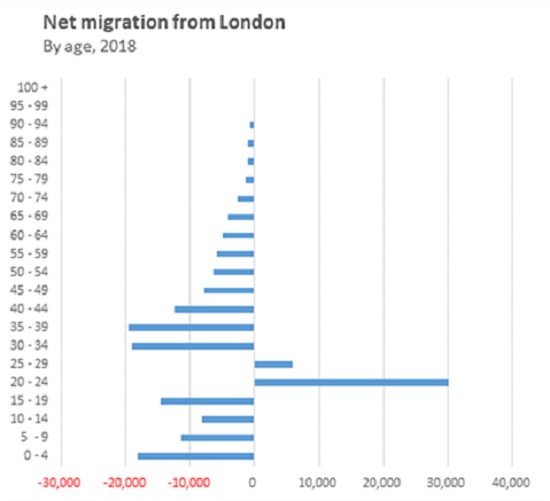 Courtesy : Knight Frank

CONTACT FOR FURTHER INFORMATION
Freddy Fontannaz - Associate, Residential PR Manager
Knight Frank
55 Baker Street
London
W1U 8AN
United Kingdom
T: +44 20 7861 1132
S: +44 20 7629 8171
M: +44 7776 763 381
knightfrank.com
Important Notice
© Knight Frank LLP 2018 – This report is published for general information only and not to be relied upon in any way. Although high standards have been used in the preparation of the information, analysis, views and projections presented in this report, no responsibility or liability whatsoever can be accepted by Knight Frank LLP for any loss or damage resultant from any use of, reliance on or reference to the contents of this document. As a general report, this material does not necessarily represent the view of Knight Frank LLP in relation to particular properties or projects. Reproduction of this report in whole or in part is not allowed without prior written approval of Knight Frank LLP to the form and content within which it appears. Knight Frank LLP is a limited liability partnership registered in England with registered number OC305934. Our registered office is 55 Baker Street, London, W1U 8AN, where you may look at a list of members' names.