Global Update - World's Fastest Rising House Prices
Global Update - Slovenia is on top, China's resurgent price growth is unlikely to last long and the gap between the US and the UK is widening.
Slovenia is home to the world's fastest rising house prices with average values accelerating 18.2% year-on-year. Falling unemployment, low interest rates and until recently, limited supply, are behind the strong price growth.
European countries account for six of the top ten this quarter with Hungary (9.2%) making its fourth consecutive appearance in the top ten rankings.
China witnessed resurgent price growth in the first quarter of 2019 taking annual growth at a national level to 11.6%. Whilst we expect Hong Kong prices to remain largely stable during the remainder of 2019, the Greater Bay Area (excluding Hong Kong and Macau) will see continued growth, albeit in single digits. Across the rest of mainland China we expect price inflation to be tightly controlled via a range of stringent policy measures.
In April, six Chinese cities were warned to stabilise land and house price inflation and in May the Ministry of Housing and Urban-Rural Development extended these warnings to another four; Suzhou, Foshan, Dalian and Nanning.
ALL CHANGE
A number of countries, which throughout 2017 and 2018 looked to have taken up residence at the top and bottom of the rankings table, have seen a change in fortune. Previous outperformers including Iceland (4.4%), Turkey (3.5%) and New Zealand (3.2%) now sit firmly mid-table, whilst the once weak markets of Ukraine (1.3%), Greece (2.4%) and Peru (2.9%), are climbing higher.
Greece's housing market gained momentum in 2018 but there is still far to go. Prices sit 40.8% below their peak in Q3 2008 but the country has now registered four quarters of positive annual growth (figure 1).
SPECIAL RELATIONSHIP
Three years ago the US and UK sat side-by-side in the rankings but 17 places now separate the two countries. Despite posting annual growth of 3.7%, the rate of growth across the US is slowing, down from 6.5% in Q1 2018.
In the UK, political uncertainty has led to a "wait and see" effect with prices up 1.4% over the 12-month period.
Overall, the index increased by 3.9% in the year to Q1 2019; the index's weakest rate of annual growth in three years. Rising risks to global economic growth in the form of trade tensions, weaker Chinese GDP growth and prolonged Brexit negotiations are influencing buyer sentiment. News that the Australian Central Bank has cut interest rates and the Federal Reserve may follow their lead later this year could provide some stimulus.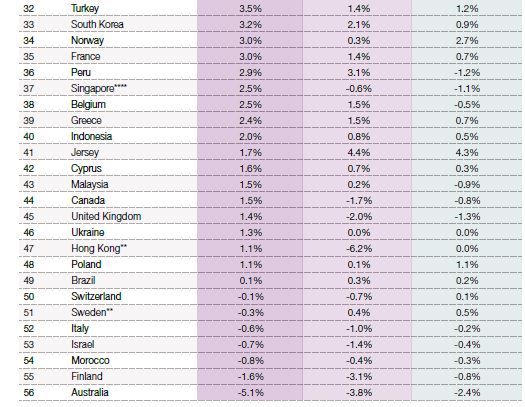 Courtesy: Knight Frank

Please contact us for further information
If you're thinking of buying or selling, or would just like some property advice,please do get in touch.
Research enquiries:
Liam Bailey
Global Head of Research
+44 20 7861 5133
Kate Everett-Allen
International Residential Research
+44 20 7167 2497
Media Enquiries:
Astrid Recaldin
+44 20 7861 1182
Source: Knight Frank Research
** Provisional ***Asking prices **** Island-wide price index for non-landed properties Data for Australia, Belgium, Bulgaria, Croatia, Czech Republic, Denmark, Estonia, Finland, Germany, Greece, Hungary, Israel, Italy, Japan, Latvia, Luxembourg, Malaysia, New Zealand, Peru, Poland, Romania, Slovenia, South Korea and Taiwan is to Q4 2018; data for Cyprus and Morocco is to Q3 2018.
Important Notice. © Knight Frank LLP 2019 – This report is published for general information only and not to be relied upon in any way. Although high standards have been used in the preparation of the information, analysis, views and projections presented in this report, no responsibility or liability whatsoever can be accepted by Knight Frank LLP for any loss or damage resultant from any use of, reliance on or reference to the contents of this document. As a general report, this material does not necessarily represent the view of Knight Frank LLP in relation to particular properties or projects. Reproduction of this report in whole or in part is not allowed without prior written approval of Knight Frank LLP to the form and content within which it appears. Knight Frank LLP is a limited liability partnership registered in England with registered number OC305934. Our registered office is 55 Baker Street, London, W1U 8AN, where you may look at a list of members' names.