Residential Research - Prime Global Cities Index Q1 2019
PRIME CITIES UPDATE
The great moderation continues. Two years ago, prime prices were rising at an average rate of 4.3% per annum; growth has now slowed to 1.3%.
Q1 2019 RESULTS Key findings
The index increased by 1.3% in the year to Q1 2019, its lowest annual rate of growth since Q4 2009.
Why is prime price growth slowing? Political and economic headwinds in Q1 2019, rising cost of finance, more property market regulations.
European cities account for seven of the top ten rankings for annual growth – Berlin, Frankfurt, Edinburgh and Paris are in front.
Moscow has risen up the rankings with the launch of a number of high-end projects in districts such as Ostozhenka pushing prices higher.
Miami leads the four US cities tracked by the index, its appeal boosted by the State and Local Tax (SALT) deduction ruling.
KNIGHT FRANK'S PRIME GLOBAL CITIES INDEX TRACKS THE MOVEMENT IN PRIME RESIDENTIAL PRICES ACROSS 45 CITIES WORLDWIDE USING DATA FROM OUR GLOBAL RESEARCH NETWORK. COMPILED QUARTERLY, THIS IS A VALUATIONBASED INDEX TRACKING THE TOP 5% OF THE HOUSING MARKET IN MOST CITIES.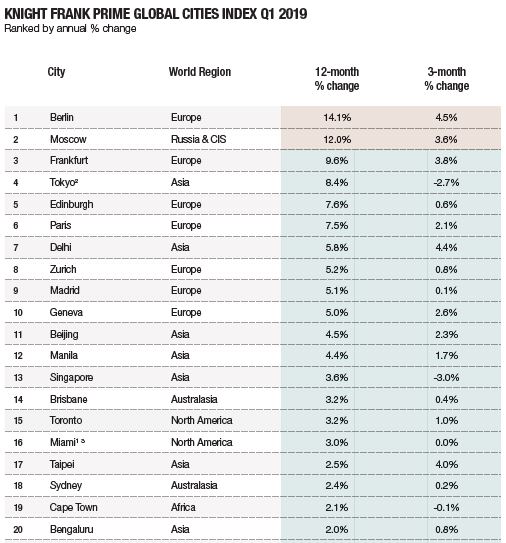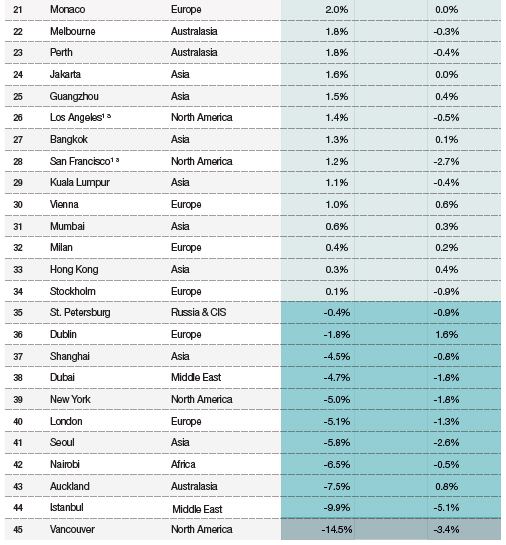 The Prime Global Cities Index, which tracks the movement in luxury residential prices across 45 cities globally, registered its lowest rate of annual growth since the final quarter of 2009, when the world was in the grip of the financial crisis.
What's changed? Although still rising, the rate of wealth creation globally slowed in 2018. The last six months saw political and economic headwinds intensify. In the first quarter of 2019, the threat of a global trade war loomed, uncertainty surrounding Brexit peaked and the IMF projected that 70% of the world's economies would see a slowdown in growth in 2019.
Add to this, the rising cost of finance – the US alone has seen nine rate rises since December 2015 influencing not just the US but also the 13+ currencies pegged to the US dollar - and a moderation in prime sales and hence prices was expected.
However, there are exceptions to the rule. As we predicted in our Prime Forecast 2019, key European cities continue to outperform with seven of the top 10 rankings this quarter occupied by European markets. Berlin (14%), Frankfurt (10%), Edinburgh (8%) and Paris (8%) are out in front. All four cities share three key attributes; strong tenant demand, limited new supply and relative affordability.
Moscow (12%) has also risen up the rankings. Prime districts such as Ostozhenka in the Russian capital saw a number of high-end projects launch in 2018 pushing prime prices higher.
In Canada, the gap between Toronto (3%) and Vancouver's performance (-15%) continues to widen with almost 18% percentage points now separating the two cities. Whilst both operate a foreign buyer tax, Vancouver has seen a flurry of additional measures aimed at reducing speculation and curbing price inflation.
Miami leads the four US cities tracked by our index, its appeal boosted by the State and Local Tax (SALT) deduction ruling, which has sparked a rise in the number of US tax migrants heading to Florida given the absence of income tax and inheritance tax as well as favourable corporate tax rates.
New York (-5%) and London (-5.1%) are almost level pegging although London is arguably further ahead in its market cycle as new buyer registrations are starting to build. From 1 July, New York will see the introduction of a new Mansion Tax, applicable to both residents and non-residents, the tax will be a graduated levy based on the purchase price.
Courtesy: Knight Frank

Notes: Data for New York relates to Manhattan; Data for Los Angeles, Miami, and San Francisco is to February 2019. Data for Monaco is to December 2018. The price change for Tokyo relates to all properties above JPY100m. The methodology for Berlin and Frankfurt changed in Q4 2018 to reflect achieved prices, prior to this data was based on asking prices only.
Based on top-tier of mainstream market in metro area.
Based on all contracts above Yen100m.
Provisional
Sources: All data comes from Knight Frank's global network with the exception of Tokyo (Ken Corporation); New York (StreetEasy); Los Angeles, Miami and San Francisco (S&P CoreLogic Case-Shiller); Berlin and Frankfurt (ZIEGERT Research / ImmobilienScout24); Stockholm (Svensk Maklarstatistik); Toronto (Real Estate Board of Toronto); Vancouver (Vancouver Real Estate Board); Zurich and Geneva (Wüest Partner); and Dubai (REIDIN)
Please contact us forfurther information
If you're thinking of buying or selling, or would just like some property advice, please do get in touch.
RESEARCH ENQUIRIES:
Liam Bailey - Global Head of Research
+44 20 7861 5133
Kate Everett-Allen - International Residential Research
+44 207 167 2497
PRESS OFFICE:
Astrid Recaldin
+44 20 7861 1182
Important Notice. © Knight Frank LLP 2019 – This report is published for general information only and not to be relied upon in any way. Although high standards have been used in the preparation of the information, analysis, views and projections presented in this report, no responsibility or liability whatsoever can be accepted by Knight Frank LLP for any loss or damage resultant from any use of, reliance on or reference to the contents of this document. As a general report, this material does not necessarily represent the view of Knight Frank LLP in relation to particular properties or projects. Reproduction of this report in whole or in part is not allowed without prior written approval of Knight Frank LLP to the form and content within which it appears. Knight Frank LLP is a limited liability partnership registered in England with registered number OC305934. Our registered office is 55 Baker Street, London, W1U 8AN, where you may look at a list of members' names.