International Property - Madrid Insight 2019
MADRID RESIDENTIAL RESEARCH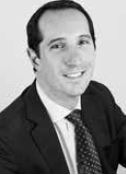 CARLOS ZAMORA, HEAD OF KNIGHT FRANK'S RESIDENTIAL TEAM IN MADRID, SHARES HIS KNOWLEDGE AND INSIGHTS ON THE CITY'S EVOLVING PRIME RESIDENTIAL MARKET.
HOW IS THE MARKET PERFORMING?
Average prices in Madrid declined 30% in peak-to-trough terms following the financial crisis but now sit 46% above the market low reached in Q3 2012.
The recovery of Madrid's prime residential market gathered pace at the end of 2016 and since early 2017 Knight Frank's unique Madrid Prime Residential Index has outperformed our 43-city average with luxury prices accelerating 8.1% in 2018.
WHAT IS DRIVING DEMAND?
The volume of luxury new homes sold by the Knight Frank team increased by 50% between 2017-18 and 2018-19, with almost all of the new units launched in the last two years now under offer.
In Madrid, the upturn in the commercial sector was a precursor to the residential market's recovery. Madrid has evolved into a key business centre with a strong finance, tech, logistics and communications bias. According to the Ministry of Economy, six out of every €10 invested in Spain is invested in the capital.
Madrid is also now firmly on the tourist map with over 6.7 million tourists visiting the city in 2017. Madrid Barajas Airport operates direct flights to 203 airports globally, and passenger numbers have surged 50% since 2004, from 38 million to 57 million in 2018.
HOW ARE PRICES PERFORMING?
At €8,000 per sq m not only are prime values highly competitive compared with other first tier European cities but Madrid's cost of living is low and it is ranked 46th out of 231 cities for its quality of life according to global consultants Mercer.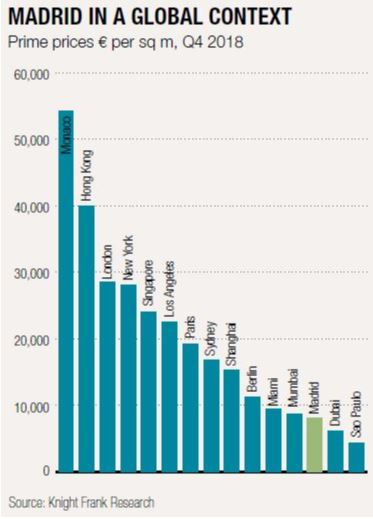 WHERE ARE MADRID'S PRIME NEIGHBOURHOODS?
Traditionally, Madrid's prime markets were located across the city's northern districts such as Salamanca, Chamberi, Chamartin and El Viso.
Since 2016, more attention has been paid to central areas which takes in Sol, Embajadores and the historic heart of the city close to Plaza Mayor.
Proximity to El Retiro, Madrid's 350-acre park – roughly the same size as Hyde Park – is also a key draw.
HOW IMPORTANT ARE OVERSEAS BUYERS IN MADRID?
Around 65% of prime buyers originate from within Spain, either from within Madrid or from its major cities including Barcelona, Malaga and Seville. A decade ago, this figure would have been closer to 90%.
Of the city's overseas prime buyers, around 18% originate from Latin America, but unlike two years ago when Venezuelans dominated, 2018 saw Mexican purchasers increase their market share, many consider Madrid to be a safe haven, personally and financially.
In terms of buyer motives, around 50% of our prime buyers are seeking a permanent or second home exclusively for their own personal use, 22% are looking purely for a rental investment and the remaining 28% cite a mix of reasons; holiday home, rental investment and a base for their child whilst at university.
WHAT'S YOUR OUTLOOK FOR THE MARKET?
Madrid's prime residential market is now well established and a key safe-haven destination for Latin American wealth. According to the 2019 edition of the Knight Frank Wealth Report, 71% of UHNWIs in Latin America now have a second passport or dual nationality and of those considering emigrating, Spain was their preferred destination.
Of the 20 global cities we track, we expect Madrid to lead our prime residential forecast in 2019 with prices edging 6% higher in 2019.
Spain is forecast to see a 27% rise in UHNWIs over the next five years, this equates to nearly 1,100 more individuals with US$30 million+ in net assets in real terms, as well as over 62,000 more millionaires nationally. We believe that a large proportion will want a slice of the capital's luxury bricks and mortar.
Courtesy: Knight Frank

MARKET INTELLIGENCE
Knight Frank's Research team take the pulse of Madrid's residential market by handpicking the latest data, indicators and trends to help buyers and vendors gauge current market conditions.
CONTACTS
Carlos Zamora - Head of Madrid Residential Dept
+34 915 959 097
Kate Everett-Allen - International Residential Research
+44 20 7167 2497
Astrid Recaldin - International PR Manager
+44 20 7861 1182
Important Notice. © Knight Frank LLP 2019 – This report is published for general information only and not to be relied upon in any way. Although high standards have been used in the preparation of the information, analysis, views and projections presented in this report, no responsibility or liability whatsoever can be accepted by Knight Frank LLP for any loss or damage resultant from any use of, reliance on or reference to the contents of this document. As a general report, this material does not necessarily represent the view of Knight Frank LLP in relation to particular properties or projects. Reproduction of this report in whole or in part is not allowed without prior written approval of Knight Frank LLP to the form and content within which it appears. Knight Frank LLP is a limited liability partnership registered in England with registered number OC305934. Our registered office is 55 Baker Street, London, W1U 8AN, where you may look at a list of members' names.