UK Property - Knight Frank's London super prime sales report
Sales volumes in the London super-prime (£10 million-plus) market have proved relatively resilient this year despite the impact of political uncertainty surrounding Brexit negotiations.
There were 121 transactions in the year to June 2018, compared to 133 in the previous 12-month period.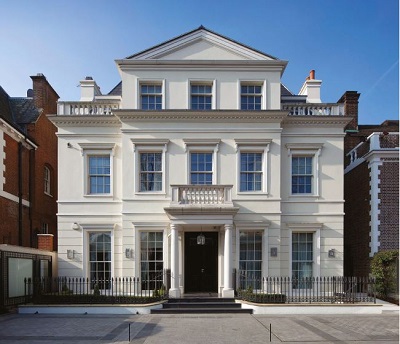 Despite the decrease, the total value of sales in the second quarter was higher than in the previous two years.
The total value of £10 million-plus transactions in Q2 2018 was £707 million, which was 22% more than the same period in 2017 and 23% above the total in Q2 2016, as figure 4 shows.
Last year was marked by uncertainty ahead of the June general election and the EU referendum had a similar impact in 2016. This relatively stronger performance in 2018 underlines how the market can respond with a relatively more stable political backdrop.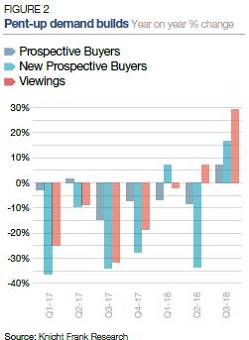 Despite these subdued trading conditions, there is evidence that pent-up demand is forming, as figure 2 shows.
The total number of prospective buyers in the £10 million-plus price bracket was 7% higher in the third quarter of 2018 compared to the same period in 2017. Meanwhile, the total number of new prospective buyers that registered in the same three-month period was 17% higher than in Q3 2017 and the total number of viewings was 29% higher.

Prices above £10 million have declined 9% since their last peak in September 2015, a decrease that more than compensates for the impact of higher rates of stamp duty.
The difference between the current rate of stamp duty and the rate before December 2014 is the equivalent of 4.1% on a sale of £10,000,000, or 7.1% when the 3% surcharge for second homes and investors is added.
The fact pricing has already adjusted to this extent is likely to have a positive effect on activity levels once the current political uncertainty begins to recede.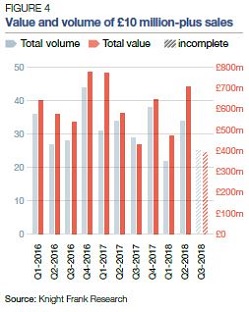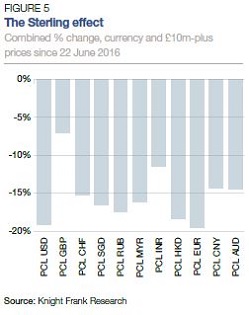 2018/19 OUTLOOK AGENT PERSPECTIVE
Knight Frank's agents in the super-prime market share their perspective on some of the key trends and what next year may bring.
Vendors have an eye on Brexit
"Activity has picked up in the final quarter of this year, which has been fuelled by a growing number of vendors who want to achieve a sale before Brexit and have therefore become more flexible in negotiations around price. You also have a large number of buyers who have been watching the market for some time and waiting for the right opportunity. If they can achieve what they perceive to be a fair price, they feel they are protected to some extent from anything that may happen in relation to Brexit. The weakness of Sterling also remains a big demand driver as well as the fundamental fact that London remains a place people want to live and work. Should there be a pragmatic outcome to the Brexit negotiations, I believe we could see the market pick up noticeably."
Paddy Dring, Head of International Residential and Super-Prime
British families are more active
"There have been recent signs that price reductions have begun to have an impact and a degree of traction has returned to the market. However, the current political uncertainty is still curbing demand overall, not only in relation to Brexit but also the associated risk of government instability. As a result, the £10 million-plus market is, for now, largely driven by needs-based buyers. Activity in markets like Notting Hill and Chelsea is therefore relatively stronger than other parts of prime central London because those areas have a higher component of British-based buyers who are moving for family reasons. There are some buyers and sellers who are active because they will remain in the UK largely irrespective of the political backdrop."
Tom van Straubenzee, Head of Private Office
Pent-up demand is building
"Many buyers who are taking a wait-and-see approach are actually poised to act quite quickly once the political situation becomes more settled. Viewing levels remain high and a number of buyers have been scrutinising the market over a long period of time so are keenly aware when properties represent good value. Sentiment is therefore playing a major role in the market but once there is a feeling that a sensible Brexit deal has been reached and speculation over the future of the government dies down, I believe there is a certain amount of pent-up demand that will be released."
Rory Penn, Head of Private Office
Buyers like lateral living
"The effect of a weaker pound is now wellunderstood by buyers although there remains some volatility around exchange rates. However, it is also true that more property in the £10 million-plus price bracket is coming to the market at prices buyers consider good value. This has happened as more vendors take into account the fact that trading conditions are subdued and asking prices need to reflect that to capture the right buyers' attention. One trend I have noticed is the growing influence that new-build developments are having on the re-sale market in London. Buyers increasingly like living on as few floors as possible, which is more common in the wider layouts of new-build super-prime developments. This demand for wider space means more buyers are focussing on areas of London where the architecture allows this, such as Holland Park, Notting Hill and Chelsea."
Daniel Daggers, Prime Central London Team
The expectation gap has widened
"Some buyers believe there may be an opportunistic moment in the months before Brexit to purchase in London at a reduced price. However, in a similar way to the months after the referendum, the reality is different. Vendors are not willing to reduce their asking prices by substantial amounts when they have already made adjustments to reflect higher transaction costs. The expectation gap between certain buyers and sellers has therefore widened slightly in recent months. Buyers also have to be aware that different parts of the London market are behaving in very different ways at the moment. For example, demand in Notting Hill is relatively robust and there are instances of competitive bidding due to the fact the market is underpinned by more needs-driven purchasers. If you add into the mix an element of uncertainty around the future trajectory of Sterling, getting good advice is crucial for buyers at the moment."
Charles Penny, Prime Central London Team
Courtesy: Knight Frank

CONTACT DETAILS:
Tom Bill - Head of London Residential Research
+44 20 7861 1492
Paddy Dring - Head of International Sales and Super Prime
+44 20 7861 1061
Important Notice
© Knight Frank LLP 2018 - This report is published for general information only and not to be relied upon in any way. Although high standards have been used in the preparation of the information, analysis, views and projections presented in this report, no responsibility or liability whatsoever can be accepted by Knight Frank LLP for any loss or damage resultant from any use of, reliance on or reference to the contents of this document. As a general report, this material does not necessarily represent the view of Knight Frank LLP in relation to particular properties or projects. Reproduction of this report in whole or in part is not allowed without prior written approval of Knight Frank LLP to the form and content within which it appears. Knight Frank LLP is a limited liability partnership registered in England with registered number OC305934. Our registered office is 55 Baker Street, London, W1U 8AN, where you may look at a list of members' names.