Market Position - "Buy and hold" quality, dividend paying companies for successful investment outcomes
Financial markets may appear daunting currently with so much economic and political uncertainty. However, it is important to try and ignore short-term distractions and focus on the long-term trends that matter. Short term distractions are unlikely to have any major impact on markets over the longer term. The key to investing for the long-term is to keep it simple and maintain a "Buy and hold" mindset.
Buy and Hold
At Marriott we look to buy shares in quality, dividend paying companies and to hold those shares for long periods of time. We adopt this approach because it:
1. Prioritises long term thinking
The mind-set of owning stocks for long periods of time ensures our portfolios are positioned for the long term.
2. Ensures more predictable investment outcomes
A buy and hold strategy ensures that returns are a function of dividend growth and re-investing dividends. We believe this is more predictable than trying to anticipate what stock prices will do in the short term.
3. Reduces costs
Each time a stock is bought or sold costs are incurred. Lower portfolio trading helps keep costs down.
It is interesting to note, however, that a "buy and hold" strategy is not the norm in the investment industry today. The chart below reveals how shares in the US are being held for shorter periods than at any time since the 1920s.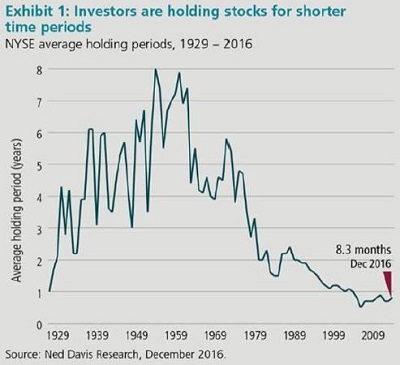 How we apply a buy and hold strategy within our income focused investment style.
At Marriott we look to own stocks for 10 years or longer. This is not to say we will not act timeously if risks materialise, however, portfolio turnover is kept low by ignoring short term distractions and remaining focused on the long-term trends that matter.
In our opinion, there are two key steps for the successful implementation of a "buy and hold" investment strategy:
STEP 1: Identify resilient companies with the ability to produce reliable dividends
We only invest in companies which are able to produce reliable dividends irrespective of changing economics, politics and technology. This means when something unexpected invariably happens in the world around us (Trump, "Brexit", Junk status, etc.) we do not have to sell the stocks we hold in our portfolios.
STEP 2: Select companies with a favourable outlook for dividend growth
10 years is a long time. Consequently, we look to select companies that will remain highly relevant. Below we outline the 3 trends we feel represent the most significant investment opportunities of the next decade.
In our opinion, companies exposed to these trends will produce amongst the best dividend and capital growth in the years ahead.
The stocks to own for the next decade:
Given the above, these are a few of the stocks we believe investors should hold for the next decade:
1. Companies which own the world's most sought-after consumer brands
Coca-Cola, Unilever, Reckitt Benckiser, L'Oréal & Nestlé own brands like Coke, Knorr, Dettol, Maybelline New York & Nescafé just to name a few. Demand for these products is likely to increase significantly in the years ahead considering the rapidly growing consuming class, particularly in developing markets.
2. World leading pharmaceutical and medical device companies
Johnson & Johnson, Medtronic, Pfizer, GlaxoSmithKline and Sanofi are amongst the biggest pharmaceutical and medical device companies in the world and own a large percentage of the globes most essential medicines ranging from vaccines to cancer treatments as well as medical devices such as pace makers, stents and endoscopes. As such, these 5 companies are likely to be major beneficiaries of aging populations in the first world.
3. The world's finest industrial companies
Companies like Honeywell, United Technologies and Texas Instruments are leading the way when it comes to connecting equipment to the internet and analysing data to optimise performance. They are therefore ideally positioned to benefit from a trend which is already being referred as the "fourth industrial revolution".
In our opinion, the companies outlined above are set to produce amongst the best dividend and capital growth in the years ahead given the longer-term trends which matter. Importantly, Trump's tweets, Britain's "Brexit" and other short-term distractions will have little impact on their future prospects. As such, we have maximised investors' exposure to these companies across our portfolios with the intention to "buy and hold".
The author of this article is Duggan Matthews, he is Chief Investment Officer at Marriott.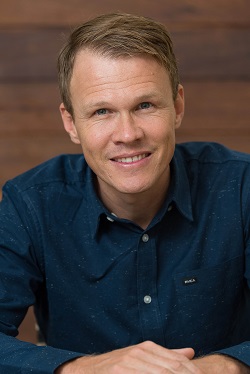 This release has been issued on behalf of Marriott, the Income Specialists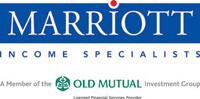 For more information, please contact:
Marriott
Shannon Blewitt, Marriott Marketing
Telephone: 031 765 0766 (direct) or 031 765 0700 (switchboard)
Shirley Williams Communications
Shirley Williams: 031 564 7700 or 083 303 1663
Gillian Findlay: 082 330 1477
About Marriott, the Income Specialists
Marriott aims to create financial peace of mind through predictable investment outcomes and personalised service.