Property Construction - Innovative Use of Face Brick
Innovative Use of Face Brick Creates New Identity for University Residence
The construction of additional accommodation at the University of Witwatersrand's Barnato Hall of Residence will provide a hundred and fifty students with new rooms by the end of 2019. Although modest in the face of the national shortfall of 250,000 beds (according to the Department of Higher Education), the project demonstrates an innovative approach for universities to provide quality yet cost-effective accommodation by extending their existing residences.
"We are testing the approach of 'adding on' to a number of existing residences. The extensions benefit from the infrastructure, circulation, services and social spaces of the existing residence, whilst adding value to the original," explains Thorsten Deckler, principal at 26'10 south Architects. "Our extension to Barnato does not even have new stairs but provides the existing residence with a new lease on life by adding a much needed second lift, adding new communal spaces and improving existing ones."
The brief from the university was to accommodate as many students as possible using readily-available, low-maintenance materials.
Two core values guided the architects: 'To make design work hard' and to 'recognize the extraordinary in the ordinary'. Deckler explains: "This means that every design decision does more than one thing and that the everyday experiences are enhanced through design." The sound of water from the nearby pond and the views into established trees, over the roofs and beyond, lend a sense of tranquility and expansiveness to the introverted spaces of the original building.
Over the years, 26'10 has refined their approach of combining new and old in several award-winning projects. "We do not see the existing as sacrosanct nor as something that should be completely remodeled. By adding on in a certain way buildings gain a new identity made up of both new and old." At the time of receiving the commission, debates and protests regarding access to education and decolonization were raging on university campuses nationwide. "Extending an existing building designed in the late 1980s to resemble a Roman fort and named after a colonial Randlord presented us with an interesting opportunity to test our approach at a large scale," notes Deckler.
The design of the new brick façades took this approach a step further. Principal partner at 26'10, Anne Graupner, developed a concept for a woven brick skin that incorporates the textures and colours of the original building. "Working with Corobrik was an obvious choice for us and they completely embraced the concept," explains Graupner. On a visit to various brick yards around Gauteng, Graupner discovered 'under the tree bricks' – specially shaped bricks left over from previously commissioned ranges that could be acquired at a lower cost. "Seeing these unique high-quality bricks gave us the idea to create a brickwork quilt using different colours and textures," says Graupner.
A standard red face brick complements the existing buildings and is interwoven with special bricks that are distinctive in colour and shape. A cream-coloured stock brick, matching the plastered surfaces of the existing building, is interspersed with darker bricks, providing carefully-placed highlights that animate the building. Bricks that were used include Village Antique, Midrand NFX (yellow), Onyx and Agate in a combination of single and double cants and bullnoses.
Graupner is satisfied with the result, noting that the new building comes across as familiar and surprising at the same time: "Like a tapestry made up of different strands and patterns, it speaks of the strength and beauty of diversity. We believe this is a fitting image at a time when difference is often used to divide."
Project architect and associate, Paul Devenish, managed the project from concept to completion and has this to say: "In order to translate our design intent into reality we had to really think it through. We tested patterns at a 1:1 scale using real bricks. We drew every visible brick in the building and made a 1:50 model with our drawings stuck to it to communicate our intent to the bricklayers and the client who bravely supported us.".
26'10 employed Tebogo Ramatlo (a recent architecture graduate from the University of Johannesburg) to work with the brick laying teams and to help translate drawings and instructions. Corobrik stepped forward to assist with Alex Thobejame, their bricklayer trainer from the Gauteng Building Training School, who worked on site with the bricklayers.
As phase one is being completed, phase two is in design development under the lead of Devenish. He notes that, "All involved have undergone a steep learning curve and we hope to further hone our skills and those of a next generation of bricklayers."
According to Nick Talbot from Corobrik the collaboration with the architects has been a very positive experience: "The architects saw our bricks as an essential element of their design and it was great for us as manufacturers to be closely involved in the process of making this building."
"The project has given Corobrik a wonderful opportunity to showcase how face bricks can be used in an innovative way," says Musa Shangase, Corobrik Commercial Director. "We were also delighted to be able to assist in training the bricklayers so that the architects' design could be realized as intended."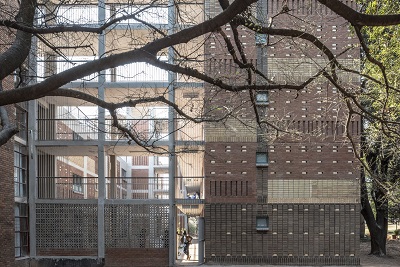 The shortage of quality student accommodation is a global challenge that is felt with particular intensity in South Africa, where education is seen as one of the chief means to overcome poverty. The project might just show a way to develop affordable and durable student accommodation, using brick to create joyful buildings.
Fact Sheet:
Location: University of the Witwatersrand, West Campus, Braamfontein
Project: Extension to Barnato Hall Student Residence
Commissioned: 2016
Progress: Phase 1 completed July 2018. Phase 2 completed 28 November 2019
Client: University of the Witwatersrand
Programme: On-Campus Student Residential Building
Built Surface area: Phase 1 – 1940 m2. Phase 2 – 1460 m2
Construction cost: Phase 1 R40m. Phase 2 R35m (all inclusive)
Architect: 26'10 SOUTH ARCHITECTS. Thorsten Deckler and Anne Graupner (principals), Paul Devenish (associate and project architect), Carla Rademan, Shani Fakir, Claire Barry, Flint Shongwe, Romeo Banza, Paballo Wessie
Contractor: Lemay Construction
Engineer: Arup
This article has been prepared for 26'10 SOUTH ARCHITECTS and Corobrik (Pty) Ltd

For more information contact:
Thorsten Deckler, Principal, 26'10 SOUTH ARCHITECTS, 27 (0)11 830 0220 or +27 (0)83 544 9735
Musa Shangase, Corobrik on 011 871 8600
Distributed by Shirley Williams