Residential Research - Prime Global Cities Index Q3 2018
PRIME GLOBAL CITIES INDEX
The rising cost of finance, the introduction of more property market regulations and uncertainty surrounding Brexit is curtailing growth
Q3 2018 RESULTS
SINGAPORE CITY WITH THE STRONGEST RATE OF ANNUAL PRIME PRICE GROWTH
2.7% AVERAGE ANNUAL PRIME PRICE GROWTH ACROSS 43 CITIES
SAN FRANCISCO STRONGESTPERFORMING CITY IN NORTH AMERICA
55.7% INDEX'S GROWTH SINCE ITS LOW IN Q1 2009
74% PERCENTAGE OF CITIES THAT REGISTERED AN INCREASE IN PRIME PRICES YEAR-ON-YEAR
KNIGHT FRANK'S PRIME GLOBAL CITIES INDEX TRACKS THE MOVEMENT IN PRIME RESIDENTIAL PRICES ACROSS 43 CITIES WORLDWIDE USING DATA FROM OUR GLOBAL RESEARCH NETWORK. COMPILED QUARTERLY, THIS IS A VALUATIONBASED INDEX TRACKING THE TOP 5% OF THE HOUSING MARKET IN MOST CITIES.
In the last year, the price of a luxury property increased by 2.7% on average across the 43 cities tracked. This represents the index's weakest performance in annual terms for almost six years.
Singapore leads the index with prime prices up 13% over the 12-month period, driven by the limited availability of prime properties and a strong market outlook in the first half of 2018.
Hong Kong and Singapore, Asia's two premier cities, have traded places in the last year. Both cities saw cooling measures introduced over the summer months and, although the rate of annual price growth in Hong Kong has already slowed to 5.5%, Singapore may not be far behind with its quarterly growth weakening to 1.7% in the third quarter of 2018.
Europe's performance is mixed compared with a year ago. Some European cities are still performing strongly (Edinburgh and Madrid), others have swapped spectacular for steady (Berlin and Paris), whilst for a few, price growth remains in negative territory (London and Dublin).
In London, prime prices dipped 2.9% in the last year as uncertainty around Brexit continued. This trend has been exacerbated by a growth in supply as more landlords attempted to sell their property following tax changes.
The index's headline figure of 2.7% growth conceals significant variations both within continents and even within countries. In Canada for example, Toronto (8.5%) continues to see prime prices rise in its exclusive areas of Rosedale and Yorkville. Vancouver (-11.2%), however, sits at the bottom of our rankings as upmarket areas such as West Vancouver have seen a marked slowdown in sales and prices as a result of the raft of measures introduced in February's Budget.
This quarter sees the addition of Auckland to our prime index for the first time. Despite a ban on the purchase of existing properties by overseas buyers from 1 July (this excludes new homes) luxury prices increased 8.5% in the year to September 2018.
2018 marks a watershed for the index. The overall narrative of lower growth, which we predicted in 2017, has materialised. The rate of growth has declined for three consecutive quarters and has now reached its lowest rate since Q4 2012. A combination of uncertainty surrounding Brexit, rising interest rates across major economies, a tighter regulatory environment and the remnants of high supply in some markets is impinging on price growth.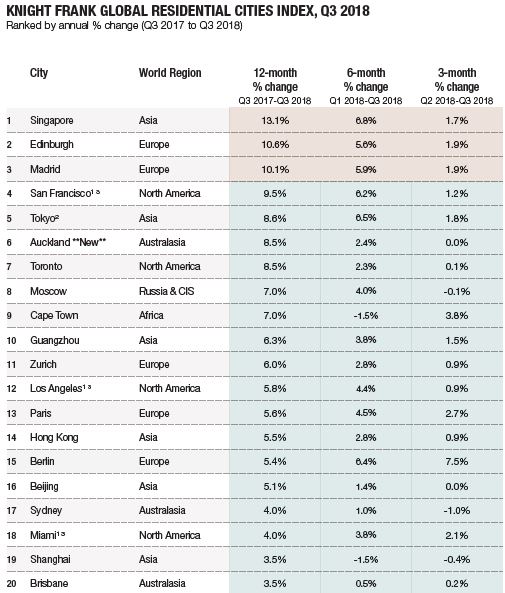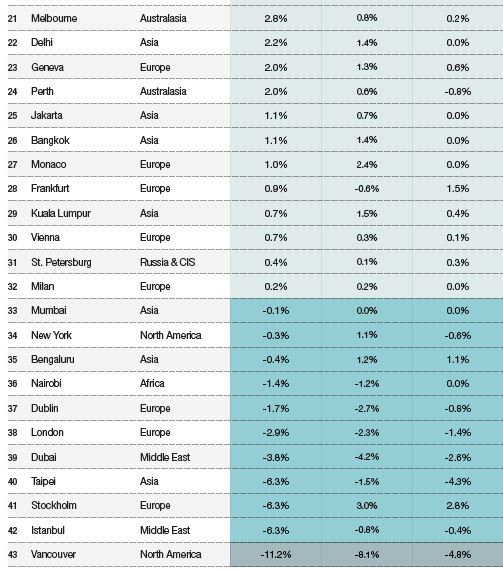 Notes: Data for New York relates to Manhattan; Data for New York is to August 2018 and data for Los Angeles, Miami, and San Francisco is to July 2018. The price change for Tokyo relates to all properties above JPY100m. The data for Berlin and Frankfurt relates to those properties in the 95th quintile which are located in the central areas.
Based on top-tier of mainstream market in metro area.
Based on all contracts above Yen100m.
Provisional
Sources: All data comes from Knight Frank's global network with the exception of Tokyo (Ken Corporation); New York (StreetEasy); Los Angeles, Miami and San Francisco (S&P CoreLogic Case-Shiller); Berlin and Frankfurt (ImmobilienScout 24); Stockholm (Svensk Maklarstatistik); Toronto (Real Estate Board of Toronto); Vancouver (Vancouver Real Estate Board); Zurich and Geneva (Wüest Partner); and Dubai (Property Monitor)
Courtesy: Knight Frank

Please contact us for further information
If you're thinking of buying or selling, or would just like some property advice, please do get in touch.
Research enquiries:
Liam Bailey - Global Head of Research
+44 20 7861 5133
Kate Everett-Allen - International Residential Research
+44 207 167 2497
Press office:
Astrid Recaldin
+44 20 7861 1182