Property Finance - Innovative financing plans are setting Bridge City housing project apart
Durban, 05 July 2018: Bridge City is set to become the centrepiece of an affordable housing development that will see more than 350 units being developed with the first ones being up for sale towards the end of next year. This new residential project will also introduce a first of its kind, rent-to-buy financing model that will further reshape the landscape that Bridge City has already started to transform.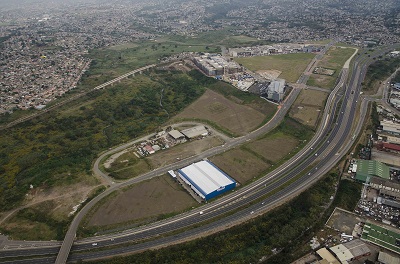 An aerial view of Bridge City. Construction of the affordable housing development will be positioned in the far left of the photograph fairly close to the Shopping Centre.
This 56-hectare mixed-use precinct has broken numerous moulds, partnering with the City of eThekwini to create a polycentric urban metro that balances the needs of the residential, commercial and industrial markets.
"We're very excited about the opportunity to help people own a home through an innovative approach to home financing," says Matthew Verbaan, Executive Director of Chartwell Group. "The rent-to-own model has never been tried here before, but it's the ideal way to broaden ownership while promoting the ideals embodied in Bridge City as an urban concept."
In partnership with the City, Tongaat Hulett has redefined how astute spatial planning can have positive socio-economic benefits. The affordable housing project furthers that ambition by making quality, affordable housing available to new residents.
Construction of the affordable housing development, covering nearly two hectares in the North West corner of Bridge City, will be undertaken by property developer Calgro M3, with the Chartwell Group offering financing.
The 356 apartments, selling from R529 000, are all two-bedroom, one-bathroom units with open plan living areas. Quality finishes include granite kitchen tops, ceramic tiles, burglar bars, security gates and built-in bedroom cupboards in the main bedroom.
Verbaan says the rent-to-own financing option is designed for aspirant home owners who are not quite able to afford full loan repayments.
"We therefore offer aspirant home-owners a three-year period in which to achieve ownership status," he explains. "They do this by exercising an option to buy at the end of that period. The purchase price is fixed upfront and all rentals paid in the three-year rental period are considered payment toward the eventual purchase price."
Home buyers can also choose a 20-year instalment sale, which carries the same ownership rights as a traditional mortgage loan from a bank.
"In addition, we offer noteworthy benefits such as zero deposit and competitive interest rates," Verbaan says. "We are also committed to processing applications as speedily as possible, with qualifying customers able to move into their own home within two weeks of applying."
Construction on the site is set to commence in the middle of this year, with occupation expected some 15 months later. Verbaan says Chartwell will start accepting applications in the third quarter of the year and notes that tremendous interest has already been received from people aware of the development.
The interest shown even at these early stages is understandable given the context of Bridge City as a mixed use precinct that caters to commercial, retail and industrial customers. The housing development is a short distance from the 48 000m2 Bridge City shopping centre, while the precinct also includes a 500-bed regional state hospital which will open in 2019, a regional magistrate's court and a 150-bed private hospital. In addition there is a major transport node which includes an underground rail station and bus rapid transport (BRT) terminus for the GO!Durban Integrated Rapid Public Transport Network (IRPTN) which will greatly enhance Bridge City's connectedness.
Issued by: Tongaat Hulett

Key contacts
Shirley Williams Communications: Shirley Williams
Telephone: 031 564 7700 or 083 303 1663
About Tongaat Hulett
Tongaat Hulett is an agriculture and agri-processing business, focusing on the complementary feedstocks of sugarcane and maize. Its on-going activities in agriculture have resulted in the company having a substantial land portfolio within the primary growth corridors of KwaZulu-Natal with strong policy support for conversion at the appropriate time. Tongaat Hulett strives to be a proactive and resilient organisation working in collaboration with all its stakeholders through different business and agricultural cycles in a constructive, mutual value-adding and developmental manner. It has operations in six countries in SADC, significant sugarcane and maize processing facilities, a unique land conversion platform, a sizeable animal feeds thrust and possibilities to grow ethanol and electricity generation.