Durban KZN - It's all happening at Ridgeside
Durban, 13 March 2018: There seems to be insatiable demand for Ridgeside's prime land which cascades towards the sea from the uMhlanga Ridge. "New projects are being snapped up almost as soon as they reach the market", says Chris du Toit, Commercial Director at Tongaat Hulett Developments.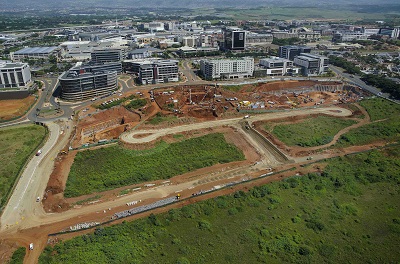 An aerial view of Ridgeside in uMhlanga.
"Given its extraordinary location, between the uMhlanga village and the ridge, combined with superb sea views, Ridgeside is being developed as a top-end mixed-use precinct. We are seeing premium-grade corporate offices, high-end retail and luxury residential facilities being built at Ridgeside," expands du Toit. "Its proximity to King Shaka International Airport (10 km) and the Durban CBD (23 km) add to its desirability."
A ribbon of coastal forest borders part of Ridgeside and a natural valley runs through it. This 40 hectare asset is being preserved as green space for the surrounding communities. Add to the mix a 4-star international hotel, an exclusive private estate and urban amenities and you can imagine that Ridgeside will soon become the locale of choice among the discerning.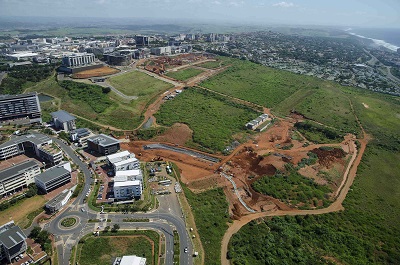 A further aerial view of Ridgeside in uMhlanga.
One of the key developments taking shape is the Umhlanga Arch complex, a stunning R1.2 billion development which covers 45,000 square metres and houses 163 apartments (including 30 loft apartments). Describing itself as "the pinnacle of urban sophistication" this development and its iconic architecture is symbolic of this exclusive area's attractive lifestyle.
Then there is the Enigma Private Estate, an exclusive, private high-end, gated residential estate. With 60% of its 90 sites already sold, it is the fastest selling estate in the uMhlanga area to date. It is the only development in the region currently to offer individual stands for sale, which in this pet-friendly estate, start at R3.5 million.
The older community will also be catered for at Ridgeside. A 640-unit retirement complex is currently being designed for a 15 hectare site adjacent to the extremely successful Umhlanga Manors. The development will be unveiled later this year and is likely to be over-subscribed.
Ridge 7, the seventh office building to be developed by property developer FWJK in the Umhlanga Ridgeside office precinct, will be a stand-alone sectional title office block comprising a floor area of 7,700 square metres. Floor-to-ceiling glass, outside balconies and panoramic sea and city views characterise the building and will make it an enviable office environment.
Commercial property investment firm, Taylor-Made Property Asset Managers has purchased a 55,000 square metre development site in Ridgeside in order to develop residential units, a 4-star international hotel, and commercial offices. "The term 'dynamic urbanism' comes to mind when talking about Ridgeside," explains Gavin Rogaly, Founder & Commercial Director of Taylor-Made. "This is a very desirable location and we are in the final stages of negotiations with a global hotel brand, which has extensively researched the node's appeal, to develop a 165-room hotel with an additional 40 executive long-stay suites. In addition we will be developing some 300-350 luxury residential units, contemporary offices and destination retail space.
"We have focussed our design on the urban streetscape to ensure that our tenants and owners and their clients and customers enjoy the most desirable address in Umhlanga. Importantly, we have committed to ensuring the entire precinct will achieve a 5-star Green Star rating for environmental impact."
Perhaps one of the most luxurious developments to grace Ridgeside will be The Skye, a mixed-use space comprising residential, retail and a hotel. The Skye Luxury Apartments, the first phase of the unique development will boast luxury apartments, high-end retail and commercial spaces. The 183 apartments will range from one-bedroom to five-bedroom penthouses. Phase two of The Skye will comprise a deluxe hotel and lifestyle centre.
"Ridgeside is a prime location for many high-profile developments and the momentum building there is unsurpassed," concludes du Toit. "Many national and international brands are now investing in property and the project is facing an exciting future."
Issued by: Tongaat Hulett

KEY CONTACTS
Shirley Williams Communications: Shirley Williams
Telephone: 031 564 7700 or 083 303 1663
Tongaat Hulett Developments: Chris du Toit, Commercial Director
Telephone: 031 560 1900
About Tongaat Hulett
Tongaat Hulett is an agriculture and agri-processing business, focusing on the complementary feedstocks of sugarcane and maize. Its on-going activities in agriculture have resulted in the company having a substantial land portfolio within the primary growth corridors of KwaZulu-Natal with strong policy support for conversion at the appropriate time. Tongaat Hulett strives to be a proactive and resilient organisation working in collaboration with all its stakeholders through different business and agricultural cycles in a constructive, mutual value-adding and developmental manner. It has operations in six countries in SADC, significant sugarcane and maize processing facilities, a unique land conversion platform, a sizeable animal feeds thrust and possibilities to grow ethanol and electricity generation.