International Property - 10 Years on from financial crisis
Ten years on from financial crisis – Knight Frank analyses price movements in the world's prime residential markets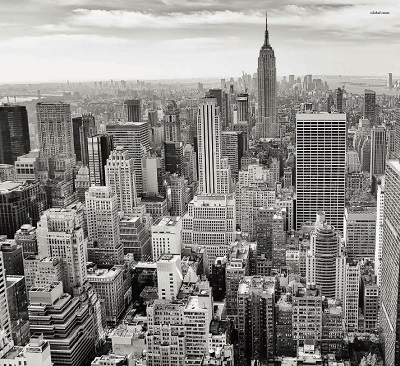 London, UK – Knight Frank has unveiled new research analysing the movement of prime residential prices in the world's top cities since the start of the financial crisis, ten years ago. Data from Knight Frank's recently launched Wealth Report and its Prime International Residential Index (PIRI), which tracks the movement of luxury residential prices in the world's major cities highlights:
2007: Prime prices in most of the world's top tier cities were rising fast. London, Monaco and Hong Kong were all witnessing annual growth in excess of 25%.
2008: Prices in most global markets tumbled. The US and Europe led the charge with several key Asian markets also badly affected.
2009: For some prime markets, the size of the Lehman Brother's collapse in fact hastened the revival of their prime property markets now seen as 'safe havens'. London, New York and Miami benefitted most. A drop in interest rates, new stimulus in the form of QE and volatile financial markets saw the appeal of property as an asset class strengthen.
Currency shifts influenced the direction and volume of capital movements. The weak pound sparked interest from Asia, US and Russia in the UK.
2010: The 'safe haven' era continued and coincided with the Asian economic boom. Asian wealth surged, and combined with buoyant economies, currencies strengthened. This resulted in a wall of capital looking for a home - boosting domestic property markets such as Shanghai, Beijing and Hong Kong. Demand from Asia also shifted overseas to markets such as Vancouver, London, New York and Sydney.
Perhaps counterintuitively, Jakarta led the PIRI rankings in 2012 and 2013 but here its prime residential markets was at an embryonic stage and prices were rising from a very low base.
2011: The fallout from the Global Financial Crisis continues. Aside from London, European markets dominate the bottom of the rankings and emerging markets (Nairobi, Bali, Jakarta, Moscow, and Beijing) the top.
2012: Two years after concerns were piqued over Europe's heavily indebted nations, we start to see southern European investors redirect capital to more robust economies in the north, in particular Germany. Miami also saw an influx of Latin American purchasers eager to hold a USD asset in a safe and transparent market abroad and the Federal Reserve announced a third phase of QE.
Kate Everett-Allen, Partner and Head of International Residential Research at Knight Frank said, "The next phase marked the introduction of cooling measures, with the aim of curbing price inflation using macro prudential measures. Apart from a handful of European markets - where the focus was on attracting not deterring foreign investment in the form of Golden Visas and investment incentives – policymakers in most prime markets focused on controlling or at least tracking capital flows into and out of their property markets. From Australia to Canada and from London to Hong Kong, higher stamp duties, foreign buyer taxes or moves to track Limited Liability Company (LLC) purchases, as seen in New York and Miami, grew in number."
2013: Asia is booming, Jakarta, Auckland, Bali and Christchurch occupy the top four PIRI rankings. Europe, by comparison, is trailing. In 2013, 80% of the markets that registered a decline in prices in 2013 were European. Residential markets hit hardest by the global financial crisis – Dublin, Madrid, Dubai – see prime price growth strengthen. Policymakers react with local property taxes (Ireland) and by doubling transfer costs (Dubai) to slow the pace of growth and curb speculative investment.
2014: Asian markets slipped back down the rankings as cooling measures were ramped up. The US markets, buoyed by a strengthening US economy, performed strongly with New York and Aspen occupying the top two positions in the rankings. In 2014, Russia imposed reporting requirements on Russian nationals seeking permanent residence or citizenship in other countries.
2015: QE stimulus continues to shore up property markets across Europe, the UK and the US. Governments continue to vie with the increased mobility of global wealth in a bid to monitor and control increased capital flows into their property markets. To limit its exposure to the Eurozone the Swiss franc was unpegged from the euro at the start of the year.
In China, the government's clampdown on bank lending pushed capital away from property into the stock market. By June 2015 concern spread that stocks were overvalued and the economy was slowing, sparking Shanghai's stock market crash. Instead, Chinese capital looks for a home overseas. Vancouver and Sydney top the PIRI index.
2016: Chinese cities occupy the top three PIRI rankings as authorities step up their monitoring of cross-border capital flows and a new threshold of 50,000 yuan is imposed. ECB cuts interest rates to 0%. From Vancouver to Sydney to London, measures to control price growth, heighten transparency and increase tax takes sees price growth moderate.
2017: After a decade of weak growth, Europe's recovery materialises with the region occupying four of the top ten PIRI rankings. A weaker USD in the second half of 2017 heightened foreign interest in US markets and those pegged to the dollar. Despite the rise in oil prices in the second half of the year, oil-dependent residential markets remain at the foot of the rankings.
2018: As we enter a new phase of higher interest rates and the removal of stimulus, price growth will continue to be strongly linked to domestic economic performance and wealth creation but buyers will need to monitor markets carefully for further policy interventions, which look set to increase.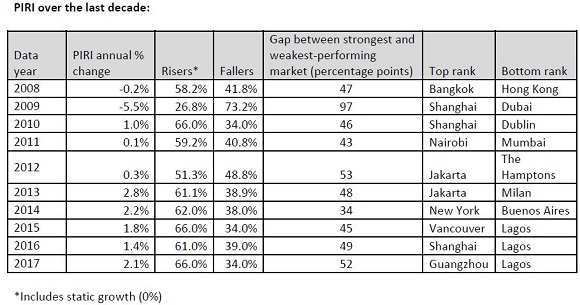 Courtesy: Knight Frank

For further information, please contact:
Knight Frank Press Office: [email protected]
Knight Frank LLP is the leading independent global property consultancy. Headquartered in London, Knight Frank has more than 15,000 people operating from 418 offices across 60 markets. The Group advises clients ranging from individual owners and buyers to major developers, investors and corporate tenants. For further information about the Company, please visit www.knightfrank.com.
Important Notice
© Knight Frank LLP 2018 – This report is published for general information only and not to be relied upon in any way. Although high standards have been used in the preparation of the information, analysis, views and projections presented in this report, no responsibility or liability whatsoever can be accepted by Knight Frank LLP for any loss or damage resultant from any use of, reliance on or reference to the contents of this document. As a general report, this material does not necessarily represent the view of Knight Frank LLP in relation to particular properties or projects. Reproduction of this report in whole or in part is not allowed without prior written approval of Knight Frank LLP to the form and content within which it appears. Knight Frank LLP is a limited liability partnership registered in England with registered number OC305934. Our registered office is 55 Baker Street, London, W1U 8AN, where you may look at a list of members' names.