Legal Update - Property Practitioners Bill
Good and bad news in Property Bill
Proposed changes to the use for which Fidelity Fund Insurance can be used could increase risks to consumers wanting to buy and sell property.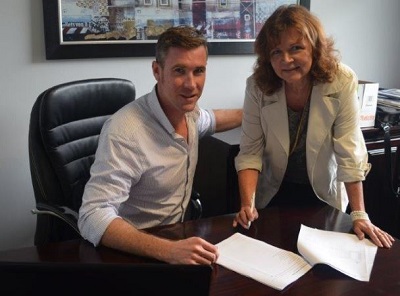 Bradley Hancock and Janet Alexander
That's the view of Bradley Hancock, KZN Regional Broker Sub-Committee Chairperson of the SA Property Owners' Association (SAPOA) KZN. He was commenting on the Property Practitioners Bill 2016 which is scheduled to be promulgated before the end of 2017.
According to Hancock, Fidelity Fund Insurance Is currently used to settle claims against all estate agents.
The Bill makes provision for these monies to also be used to pay claims for misappropriation of trust monies by licenced agents.
In addition, the Bill states that Fidelity Fund Insurance money should also be channelled towards grants for black empowerment and education.
"These funds would have to be closely monitored to ensure that it goes to those who really want to become estate agents, not just to anyone who happens to qualify for a Learnership 18.2 bursary bursary in terms of current ServicesSETA criteria," Hancock said. The ServicesSETA qualifying criteria require the recipient to be black, unemployed and under the age of 33.
Hancock maintained that where were many eager would-be estate agents wanting to join the industry who did not fall within the current qualification requirements for a learnership bursary, but who would excel in the industry and be a benefit to the employer.
The Bill, which will replace the long standing EAAct 112 of 1976, was circulated for public comment by the Minister for Human Settlements, Lindiwe Nonceba Sisulu. These comments are currently being considered before the Bill is re-tabled in Cabinet for introduction in Parliament in the forthcoming sitting.
Despite his specific concerns, Hancock said the Bill contained good provisions and was overdue in many respects. He agreed with Advocate Debra Vial of the Estate Agents Affairs Board (EAAB) that given the size of the property market – its value is estimated at R7,9trillion and it contributes some 8% to the country's GDP – it was essential that the entire property sector be transformed.
Vial said the Bill would promote consumer education and empowerment; and would also professionalize the real estate industry.
According to Janet Alexander, CEO of online real-estate training company, PropAcademy, education of estate agents will continue to be regulated by the EAAB.
"Education includes all verified and non-verified Continued Professional Development (CPD)," she said.
Alexander said the process to becoming a fully qualified estate agent could take between two and three years. The EAAB requires any person entering the property industry – an intern – to produce a logbook which is a record of their first 12 months in the industry. This ensures that the intern is able to perform functions required to professionally deal in property.
During this 12-month period the intern must also study to obtain the South African Qualification Association (SAQA) NQF4 qualification. This course takes approximately six months and thereafter a certificate of competency is issued by ServicesSETA. Once this has been earned, the intern must write the Professional Designated Exam Level 4 (PDE4) which is set by the EAAB. Only then does the individual obtain Full Status Fidelity Fund Certification (FCC.)
"It's important to note that EAAB has an excellent database which keeps track of agents who may be non-compliant with the conditions required for their ongoing registration as estate agents. For example, this could include not keeping abreast of their CPD requirements. As a result, non-compliant estate agents may find their applications for their next FFC automatically blocked. And non-compliant selling or leasing agents and their agency are not entitled to receive commission from sellers or landords," Alexander added.
Other important aspects of the Bill include the broadening of the definition of an estate agent to include all persons who deal in property for gain, including bond originators, bridging financers, and valuators. However, the Sheriff of the Court and Candidate Attorneys, who may be involved in property transactions, are specifically excluded. The categories of people who are excluded from becoming estate agents has been broadened to include non-citizens or unlawful residents, persons found guilty of contraventions of the Act in the preceding five years and those not in possession of a tax clearance certificate.
The Bill also makes provision for the appointment of an Ombudsman, who will hold office for five years and have powers of mediation and adjudication over a range of matters including inter-agent disputes.
Courtesy: PropAcademy and SAPOA