Durban Development - School Boost for Sibaya
Tongaat Hulett has signed a landmark deal with education group ADvTECH to develop the first new school in the uMhlanga region in more than 14 years. The 2 000-student facility, located within the renowned Sibaya Coastal Precinct, is scheduled to open in 2020.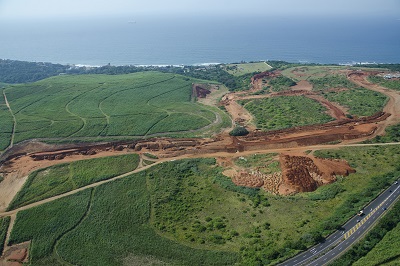 An aerial view of Sibaya where the new school will be sited.
The project is expected to provide relief for the growing demand in the region for quality schooling. The facility will be developed under the ADvTECH Academies brand, which provides education to a broad range of income earners.
"We are very pleased to be working with ADvTECH on this development, which has entrenched its position as a leading player in the education market," says Sithembiso Mthembu, Head of Development Execution for Tongaat Hulett Developments. "The company clearly sees value in the opportunity, and as the developers of Sibaya Coastal Precinct we're excited to be able offer this type of amenity to residents in the precinct and surrounding region."
Mthembu says the decision to construct the new school follows a period of identifying market demand and potential, followed by intensive engagement and negotiations with educational institutions towards finding the most appropriate and beneficial solution.
ADvTECH, he says, responded immediately with an exciting concept and proposal.
The school is being developed in Node 5 of the 1 000 hectare Sibaya Coastal Precinct, on which construction of civil infrastructure commenced last year. The first phase of this project is expected to be completed later this year, with plans to build some 10 000 residential units by the time the entire project is completed.
Nodes 1 and 5, located on the east side of the M4 motorway, are the priority focus areas. Mthembu says Sibaya's big attraction is its convenient location between facilities like King Shaka International Airport and major centres such as uMhlanga and Ballito and it was exactly this that appealed to ADvTECH.
"The Sibaya Coastal Precinct site has been selected as it is becoming an extensive development node and the developers together with ADvTECH believe that a school within the node will be very necessary to service this community (as well as the surrounding region) which will be growing considerably in the coming years", says Vongani Mbhokota ADvTECH Group Properties Executive.
The ADvTECH Group Properties division has more than 14 years' experience in school design, development, construction and facilities management and successfully owns and operates more than 80 schools across South Africa and the rest of Africa.
"Schools in our country are more than just bricks and mortar structures, they are about building strong communities so all children can get the best possible start in life. By investing in the education precinct, we are investing in our country's future", says Mike Aitken ADvTECH Schools Division CEO.
"With new residential developments, it is important to provide those facilities (such as schools) that will cater to current and future residents. Families in the respective communities will benefit from new schools with qualified teachers that will ensure their children can continue to receive world-class education in safe, modern and friendly facilities close to their homes", he adds.
This is a theme that Mthembu endorses, indicating that the ADvTECH school project is the start of the development of more education facilities in future. "The number of residential units in Sibaya Coastal Precinct will be growing significantly in the next five to ten years, and so will the opportunities for more educational facilities to meet demand."
In the meantime, the new ADvTECH Academies facility will be a welcome option for Sibaya Coastal Precinct residents, as well as families within the surrounding areas. Mthembu says the school could attract learners from as far afield as Durban North and Ballito due to the high number of individuals who commute from those areas to work in uMhlanga. There remain a number of other educational opportunities in further developments such as Cornubia.
Issued by: Tongaat Hulett

Key contacts
Shirley Williams Communications: Shirley Williams
Telephone: 031 564 7700 or 083 303 1663
Tongaat Hulett Developments: Sithembiso Mthembu, Head of Development Execution
Telephone: 031 560 1900
About Tongaat Hulett
Tongaat Hulett is an agriculture and agri-processing business, focusing on the complementary feedstocks of sugarcane and maize. Its on-going activities in agriculture have resulted in the company having a substantial land portfolio within the primary growth corridors of KwaZulu-Natal with strong policy support for conversion at the appropriate time. A core element of Tongaat Hulett's strategic vision is to maximise the value generated from the conversion of land in the portfolio by responding to key demand drivers and identifying its optimal end use for all stakeholders.
Through its sugar and starch operations, Tongaat Hulett produces a range of refined carbohydrate products from sugarcane and maize, with a number of products being interchangeable. Global sweetener markets continue to be dynamic and the business seeks to optimise its various market positions, leveraging off its current base to maximise revenue from these products. Tongaat Hulett continues to focus on value creation for all stakeholders through an all-inclusive approach to growth and development and regards its constructive interfaces with governments and society to be of significant importance.