Property Development - Strategic location sees Bridge City come of age
Tongaat Hulett Developments and NJR Steel are officially celebrating the opening of the Bridge City Business Estate's first greenfields project – a purpose built 4 000m² warehouse and distribution facility.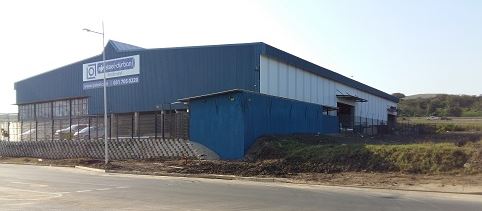 "Bridge City is coming of age because of its strategic location and completion of the half diamond interchange giving direct access to the M25. This successful project demonstrates just what can be achieved at Bridge City" says Brian Ive, a development executive at Tongaat Hulett Developments, which is driving the development of this mixed-use precinct in partnership with eThekwini Municipality
Situated on a 7 761m² site within the 17 hectare business estate, the new NJR Steel facility is already fully operational.
It is home to a fully stocked shop that is open to members of the public and offers steel as well as hardware products, a distribution centre which serves as a hub from which customers can collect and the company can deliver product and a reinforcing bar line which cuts and bends reinforcing bar as per engineering schedules for all sectors of the building industry.
According to Durban branch manager, Mike Smith, NJR Steel acquired the property about two years ago. Construction commenced in earnest in May 2016 and the new Durban operation was completed in just under a year.
They officially took occupation on May 1, 2017.
The end result offers "a bigger yard, easier access and greater convenience," he says.
"We were previously located in New Germany but had sadly outgrown the facility about six years ago. The design of the building that we have erected in Bridge City has taken into account our customers and suppliers and allows ease of access for both loading and offloading of materials. We are able to service up to four interlinks within the facility at any given time, as well as cater for customers collecting daily requirements," he explains.
Both Ive and Smith believe that location is the key reason why businesses will choose Bridge City.
NJR Steel, which has a network of 16 branches in five provinces, serves customers all the way from Richards Bay to the Eastern Cape.
"We offer a very large selection of mild steel products and steel hardware accessories and serve all facets of the market – from the largest fabrication business to construction businesses to the average DIY enthusiast who may require some steel or an allied product. "With the location of the airport at La Mercy, many business have moved north. In particular, there is a lot of development in uMhlanga and the Northern Region. We believe that our business is now centrally situated in order to provide fast and efficient service, Smith explains.
Ive notes that the completion of the M25 half-diamond interchange and freeway leading to Bridge City at the beginning of the year has significantly improved access to both the town centre and the business estate for both road users and for the R20 billion GO!Durban bus rapid transport network (BRT).
In addition, he says, Bridge City businesses will also benefit from good visibility from the busy M25 and the convenience of being just three kilometres from the N2.
Bridge City Business Estate offers fully serviced and platformed sites, making them immediately available to buy, take transfer and start construction. This overcomes protracted delays experienced by many potential investors in other parts of the city.
However, according to Ive, at present, there are just six sites left ranging in size from 2 500 m² to 2,9 hectares. ..
He adds that the location of Phoenix Industrial Park directly across the M25 is another important consideration for businesses.
Since its launch in 1982, Phoenix Industrial Park has evolved into an important economic hub along the burgeoning northern corridor of Durban. It is home to over 460 businesses, making it one of the largest industrial complexes in the country. As far back as 2013, one of the chief challenges to growth in the area has been the availability of affordable land for business expansion.
Bridge City is the second leg of the highly successful Effingham joint venture public private sector partnership between Tongaat Hulett Developments and the eThekwini municipality. It is a mixed use development that includes residential, retail (including the 48 000m2 Bridge City shopping centre), recreational, medical and commercial and light industrial facilities.
Issued by: Tongaat Hulett

KEY CONTACTS
Shirley Williams Communications: Shirley Williams
Telephone: 031 564 7700 or 083 303 1663
Tongaat Hulett Developments: Brian Ive
Telephone: 031 560 1900
About Tongaat Hulett
Tongaat Hulett is an agriculture and agri-processing business, focusing on the complementary feedstocks of sugarcane and maize. Its on-going activities in agriculture have resulted in the company having a substantial land portfolio within the primary growth corridors of KwaZulu-Natal with strong policy support for conversion at the appropriate time. A core element of Tongaat Hulett's strategic vision is to maximise the value generated from the conversion of land in the portfolio by responding to key demand drivers and identifying its optimal end use for all stakeholders.
Through its sugar and starch operations, Tongaat Hulett produces a range of refined carbohydrate products from sugarcane and maize, with a number of products being interchangeable. Global sweetener markets continue to be dynamic and the business seeks to optimise its various market positions, leveraging off its current base to maximise revenue from these products. The business's sugar operations are well placed to benefit from evolving dynamics of renewable electricity and ethanol in South Africa, and the Southern African Development Community (SADC) region. Tongaat Hulett continues to focus on value creation for all stakeholders through an all-inclusive approach to growth and development and regards its constructive interfaces with governments and society to be of significant importance.