Durban Construction - Bridge City's bold vision becomes reality
Construction of a landmark affordable housing project at Bridge City is due to start within weeks, marking another step toward realising the development's bold vision. A joint venture between Tongaat Hulett and eThekwini Municipality, Bridge City is positioned as a mixed-use precinct able to cater to a broad range of constituents.
With 356 affordable apartment units to be offered from as little as R499 000, these residential units are crucial to helping the partnership realise its vision of providing quality, affordable urban homes in a new town centre replacing a previously underdeveloped strip. These units will be built by nationally renowned, JSE-listed; Calgro M3, which has purchased the land for development in conjunction with affordable home loan provider; Chartwell Group.
Located less than 20 kilometres north of Durban's CBD, Bridge City is bordered by Phoenix, Inanda, Ntuzuma and KwaMashu, collectively accommodating over 600 000 people. These new affordable homes are therefore a further important piece of the Bridge City development puzzle, which includes the 13-hectare Bridge City Business Estate and a Town Centre consisting of commercial, retail, residential, state hospital and regional magistrate's court sites. The opening of eThekwini's Go!Durban Integrated Rapid Public Transport Network (IRPTN) public transport system and the installation of CCTV security throughout Bridge City by the end of the year, will make Bridge City a highly desirable commercial and residential node.
"We're very excited about this development because it is the first delivery of affordable residential accommodation in Bridge City," says Brian Ive, Development Executive at Tongaat Hulett Developments. "Bridge City was envisioned as a mixed-use Town Centre like the Umhlanga Ridge Town Centre development which includes high intensity, mixed-use sites in a town centre in which residents play an important part." The construction of the IRPTN will provide future residents with direct access to the entire city via this world-class BRT (Bus Rapid Transport) system which also integrates with rail and traditional road public transport modes.
The affordable housing units comprise secure, quality apartments, most with two bedrooms, one bathroom and open-plan living areas. Standard finishes include granite kitchen tops, ceramic tiles, burglar bars, security gates and built-in bedroom cupboards in the main bedroom.
"The development will enable a number of families in the region, in particular first time homeowners, to bridge the housing affordability gap and step onto the home-ownership ladder," comments Gregory Connellan, executive director of Chartwell Group. "Over the past few years there has been a dearth of good quality housing in the region, which has one of the highest household densities in eThekwini.
"Homeownership gives people the opportunity to live in a better environment and build up a capital base that provides a long-term source of financial security."
Chartwell Group is introducing a number of unique and attractive features to qualifying buyers. These include 100% home loans with zero upfront deposits, no occupational rental charges and an accelerated two-week credit approval process. In addition, homeowners will pay one consolidated monthly bill that covers all home loan repayments, body corporate levies, insurances and municipal fees.
The construction of the apartments is the first foray into the eThekwini region for Calgro M3, an established property development company with a nationwide residential housing footprint. The group specialises in developing integrated and mixed-use projects that incorporate various types of fully subsidised, partially subsidised and affordable housing.
"By undertaking this project we will be participating in the highly acclaimed Bridge City Precinct development, and in so doing will contribute significantly to the advancement of the community in the area," says Wayne Williams, Calgro M3's group executive director.
Bridge City's role as a source of affordable accommodation will be further enhanced in the medium term by the acquisition of five sites in the town centre by eThekwini Municipality. Ive explains that these sites will be used to create social and gap housing opportunities, which will be managed by the city's chosen development partners.
"So over the next year to two, we will see much development taking place in Bridge City Town Centre with the delivery of good-quality residential units for sale to the market, and this is welcomed news!" he says.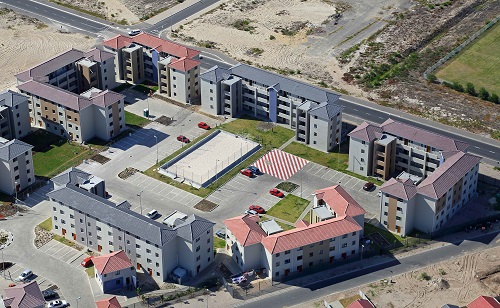 Artist's impression of Bridge City affordable housing
Issued by: Tongaat Hulett

KEY CONTACTS
Shirley Williams Communications: Shirley Williams
Telephone: 031 564 7700 or 083 303 1663
Tongaat Hulett Developments: Brian Ive, Development Executive
Telephone: 031 560 1900
About Tongaat Hulett
Tongaat Hulett is an agriculture and agri-processing business, focusing on the complementary feedstocks of sugarcane and maize. Its on-going activities in agriculture have resulted in the company having a substantial land portfolio within the primary growth corridors of KwaZulu-Natal with strong policy support for conversion at the appropriate time. A core element of Tongaat Hulett's strategic vision is to maximise the value generated from the conversion of land in the portfolio by responding to key demand drivers and identifying its optimal end use for all stakeholders.
Through its sugar and starch operations, Tongaat Hulett produces a range of refined carbohydrate products from sugarcane and maize, with a number of products being interchangeable. Global sweetener markets continue to be dynamic and the business seeks to optimise its various market positions, leveraging off its current base to maximise revenue from these products. The business's sugar operations are well placed to benefit from evolving dynamics of renewable electricity and ethanol in South Africa, and the Southern African Development Community (SADC) region. Tongaat Hulett continues to focus on value creation for all stakeholders through an all-inclusive approach to growth and development and regards its constructive interfaces with governments and society to be of significant importance.