International Property - Prime Global Cities Review 2016
What happened?
Prime Global Cities Index results to Q3 2016 – Top 10 Performing Markets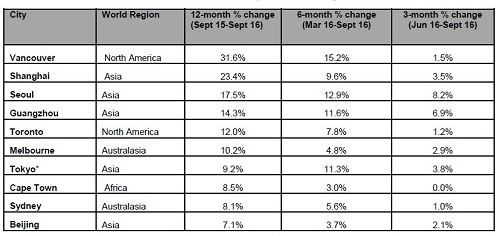 *Tokyo: Data to Q2 2016
Knight Frank's Prime Global Cities Index increased by 3.8% in the year to September 2016.
The rate of growth declined in 48% of the cities tracked by the index compared with the last quarter.
Although still on top, Vancouver's quarterly price growth slipped to 1.5% in three months to September.
Europe is split, Dublin is Europe's strongest performer and Paris the continent's weakest.
Currency, in particular the trajectory of the US dollar, will be critical to future prime market performance globally.
What will happen next?
Kate Everett-Allen, Partner, International Residential Research, Knight Frank, comments:
"Global wealth flows have continued to shape prime property markets in 2016 with security, currency and education all emerging as influential market drivers.
The traditional first tier safe haven markets such as London, New York and Hong Kong are seeing weaker capital appreciation and we've seen the unravelling of price booms in cities such as Vancouver and Auckland as policymakers use tax and regulatory measures to dampen price inflation.
All eyes will be on China in the coming months and its attempts to reign in prices in its largest cities. Emerging markets will continue to see an outflow of wealth but the extent to which these buyers are willing to offset their appetite for capital growth against their preference for transparency and good governance will determine the direction of such capital flows."
Knight Frank's global property statistics for 2016
#1 - London is the most important city to the world's wealthy, followed by New York and Singapore.
Residential prices are highest in Monaco. Here, US$1m buys you 17 square metres.
The number of ultra-high-net-worth individuals, those with $30m or more in net assets declined by 3% in 2015.
Gstaad leads the 2016 Alpine Property Index, prices have accelerated by 13.3% in a year due to severe lack of stock.
Out of 26 tax-efficient locations around the world, Hong Kong is named best place to live for an entrepreneur followed by London.
Luxembourg is the most favourable place to live for a family with Vienna ranked in second position.
Sydney, number one location for a retired couple followed by Malta, Luxembourg, Limassol and Vienna.
The Caribbean still faces some short-term headwinds but confidence and investment is on the rise.
The value of classic cars and investment-grade wine both increased by 8% on an annual basis, according to the latest (Q2 2016) results of the Knight Frank Luxury Investment Index.
The Prime Global Rental Index recorded 0% growth in the year to September 2016. Some rents have outperformed however, with prime rents in North America rising by 5.1% on average.
Courtesy: Knight Frank

Important Notice
© Knight Frank LLP 2016 – This report is published for general information only and not to be relied upon in any way. Although high standards have been used in the preparation of the information, analysis, views and projections presented in this report, no responsibility or liability whatsoever can be accepted by Knight Frank LLP for any loss or damage resultant from any use of, reliance on or reference to the contents of this document. As a general report, this material does not necessarily represent the view of Knight Frank LLP in relation to particular properties or projects. Reproduction of this report in whole or in part is not allowed without prior written approval of Knight Frank LLP to the form and content within which it appears. Knight Frank LLP is a limited liability partnership registered in England with registered number OC305934. Our registered office is 55 Baker Street, London, W1U 8AN, where you may look at a list of members' names.