Security Technology - Designed to Protect South Africas Estate Agents
Crime! Like a dark cloak, it surrounds us constantly. It is a sad reality that crime is part of the daily lives of the average South African citizen. Our ever friendly Estate agents, who spend most of the day willingly meeting and greeting strangers and showing them around empty properties or homes are becoming more and more vulnerable, especially as a large number of these agents are female!
The sad reality is that in a slow property market, Estate Agents are prepared to walk more than just the extra mile to find a willing and financially able buyer. This is where safety can sometimes be compromised and caution is often thrown to the wind. Everyone wants to make that deal!
There are many ways that Estate Agents might unknowingly open themselves up as targets. It's always important to be aware of not giving out too much information through advertising, which may possibly be used as ammunition by undesirables. Keep personal information to the minimal until you are sure you are working with legitimate buyers and not being"led down the garden path" Always be mindful to enforce Show House Safety. Unfortunately as an Estate Agent, you cannot control who is entering your show house. You are in essence like a "sitting duck"
So what sets us apart and makes us different? We have designed a unique micro panic button that is sleeved in a high quality adjustable water resistant silicone bracelet, designed to be inconspicuous yet easily accessible in the event of needing to activate a panic signal. In "layman's" terms it is a mobile panic button that you can wear at all times! It can be linked to both your home alarm and our vehicle trackers. It is so simple to use that even young children can operate it! Top priority in our design was being able to sleep with it on without sending out false alarms! After all, let's face it, when woken from a dead sleep by an intruder, would you be able to react quick enough to get up and locate you home alarm panic button? The answer in reality, is sadly no! Fact is that you would more than likely freeze! With our emergency wristband, all it takes is a double click and the emergency services will be alerted. It can be used in any application that would require an advanced warning system – even medical response. If you don't want to wear the bracelet, simply pop the transmitter out and affix to any place inside or outside the house, it will continue to work the same as a panic button.
Our emergency response bracelet was designed to work at home or at your business, wherever you install the receiver. The receiver links up to your existing alarm system, so we have taken our clients costs into consideration.
The good news gets better! With hijacking being a major crime factor in this country our team of experts further evolved our wristband .We have now designed a unique tracking system that enables you to link your wristband to our high tech vehicle tracker. You can pair 32 people per receiver. In the event of someone trying to hijack you, every person sitting in the vehicle can activate the panic where in turn your vehicle can be immobilized immediately and your distress signal gets received by your armed response. If you are in an accident you can activate your vehicle tracker to send out an emergency signal, straight away your position will be relayed and family members can be notified of an emergency situation.
All in all, our Emergency G1 Series Wrist band is the perfect safety asset for Estate Agents to have while manning the office alone, meeting unknown clients for the first time or sitting show houses. The scenarios for the use of our wristbands in this line of profession are endless! The cherry on the top is that it is well priced and affordable for all! You could link directly to the homes you selling and use it as a marketing feature!
As our name says, we are all about innovation! Fresh ideas! Thinking out of the box! So we took our design one step further. Earlier this year we introduced our SOSmart Tracking System.
This is a system that is unique to the world of vehicle tracking. Through ingenious methods we are able to monitor variables that could potentially save you from dangerous situations and possibly save you or your family's life. It is the most pro-active tracking solution on the market.
Our new product SOSmart was designed to pre-determine the possibility of any danger or anything out of the ordinary so that we could try help avoid the danger and be constantly alert.
Normal tracking companies only respond in the event of a panic being pushed or your car being stolen. Our software will allow you to set certain criteria eg: If I have not arrived at my next show house by such a time please alert the office.
When we install the system you will get our G1-Series Emergency Response Wristband which works with your car and your home. If you already have our wristbands all we need to do is pair them to with your vehicle. Our wristbands are the most effective way at activating your panic. Not only will you have your armed response company looking after you but also both of our control rooms whom can dispatch ground and air support.
With that said we are running a New Year's Promotion on the wristbands:
2 x Emergency Response Wristbands
1 x Receiver
1 x Receiver
Total: R399
Courtesy: PTI - Protection Through Innovation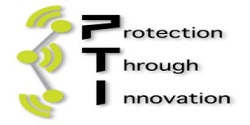 CONTACT DETAILS FOR MORE INFORMATION
Warren Mc Allister
031 563 4843
061 456 7890