International Wealth - Luxury Investment Index Q2, 2016
Knight Frank launches its latest Luxury Investment Index (Q2 2016) in connection with the 12th annual Concours d'Elegance.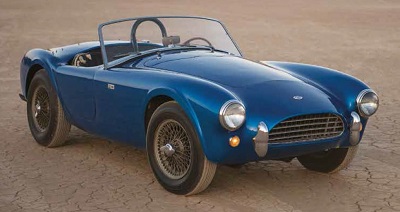 Results of the Knight Frank Luxury Investment Index Q2 2016 – Classic Car Special:
Classic cars and fine wine in dead heat at the top of the Knight Frank Luxury Investment Index.
The value of classic cars and investment-grade wine both increased by 8% on an annual basis, according to the latest (Q2 2016) results of the Knight Frank Luxury Investment Index (KFLII), which tracks the performance of 10 investments of passion.
The HAGI "Top Index" which tracks the value of the world's top 50 most desirable cars (and is the classic car benchmark used in KFLII) has risen by 458% over the past 10 years.
Despite the strong performance of cars, wine and several other of the asset classes in KFLII, the overall index rose by just 1% in the 12 months to June 2016, largely held back by a correction in the art market, which, in common with classic cars, has been driven by the reluctance of bidders to pay top prices for all but the best works.
Andrew Shirley, Partner, Residential Research, Knight Frank says, "While the wine market is bouncing back strongly following a slump in Bordeaux values a few years ago, the classic car market is actually decelerating. The last time annual growth slipped below 10% was five years ago."
Data digest
The Knight Frank Luxury Investment Index (KFLII) tracks the performance of a theoretical basket of selected collectable asset classes using existing third-party indices (see below). Each asset class is weighted to reflect its relative importance and value within the basket. The third-party indices selected are widely used by the media and analysts to track the performance of each asset class, but Knight Frank can take no responsibility for their accuracy or independence and methodological differences may affect like-for-like comparisons. The index does not take into account any dealing, storage or management costs. Methodological differences could impact like-for-like comparisons.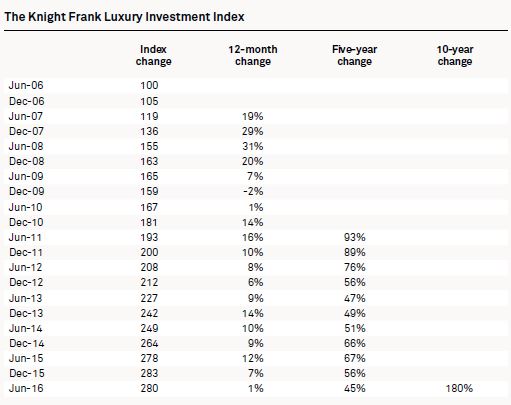 Courtesy: Douglas Elliman and Knight Frank

CONTACT FOR FURTHER INFORMATION
Astrid Etchells - International PR Manager
Tel: +44 20 7861 1182
Mobile: +44 777 676 3481
Email: [email protected]
Web: www.KnightFrank.com