Residential Research - UK Home Counties Lettings Index
SUPPLY AND DEMAND RISING ACROSS HOME COUNTIES RENTAL MARKET
Demand for prime rental property across the Home Counties rose in the second quarter of 2016, but higher stock levels have kept a lid on rental growth.
Results for Q2 2016
Rental values across the Home Counties fell by 0.6% in the second quarter
The annual change in prime rents stands at -0.8%
Rising stock levels have kept a lid on rental growth
International tenants accounted for 38% of all tenancies agreed between April and June
The number of corporate enquiries rose to its highest level all year in July, more than double the number received in June
Prime rents across the Home Counties fell by 0.6% between April and June, according to the latest Knight Frank rental index for the area. On an annual basis, rents were 0.8% lower than a year previously.
The slight fall in quarterly and annual rental growth has been driven by higher stock levels and a desire from landlords toremain competitive and keep void periods to a minimum in what is increasingly a tenant's market.
Underlying demand for rental property remains strong, with the number of new prospective tenants registering in the second quarter some 6% higher than the same period in 2015 and the number of viewings up by 12% year-on-year.
The number of new tenancies agreed between April and June was almost identical to the same period in 2015 and 28% higher than in 2014.
However, despite robust activity levels, agents note that any upwards pressure on rents has been countered by rising stock – especially at the top end of the market.
In the wake of the EU referendum, there is already anecdotal evidence that some vendors are deciding to let their property until more clarity emerges, and this could further weigh on rental values in the medium term.
The market continued to attract international tenants in the second quarter. Some 38% of new renters across the prime Home Counties market were non-UK nationals between April and June – in Ascot, Cobham and Esher, where corporate tenancies tend to be more prevalent this rose to 47%, although some of these tenants will already be domiciled in the UK.
Individuals from North America were the most active movers during this time, with the start of the American school term in August likely to have been a factor here.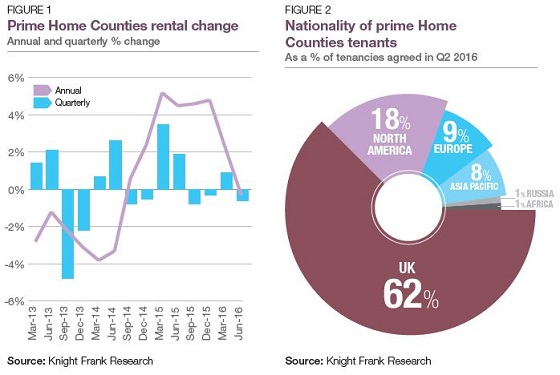 PICK UP IN CORPORATE DEMAND
Executives being relocated by their companies for work, both from London and internationally, have historically formed a large part of demand within the Home Counties lettings market.
As such, any rise in economic and business uncertainty as a result of the vote to leave the EU has the potential to weigh on demand for rental property as companies take stock of the new environment or look to make budget cuts.
However, while our figures show a notable slow-down in the number of enquiries from relocation agents in the immediate run-up to the referendum, the
number of enquiries in July was at the highest level all year, suggesting a degree of pent-up demand in spite of the UK's vote to leave the EU.
Corporate enquiries were more than double the level in June and 19% higher than in February, the second busiest month of the year to date.
The prime rental market in the Home Counties tends to be very seasonal and the three months leading up to September are often among the busiest of the year as tenants look to complete moves before the new US and UK school terms start.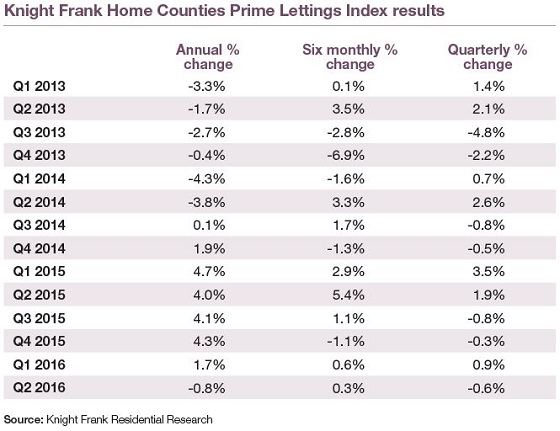 Courtesy: Knight Frank

FOR FURTHER INFORMATION
RESIDENTIAL RESEARCH
Oliver Knight - Associate
+44 20 7861 5134
[email protected]
HOME COUNTIES LETTINGS
Gordon Hood - Partner, Ascot
+44 13 4429 9399
[email protected]
Amanda Driver - Partner, Cobham
+44 13 7246 4009
[email protected]
Jemma Scott - Partner
+44 20 3826 0645
[email protected]
PRESS OFFICE
Jamie Obertelli
+44 20 7861 1104
[email protected]
Important Notice
© Knight Frank LLP 2016 – This report is published for general information only and not to be relied upon in any way. Although high standards have been used in the preparation of the information, analysis, views and projections presented in this report, no responsibility or liability whatsoever can be accepted by Knight Frank LLP for any loss or damage resultant from any use of, reliance on or reference to the contents of this document. As a general report, this material does not necessarily represent the view of Knight Frank LLP in relation to particular properties or projects. Reproduction of this report in whole or in part is not allowed without prior written approval of Knight Frank LLP to the form and content within which it appears. Knight Frank LLP is a limited liability partnership registered in England with registered number OC305934. Our registered office is 55 Baker Street, London, W1U 8AN, where you may look at a list of members' names.