Important Notice - SAPOA Cautions on Unlicensed Estate Agents and Brokers
The South African Property Owners Association (SAPOA) would like to warn the public about unlicensed estate agents and brokers that are illegally posing as estate agents and brokers.
According to Bradley Hancock, Chairman of the SAPOA KZN Broker Committee, there have been incidents of this illegal act, and the public are cautioned to be vigilant. "It is illegal for an estate agent or broker to operate without a valid Fidelity Fund Certificate", he said.
It is a legal requirement that all estate agents and the companies they work for hold a current valid Fidelity Fund Certificate (FFC) in order to claim commission on a property transaction. These are issued by the Estate Agency Affairs Board (EAAB) and are subject to review on an annual basis.
There are various levels of extensive learning that needs to be undertaken by estate agents and brokers prior to joining the profession.
Estate agents are required to undertake extensive learning in the form of NQF Level 4 and PDE Level 4 minimum qualifications. In order to practice as the Principal, a NQF Level 5 and PDE Level 5 are required. Once qualified, agents and principals are required to undergo Continued Professional Development (CPD) training in order to stay up to date and abreast of industry related changes. In addition, principals are also required to maintain designated trust accounts which must be audited on an annual basis in order for the companies FFC licence to be renewed on an ongoing basis. Failure to have a trust account audited within 4 months of the financial year end will result in the loss of the FFC licence.
Estate Agency companies are also deemed accountable institutions in terms of the Financial Intelligence Centre and regulated by the FIC Act. Should an estate agent not comply with the requirements of FICA, then this may also result in the loss of the FFC licence.
In the event of there not being a valid FFC, the transferring attorneys and property owners have grounds to not pay commission.
The SAPOA Brokers Committee offer the following precautionary measures:
Estate Agents should be encouraged to display both their individual and company FFC number on all company documentation including mandates, leasing and selling contracts
Landlords should obtain copies of the agents FFC's
Conveyancing Attorneys to obtain a copy of the Agent's valid FFC prior to paying over any commissions
The seller or seller's agent / broker would also be advised to instruct the conveyancing attorney to withhold any commission due until a copy of the valid copy of the FFC has been received.
That each individual agent's FFC number be displayed on all advertising sign boards.
SAPOA would like to encourage its members, landlords, attorneys, estate agents and the general public not to engage the services of unregistered operators that are illegally posing as estate agents and brokers and to always request sight of valid FFC certificates prior to the payment of any form of commission as this is illegal and an offence.
Courtesy: SAPOA - The South African Property Owners Association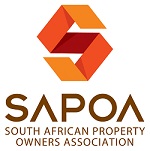 CONTACT FOR FURTHER INFORMATION
E-mail: [email protected]
www.sapoa.org.za