Property Development - Community Centre at Izinga gathers momentum
Izinga, the upmarket residential development to the north of Durban's vibrant Umhlanga commercial and retail centre, is forging ahead with strong sales and a new Izinga Park Community Centre that is due to open this September.
Andile Mnguni, Development Executive for Izinga, says that over 65 percent of the 2000 home development has been sold with occupancy standing at 50 percent on active phases. The next exciting milestone is the official opening of the new Izinga Park Community Centre which is virtually complete with a few remedial items being attended to.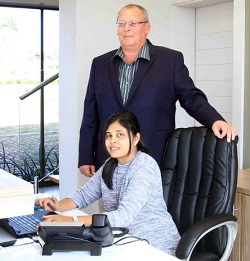 The Community Centre has been created as the administrative heart of the entire Izinga Development. It comprises of a security control room and an office which will be open weekdays from 8am to 5pm. This will be manned by operations manager, Petrina Shunmugam, as well as newly appointed Estate Manager, Theo Potgieter, who has an office upstairs.

This office – which was developed by Tongaat Hulett Developments using a BEE level one contractor – will be handed over to a Home Owners Association shortly. It will handle any queries about the building code, estate rules, contractor's protocol, environmental and security matters.

The Community Centre also includes recreational facilities specifically for Izinga Park residents with an open plan community centre room opening onto the grassed children's play area and adjacent swimming pool.

The Community Centre was designed by Sagnelli Architects and conforms with the strict architectural code of the Izinga development. The area is being landscaped using 100% indigenous plants.

Mnguni says that because Izinga is targeted at discerning purchasers looking for the tranquillity of coastal life within a rich natural environment, it is important to carefully control and monitor the overall architectural style and landscaping. The architectural designs which extend from the individual residential homes to the Community Centre combine an earthy African colour palette with Mediterranean and Balinese forms.

These are interspersed with open spaces in Izinga that are 100% indigenously planted using low water use plants. Private homes are required to have 80% indigenous planting and 35% soft landscaping.

Mandatory sustainability measures on all houses within Izinga are the use of only low energy / CFL light bulbs, solar energy for external lighting, solar thermal hot water heating, timer switchers and geyser blankets on conventional geysers and use of dual flush toilets.

He says that sales are progressing well with many families locating from Gauteng to take advantage of the Durban lifestyle as well as the good security and convenience of Izinga relative to surrounding amenities.

Because Izinga is in close proximity to the King Shaka International Airport, many breadwinners are able to commute to major financial centres while their families benefit from living in Durban where the climate, facilities and close proximity to leading model C and private schools in Umhlanga are major attractions.

Izinga is just 2km from exclusive Umhlanga beaches, the Umhlanga commercial and town centre and the Gateway Theatre of Shopping as well as close to corporate offices on both Umhlanga and La Lucia Ridge.

Commercial, educational and several different worship sites (which also fit in with the design code) complete this development.

Izinga is predominantly a residential development although provision has been made for a convenience centre with more commercial facilities within the estate in the near future.
Mnguni says captains of industry and some of KZN's foremost executives and business leaders have made Izinga their home emphasising both the quality of the area and the lifestyle it provides. The first houses were occupied at Izinga as early as 2010. Tongaat Hulett Developments estimates it will be fully built within five years.

The efficient functioning and quality of the environment is closely monitored by estate manager, Theo Potgieter, who recently relocated from Gauteng where he has had 10 years' experience in running residential estates, to take up the position.

He heads up a strong ground team which also oversees maintenance of the green open spaces. There are 5kms of very popular exposed aggregate concrete pathways that wind through the whole of Izinga open spaces. These are patrolled 24/7 and are safe for children to ride their bicycles as well as for joggers, people walking their dogs and adult cyclists.

Potgieter says that Izinga is a beautiful open suburb that is, at the same time, secured by an innovative and unobtrusive security system that provides perfect peace of mind.

Security guards patrol the development to ensure that it is crime free. Access points to the Estate are strictly monitored to ensure that all vehicles entering and exiting are recorded into the system. Izinga is also closely monitored by security cameras 24/7. Standby generators ensure the control room, access gates and cameras work uninterrupted in the event of an electricity outage.

Izinga Community Centre front office: Operations manager, Petrina Shunmugam, and Estate Manager, Theo Potgieter, in the newly completed office at Izinga Park Community Centre.

Spring walk: Residents of Izinga enjoy walking along the 5kms pathways that wind through the whole of Izinga open spaces.
Issued by: Tongaat Hulett



Key contacts
Shirley Williams Communications – Shirley Williams
Telephone: 031 564 7700 or 083 303 1663

Tongaat Hulett Developments - Michael Deighton
Telephone: 031 560 1900
About Tongaat Hulett
Agriculture and agri-processing is a fundamental element of socio-economic development in Africa - particularly in the development of rural communities, farming activities, food security and water management, housing and land conversion to development as urban areas expand. This is also linked to the socio-political dynamics of the region. Tongaat Hulett is well positioned in the nexus of these dynamics.

Tongaat Hulett is an agriculture and agri-processing business, focusing on the complementary feedstocks of sugarcane and maize. Its ongoing activities in agriculture have resulted in the company having a substantial land portfolio within the primary growth corridors of KwaZulu-Natal with strong policy support for conversion at the appropriate time. A core element of Tongaat Hulett's strategic vision is to maximise the value generated by optimum utilisation of land in the portfolio through its conversion to the most productive land use thereby optimising total real estate investment on the land.