Portugal Property - Algarve records price growth for first time since 2008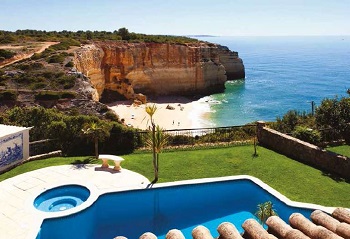 Realistic pricing, the availability of cheap finance, strong investment in infrastructure and tax initiatives have led to renewed confidence
Prices: Prime prices increased by 6.9% from December 2014 to December 2015*
Sales: Sales volumes are rising, Knight Frank's west Algarve office reported 32% increase in sales in 2015 compared to 2014
Tax: The Non-Habitual Tax Residency (NHR) regime is having more of an impact on the Algarve market than the Golden Visa
Buyers: Agents report significant increase in French buyers in last two years, the NHR is proving influential
Golf Investment: The golf season extends beyond the traditional tourist season providing investors with a good opportunity to maximise returns and limit void periods
London, UK – The Algarve is back on the radar of second home buyers. Realistic pricing, the availability of cheap finance, strong investment in infrastructure and tax initiatives have led to renewed confidence. Prime prices increased by 6.9% from December 2014 to December 2015* and sales volumes climbed by 32% in 2015 compared to 2014 according to Knight Frank's west Algarve office.
Alex Koch de Gooreynd, Partner and Head of Knight Frank's Portugal Network said, "In 2013 we saw vendors start to adjust their prices, keen to progress sales which led to an upturn in transactions and by 2015 the Algarve recorded its first annual increase in prime prices since 2008."
Alex Koch de Gooreynd continues, "Buyers are investing in the Algarve again. They are buying, extending and improving. Increased liquidity is now returning with good quality stock offered at sensible prices selling quickly."
UK, Irish and German buyers are still evident along the Algarve but French, Scandinavian, and non-European, including South Africans and Chinese, are increasing in number. The surge in French interest has been notable in the last 2-3 years with many citing Portugal's Non-Habitual Tax Residency** regime as a key incentive.
Another initiative, Portugal's Golden Visa – by far the most successful of the European schemes in existence – has seen inward investment focus on the Lisbon area rather than on the Algarve. To date Chinese buyers account for 79% of the 2,853 visas granted since 2012.
The Algarve is a second home destination and a luxury purchase. Buyers are drawn to the Algarve for the long rental season it offers. People, who want their holiday home to make money when they are not using it, can reasonably expect to rent out their properties from Easter to late October. The Algarve's 37 championship golf courses are responsible for over 50,000 rounds of golf a year and their season extends beyond that of the traditional summer rental period, running from February to May and again from September to November.
Courtesy: Knight Frank

* INE data - Portugal Statistics Office (tracks upper quartile prices across Algarve as a whole. From Dec 14 to Dec 15)
** Introduced in 2009, the Non-Habitual Tax Residency regime exempts non-residents spending 183 days in year in Portugal (or those with a primary residency in the country) from income tax on non-Portuguese incomes, including pensions, salaries and capital gains for a period of 10 years (if subject to tax in the country of source).
For further information, please contact:
Astrid Etchells, International PR Manager, Knight Frank