Durban Airport - Building trade with KwaZulu-Natal's aerotropolis
Developing Africa's first purpose-built aerotropolis, with its nucleus being Dube TradePort, home to King Shaka International Airport, is significantly impacting on north coast property patterns as the ease of access prompts investors to acquire second homes in the region.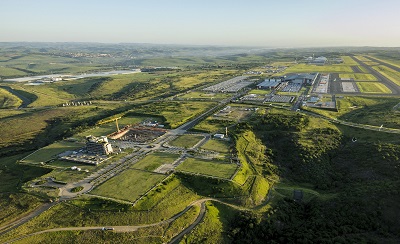 Aerial photograph of King Shaka International Airport and Dube TradePort
Credit Dube TradePort for the photograph
Dube TradePort Corporation's acting CEO Hamish Erskine says new flights originating to and from Durban formed part of the larger implementation of KwaZulu-Natal's economic and tourism development plans. These include stimulating local manufacturing, warehousing and logistics as new facilities are established at Dube TradePort and the Tongaat Hulett Developments at Cornubia and RiverHorse Valley.
There was also an increase in property buyers from Gauteng and abroad, particularly given the rand's value against international currencies. Tongaat Hulett Developments director Rory Wilkinson says one sound example of the impact boosted economic development on the north coast has had on the property market was the sell-out of the Sibaya-based Ocean Dunes within a relatively short period.
"All these factors count towards adding value and increasing the demand for property on the north coast," Wilkinson says.
The comments come as King Shaka International Airport experienced a watershed year in 2015 that witnessed Durban's network boosted by four new airlines, namely Qatar Airways, Turkish Airlines, Ethiopian Airlines and Proflight Zambia, in addition to the daily Emirates flights and regional services to Harare, Maputo and Mauritius.
Into that success, Economic Development, Tourism and Environmental Affairs MEC Michael Mabuyakhulu recently announced a feasibility study for a rapid rail system connecting the King Shaka International Airport with Durban, Pietermaritzburg and Richards Bay would be completed before the end of the year.
Statistics South Africa (Stats SA) reflected total international arrivals have risen 60% and foreign passenger arrivals 22% since King Shaka opened in 2010 due to direct international flights. January 2016 saw a new record in international arrivals with 15 895 passengers, an 85% hike from January 2010.
"The international passenger market in the province registered a 20% growth year-on-year, indicating there is still a large untapped and growing market," MEC Mabuyakhulu says.
Erskine says international flights open and enhance global and regional trade links by moving passengers and cargo. Mid to long-haul flights can haul between 10 and 30 tons of cargo as aircraft on these routes are wide-bodied. It is this global connectivity that will drive the aerotropolis and associated economic growth advises Erskine.
In the past year international cargo volumes from Dube Cargo Terminal rose 12% to 8 000 tons, while the facility handled 6 400 tons of domestic cargo. Erskine says the organisation has concentrated efforts on driving cargo volumes by developing key infrastructure including the state-of-the-art Dube Cargo Terminal.
In line with new airline route development, Dube TradePort, the KwaZulu-Natal government, Tourism KwaZulu-Natal, Trade and Investment KwaZulu-Natal, eThekwini Municipality, Airports Company South Africa (ACSA) and National Department of Transport have established a Routes Development Committee to implement programmes geared towards attracting new direct international flights.
Focus also includes developing the Dube TradeZone, designated a Special Economic Zone (SEZ), as a specialist freight-orientated export environment and multi-modal logistics platform.
"Dube TradePort takes advantage of its prime location as the only facility in Africa combining an international airport, dedicated cargo terminal, warehousing, offices, retail, hotels and agriculture," Erskine says.
Wilkinson says the increased economic activity from King Shaka International Airport and Dube TradePort speak to the appreciating value of the surrounding property and the investment potential. Prime residential, commercial and industrial land on the north coast is critical to boosting economic growth and development in the region as the airport and Dube TradePort anchored trade opportunities
Issued by: Tongaat Hulett

KEY CONTACTS
Shirley Williams Communications – Shirley Williams
Telephone: 031 564 7700 or 083 303 1663
Tongaat Hulett Developments – Rory Wilkinson
Telephone: 031 560 1900
About Dube TradePort Corporation
Dube TradePort Corporation (DTPC), a Schedule 3C Provincial Public Entity, and the operator of the Dube TradePort Special Economic Zone, is charged by the KwaZulu-Natal Provincial Government to develop the province's biggest infrastructural development. Situated 30km north of the City of Durban, Dube TradePort is a greenfield development, purpose-built to facilitate airport-related business. A combination of cutting-edge infrastructure with an emphasis on local economic development, Dube TradePort is home to King Shaka International Airport and comprises of number of development zones, namely: Dube Cargo Terminal, Dube TradeZone, Dube City, Dube AgriZone, all supported by a dedicated IT and telecommunications provider, Dube iConnect.
About Tongaat Hulett
Agriculture and agri-processing is a fundamental element of socio-economic development in Africa - particularly in the development of rural communities, farming activities, food security and water management, housing and land conversion to development as urban areas expand. This is also linked to the socio-political dynamics of the region. Tongaat Hulett is well positioned in the nexus of these dynamics.
Tongaat Hulett is an agriculture and agri-processing business, focusing on the complementary feedstocks of sugarcane and maize. Its ongoing activities in agriculture have resulted in the company having a substantial land portfolio within the primary growth corridors of KwaZulu-Natal with strong policy support for conversion at the appropriate time. A core element of Tongaat Hulett's strategic vision is to maximise the value generated by optimum utilisation of land in the portfolio through its conversion to the most productive land use thereby optimising total real estate investment on the land.