Solar PV - Industry making a contribution towards increased electricity supply security
It's been just over one year since the first set of solar PV projects – from the first round of the Renewable Energy Independent Power Producer Programme (REIPPPP) – went online. During this time, the contribution of solar PV generation to the grid has grown as more projects became operational.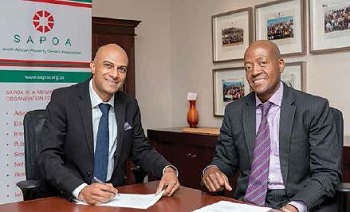 Neil Gopal (CEO SAPOA) and Moeketsi Thobela (CEO SAPVIA)
Explains SAPVIA's CEO, Moeketsi Thobela, "the period between end-2013 and October 2014 saw an exponential increase in electricity generation from solar PV".
As can be seen below, by October 2014, the hourly generation of energy from solar PV plants had reached a peak as high as 673MWh.
Solar PV's contribution is expected to increase further as more of the projects procured during the second and third rounds of the REIPPPP become operational between now and 2016. In total, this is expected to result in additional generation of 1 484 MW being made available to the grid.
Further procurement of generation capacity from solar PV an other renewable energy technologies can go a long way towards alleviating the electricity supply challenges South Africa faces, especially in the next five years.
The solid track-record of delivering projects on time and on budget, provides the basis for SAPVIA's call for an accelerated roll-out of PV and other renewable energy projects. As Thobela further argues, there is a "third way", beyond the current choice between rotational loadshedding and complete black-outs, and it involves what he describes as a "threetier market model".
According to Thobela, "this model involves recognising that part of the uniqueness of the solar PV sector is its ability to provide energy solutions across different market configurations, for example utility-scale (REIPPPP projects), midscale (anything from 5MW to 50MW projects), as well as residential, commercial and industrial or "RCI" (rooftop applications)".
Based on this approach, the solar PV sector stands ready to rapidly create additional capacity. Hence the call for at least 2000MW to be allocated to RE technologies annually over the next five years.
This will not only allow for additional generation capacity, but also for the wider geographical distribution of PV plants – which will contribute towards improving supply security.
One of the key benefits will be a reduction in the use of opencycle gas turbines (OCGTs), which are designed to operate for only three hours a day – not twelve as is the case currently.
Wido Schnabel, SAPVIA's new spokesperson, explains: "Additional PV generation, distributed geographically to increase supply security, can cost-effectively contribute towards reducing the consumption of diesel for power generation, which in November 2014 alone stood at 140 million litre.
Source: eProp News

Courtesy - The Estate Agency Affairs Board