Residential Research - Prime Global Cities Index
Results for Q1 2016
The index increased by 3.6% in the year to March 2016
Vancouver leads the index for the fourth consecutive quarter, prices accelerated 26% in the 12 months to March 2016
Strong price growth in Sydney and Melbourne mean Australasia is the strongest-performing world region
Out of 35 cities, London has slipped to 23rd in the annual rankings with prime prices up 0.8% year-on-year
Hong Kong and Taipei occupy the bottom rankings with luxury prices dipping 6.4% and 7.6% respectively
PRIME PRICES MODERATE BUT VANCOUVER CONTINUES TO BUCK THE TREND
Vancouver leads our rankings for the fourth consecutive quarter with prime prices in the city increasing by 26% in the year to March 2016. A severe lack of supply is creating an upward pressure on prices. There is little evidence that February's increase in land transfer tax, from 2% to 3%, on all purchases above CAD2m, has dented sale volumes.
Along with Vancouver, three other cities; Shanghai, Sydney and Melbourne also recorded double-digit annual price growth, but the gap between this top tier and the remaining cities has widened.
Record-low interest rates and cheap finance fuelled demand in Shanghai leading to price growth of 20% year-onyear, however, in March the government tightened mortgage lending rules which is likely to result in slower growth in the second quarter.
Australasia proved the world's hottest world region in the year to March 2016 with prices rising 12% on average; this is despite the introduction of a new fee for foreign buyers.
Prime prices across the 35 cities increased on average by 3.6% in the 12 months to March 2016. The index entered a period of steady growth in 2014, consistently recording annual growth of 3-4% in the subsequent seven quarters (figure 1).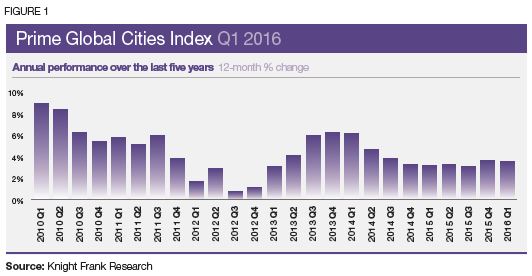 No city has recorded a double-digit annual decline in prices since Q2 2015.
New York and Miami, where cash buyers now have to comply with new transparency rules above set price thresholds, continue to record steady price growth.
Prices in prime central London increased by only 0.8% in the year to March, its lowest figure since October 2009, when a 3.2% decline was recorded as the market readjusted following the collapse of Lehman Brothers. The more muted performance is as a result of a series of tax changes and a preceding period of exceptional growth. As of 1 April 2016 buy-to-let investors and second-home buyers pay an extra three percentage points of stamp duty on any UK purchase.
Although prices in Paris dipped 3% in annual terms, prices stabilised over the last quarter as French buyers, having recognised value in their capital's market, increased their market share.
New regulation in the form of measures to improve transparency, new taxes or fees for foreign buyers are increasing in number. However, the impact on the market of such measures is largely dependent on market fundamentals and where each market is in relation to its property market cycle.
DATA DIGEST
The Knight Frank Prime Global Cities Index enables investors and developers to monitor and compare the performance of prime residential prices across key global cities. Prime property corresponds to the top 5% of the wider housing market in each city. The index is compiled ona quarterly basis using data from Knight Frank's network of global offices and research teams.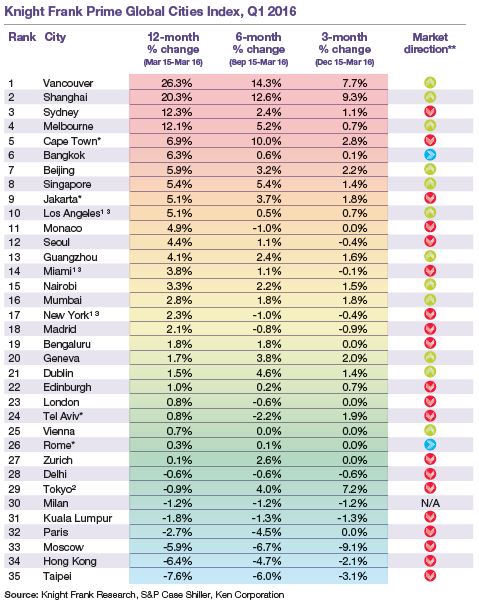 Courtesy: Knight Frank

RESIDENTIAL RESEARCH
Liam Bailey - Global Head of Research
+44 20 7861 5133
Kate Everett-Allen - International Residential Research
+44 207 167 2497
PRESS OFFICE
Astrid Etchells
+44 20 7861 1182
Important Notice
© Knight Frank LLP 2016 – This report is published for general information only and not to be relied upon in any way. Although high standards have been used in the preparation of the information, analysis, views and projections presented in this report, no responsibility or liability whatsoever can be accepted by Knight Frank LLP for any loss or damage resultant from any use of, reliance on or reference to the contents of this document. As a general report, this material does not necessarily represent the view of Knight Frank LLP in relation to particular properties or projects. Reproduction of this report in whole or in part is not allowed without prior written approval of Knight Frank LLP to the form and content within which it appears. Knight Frank LLP is a limited liability partnership registered in England with registered number OC305934. Our registered office is 55 Baker Street, London, W1U 8AN, where you may look at a list of members' names.