UK Property - Retirement Housing Report
Housing for an Ageing Population
According to exclusive research from Knight Frank's Retirement Housing report, by 2039, one in 12 people will be aged 80 or over. Therefore, the need for a dramatic increase in new housing for the ageing population across the UK is now recognised as a key social and political issue.

Key Findings:
Around 23% of the population are currently aged over 60. During the next 20 years this proportion will rise to 29%, pushing the median age across the UK from 40 today to nearly 43
Whilst official data shows that for all households between 2012 and 2037, more than three quarters will be headed up by someone aged 65 or over, just 3% of new-build units in the pipeline are designated 'elderly' or 'sheltered' housing
It is estimated that over-50's hold 66% of all housing wealth, equalling about £2.5 trillion
Specialist Knight Frank research shows that around 25% of over-55s said they wanted to move into some sort of retirement housing in the future. This equates to around 2.5 million households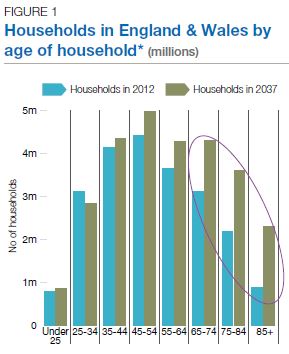 Gráinne Gilmore, Head of UK Residential Research at Knight Frank, comments: "Increasing housing supply is widely recognised as a priority by policymakers, but now there needs to be equal emphasis on delivering a range of housing to suit all demand, across all age groups. The population is forecast to continue rising strongly, and there needs to be more housing options for those looking to downsize, especially if they would like to live in an environment offering light-touch to more substantial care. Providing the right type of housing for all buyers benefits everyone in the market; freeing up the housing chains and thus helping all purchasers, from first-time buyers climbing on the property ladder to those downsizing to a pied-a-terre in town.
"Supply of retirement housing is currently very limited, and there considerable is room for this sector to grow across the UK."
Emma Cleugh, Head of Institutional Consultancy at Knight Frank, comments: "Since 2014, the Government has implemented repeated reforms to other sections of the housing market – whether that be measures to encourage first time buyers, or reforms to stamp duty and inheritance tax thresholds. However, the retirement housing sector remains overlooked… So this is a call for the Government to deliver some tools to the market to facilitate an increase in the delivery of retirement housing which is so very much required – thus benefitting all areas of the housing market and the wider economy."
Courtesy: Knight Frank
For more information, please contact [email protected] or [email protected]