Residential Research - Prime Global Rental Index
PRIME GLOBAL RENTAL INDEX CONTINUES NEGATIVE PERFORMANCE
Knight Frank's Prime Global Rental Index fell by 1.1% in 2015 with equity market volatility and economic fragility in emerging markets driving rents lower. Taimur Khan examines the latest figures.
Results for Q4 2015
The index fell by 1.1% in 2015, partially reversing the rise of 2.5% in 2014
Weak equity markets and record low commodity prices contributed to the index's weaker performance in 2015
Guangzhou tops the annual rankings for a second consecutive quarter
On a regional basis, North America recorded the strongest rise in prime rents, up by 2.8% on average
Over 50% of the cities tracked by the index recorded a decline in prime rents in 2015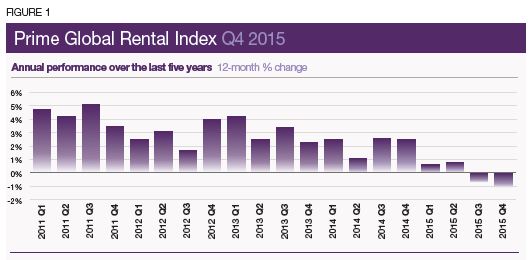 Knight Frank's Prime Global Rental Index, which tracks the change in luxury residential rents across 17 cities globally, fell by 1.1% in 2015, down from growth of 2.5% in 2014.
The performance of prime global rental markets is intrinsically linked to each city's employment market and in particular the professional services sector. Muted performance in equity markets and record low commodity prices contributed to the index's weaker performance in 2015.
Guangzhou remained the strongest performing city recording annual rental growth of 5.3% in 2015. This is despite market conditions being favourable for buyers with record low interest rates and a relaxation of financing for second homes and foreign buyer restrictions in China last year.
Geneva displaced Moscow as the weakest performing market in 2015, with rents falling by 7.1% annually, the downward pressure on rents being caused in part by strong supply.
Some of the world's top financial centres have shown divergence in terms of the performance of prime rents. Rents fell in Hong Kong (0.8%) and Singapore (3.8%) whereas Tokyo, New York and London recorded a rise in prime rents year-on-year of 3.3%, 2.4% and 0.7% respectively.
2015 saw large regional variations in terms of rental performance around the world. North American cities recorded the strongest rise in prime rents, up 2.8% on average whilst Europe saw the largest decline, with average prime rents decreasing by 3.5%.
Since its post financial crisis low in Q2 2009 the index has increased by 19%. From Q1 2007 to Q3 2008, prior to the financial crisis, the index averaged increases of 9.1% per annum; however post Q2 2009 the average annual change has diminished to 2.5%.
On the upside, 2015 saw a partial resolution to the to the 'Grexit' crisis and the Asian equity markets stabilised. In 2016, 'Brexit' looks to be fuelling further uncertainty within Europe, with business activity hitting a 13-month low, according to the Markit's European composite Purchasing Managers' Index. In markets which are already reflecting on negative interest rates, low commodity prices and a slowdown in China, further uncertainty in the world's key prime rental markets is likely.
DATA DIGEST
The Knight Frank Prime Global Rental Index is an important resource for investors and developers looking to monitor and compare the performance of prime residential rents across key global cities. Prime property corresponds to the top 5% of the housing market in each city. The change in prime residential rents is measured in local currency. The index is compiled on a quarterly basis using data from Knight Frank's network of global offices and research teams.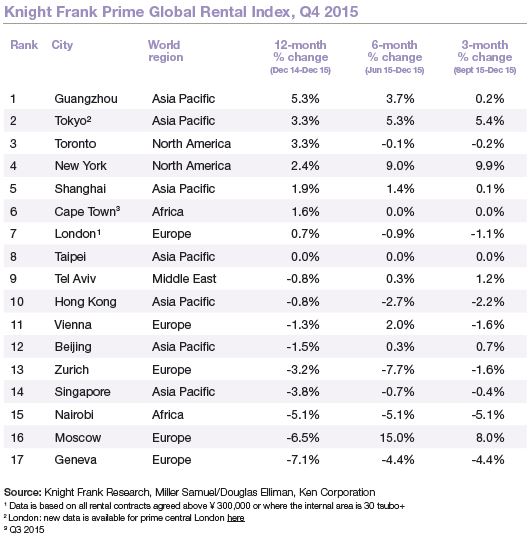 Courtesy: Knight Frank

RESIDENTIAL RESEARCH
Liam Bailey - Global Head of Research
+44 20 7861 5133
Taimur Khan - Senior Research Analyst
+44 20 7861 1436
PRESS OFFICE
Astrid Etchells
+44 20 7861 1182
Important Notice
© Knight Frank LLP 2016 – This report is published for general information only and not to be relied upon in any way. Although high standards have been usedin the preparation of the information, analysis, views and projections presented in this report, no responsibility or liability whatsoever can be accepted by Knight Frank LLP for any loss or damage resultant from any use of, reliance on or reference to the contents of this document. As a general report, this material does not necessarily represent the view of Knight Frank LLP in relation to particular properties or projects. Reproduction of this report in whole or in part is not allowed without prior written approval of Knight Frank LLP to the form and content within which it appears. Knight Frank LLP is a limited liability partnership registered in England with registered number OC305934. Our registered office is 55 Baker Street, London, W1U 8AN, where you may look at a list of members' names.