Durban Property - Africa Rising to roll out R1,6 billion in developments in five years
Africa Rising, a Durban-based independent property development company, specialises in project development, project management and real estate sales. The company purchased properties worth R300 million from Tongaat Hulett Developments during 2015. They plan to roll out over R1,6 billion worth of developments in the Umhlanga Ridge area.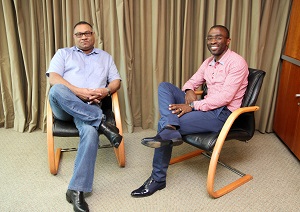 Andile Mnguni, a Development Executive for Tongaat Hulett Developments, says that the company set out to work with companies and people who shared its vision for creating value for all stakeholders in an all-inclusive approach to growth and development. Africa Rising was the perfect candidate.
"They connected with our vision and have helped execute our plan for the area. All of the properties that they will develop will be complete and sold within the next five years," he says.
In Mnguni's opinion, the success of Africa Rising is testament to the fact that sound investments made in conjunction with Tongaat Hulett Developments have provided a strong foundation for sustainable businesses.
Africa Rising started as a fledgling development company in 2003. It's ability to ride out the 2008 global recession which saw many property development companies fold; as well as its consistent growth; provide a good example for new businesses entering the property sector.
He says that Tongaat Hulett Developments plans to partner with some of these astute investors going forward, ultimately helping build sustainable businesses and grow the regional economy.
Africa Rising has purchased a total of 12 pieces of land from Tongaat Hulett Developments. The properties added to the company's portfolio this year include The Madison, The Marina, Park Avenue, Aria and Jefferson in the Umhlanga Town Centre and a commercial property at Sibaya.
Currently four of these are under development. The Madison is a mixed use development that will cater to the medical sector benefitting from its strategic location opposite the Gateway Hospital. It comprises 97 apartments and 27 medical suites and is expected to be complete by August 2016. It is already 90 percent sold.
Construction has started on Park Avenue a joint venture which is sited opposite the Porsche showroom. It is expected to be complete in November 2016. Park Avenue comprises upmarket apartments which are well located close to the Umhlanga Ridge Town Centre and on the GO! Durban route. Eighty-five percent of the units are already sold.
Aria, which will provide retirement apartments and Jefferson providing student accommodation of 300 and 240 units respectively, will launch this year.
"We buy into Tongaat Hulett Development's vision and work in conjunction with them. We take into account their vision for a particular property and adjust our offering accordingly. We want to grow with them and offer a sustainable investment," says Colin Kisten, chief executive of Africa Rising.
He explains that his company builds in rotation, developing its properties one after the other. Construction of The Marina, which includes 69 apartments as well as a boutique hotel with 60 rooms, will begin in early 2016.
Kisten says that Africa Rising is currently working on plans for the development of the Sibaya commercial site which is expected to begin by December this year (2016).
To date, Africa Rising has completed a number of developments along KwaZulu-Natal's northern growth corridor, including the Grand Floridian, Grand Central and the Meridian in Umhlanga.
The Grand Floridian was a joint venture and a ground breaking development as it was the first that allowed owners of residential units to park on the same level as their homes.
Kisten says that the company has already created at least 1 000 job opportunities in 2015. 25 percent being female
The company focuses on skills development and is currently running a mentorship programme for previously disadvantaged emerging entrepreneurs and developers.
He also nurtures subcontractors. Last year (2015), black owned Fikile Construction, was awarded a R225 million construction contract by Africa Rising.
"Many people don't have opportunities. Businesses must invest in training and employing people. You can't rely on the government. You can't build society sitting on the side lines. We have to be proactive and must leave a footprint and touch people's lives," says Kisten who grew his career from 1984 when he was a banned student activist.
After launching and growing a number of different businesses in different sectors, Kisten moved into the property space in 1994 and had established a sound background in this sector as a real estate principle and chief executive of Co-Prop Elite by 2004.
He grew his real estate business to the point where it had five branches in KwaZulu-Natal. Co-Prop Elite markets Africa Rising's developments.
Kisten began investing in and developing property in earnest in 2003. Although he initially concentrated on developments in his home province, he did include some projects in Cape Town where he bought distressed properties to refurbish and rent. He also bought a number of residential projects in Cape Town and flipped these properties. However, during the 2008 recession, he consolidated his interests and decided to focus just on KZN where he says he has the appropriate logistics systems in place.
Although he plans to continue focussing on upmarket areas such as Umhlanga Town Centre (where he has his own office), he is developing other properties in Durban including a residential development in Queensburgh as he believes he will receive a solid return.
Kisten's business philosophy is 'people before profit'. As a philanthropist, he created the Non-Profit Organisation, African Hope 20 years ago. The organisation assists street children, the aged and the handicapped and organises a wheel chair and blanket drive every year.
Going forward, Kisten says he intends growing his skills development programme within the next five years to help address the urgent problem of unemployment in the country and ultimately give back to the local community.
Issued by: Tongaat Hulett

Key contacts
Shirley Williams Communications – Shirley Williams
Telephone: 031 564 7700 or 083 303 1663
Tongaat Hulett Developments – Andile Mnguni, Development Executive
Telephone: 031 560 1900
About Tongaat Hulett
Agriculture and agri-processing is a fundamental element of socio-economic development in Africa - particularly in the development of rural communities, farming activities, food security and water management, housing and land conversion to development as urban areas expand. This is also linked to the socio-political dynamics of the region. Tongaat Hulett is well positioned in the nexus of these dynamics.
Tongaat Hulett is an agriculture and agri-processing business, focusing on the complementary feedstocks of sugarcane and maize. Its ongoing activities in agriculture have resulted in the company having a substantial land portfolio within the primary growth corridors of KwaZulu-Natal with strong policy support for conversion at the appropriate time. A core element of Tongaat Hulett's strategic vision is to maximise the value generated by optimum utilisation of land in the portfolio through its conversion to the most productive land use thereby optimising total real estate investment on the land.