What Happened? - Prime Global Cities Top 10 Performing Markets
Prime Global Cities Review 2015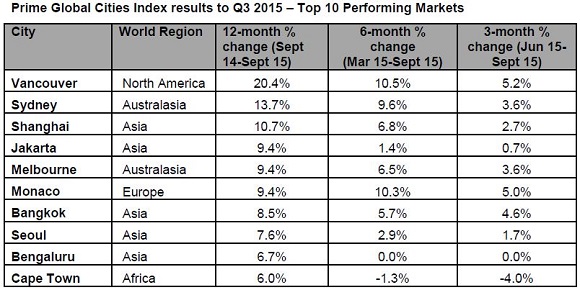 *Jakarta and Seoul: Data to Q2, Cape Town data to Q1
Knight Frank's Prime Global Cities Index increased by 1.9% in the year to September 2015.
Three cities recorded double-digit annual price increases; Vancouver, Sydney and Shanghai.
The index now stands 34.1% above its low in Q1 2009 but its annual rate of growth is slowing.
Around 73% of cities recorded positive annual price growth in the year to September, two years ago this figure was closer to 91%.
Singapore is home to the weakest-performing luxury residential market for the seventh consecutive quarter.
What will happen next?
Kate Everett-Allen, Partner, International Residential Research, Knight Frank, comments:
"As we enter a new era of rising interest rates, greater regulation and potentially lower returns, it will be interesting to see which cities' prime residential markets will outperform. Events in the world's two largest economies look set to dominate the proceedings in 2016. The scale of the slowdown in China and the recent US interest rate rise will determine the performance of property markets across developed and emerging markets alike over the next 12 – 18 months.
"If we are to pick one prime market which we predict will outperform the world's top tier of global cities, it is Sydney. Nonetheless, even here the pace of luxury price growth is expected to slow from 15% year-on-year in 2015 to 10% in 2016. Australia's economic slowdown, weaker stock market performance in recent months and the introduction of foreign investment fees explain the lower rate of growth in 2016."
Nicholas Holt, Director of Asia Pacific Research, Knight Frank, comments:
"The rise in US interest rates will most directly impact currencies with dollar or basket-based pegs which will see interest rates dragged upwards in parallel with the greenback – most notably the Hong Kong and Singapore dollars.
In both of these markets, residential product has benefited from cheap credit over the last few years. Holding everything else equal, an increase in interest rates will have a dampening effect on these two global cities as the cost of debt increases. We could see sales volumes compromised as new purchasers see mortgage rates rise, and the attraction of property as an investment recede slightly.
However, cooling measures that we have seen put in place in both Hong Kong and Singapore could counter balance these impacts. The measures provide policy makers with the opportunity to try and re-inflate demand if market corrections prove too much. A reversal or softening of some of these temporary policies could therefore be a very real possibility."
Knight Frank's global property statistics for 2015
#1 - London is the most important city to the world's wealthy, followed by New York and Hong Kong.
Residential prices are highest in Monaco. Here, US$1m buys you 17.3 square metres,
Singapore's ultra-high net worth population (UHNW) is forecast to rise by 1,752 between 2014 and 2024.
A study of 15 key global cities shows that at 2.9% and 2.3% foreign investors are charged the lowest property costs in Shanghai for a US$1m and US$10m investment respectively over a five year period.
The same study of 15 global cities shows that tax costs are lowest in Monaco. Here, tax costs for foreign investors equate to 3.5% of the property price at year five whether purchasing a US$1m or US$10m property.
New York and London continue to lead development trends, in terms of design, pricing and iconic architecture.
Val d'Isere and Meribel lead the 2015 Ski Property Index recording annual price growth of 5.8% and 4.5% respectively
Online viewings of island properties for sale increased by 21% compared with a year earlier
Property accounted for 32% of an UHNWI's investment portfolio according to this year's Attitudes Survey.
Cape Town, Zurich and Toronto recorded the strongest rise in prime rents in the year to June 2015
Courtesy: Knight Frank

FOR FURTHER INFORMATION PLEASE CONTACT
Jamie Obertelli:Residential Research PR Manager at Knight Frank LLP
T: +44 (0) 20 7861 1104
M: +44 (0) 7776 769511