Infrastructure Update - New Cornubia/Umhlanga interchange to bring people and jobs together
January 2017 will be an important month for people who travel between Cornubia and Umhlanga on a regular basis. A new interchange on the N2 at Umhlanga is expected to be completed over the next 18 months and it is anticipated to cut travelling time between the two nodes and improve traffic flow.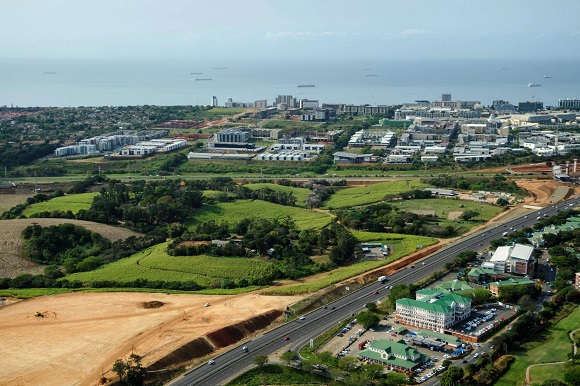 An aerial view showing Umhlanga Ridge in relation to Cornubia Town Centre
The bridge and interchange off the N2 highway will be built where the extension of Umhlanga Ridge Boulevard crosses the freeway adjacent to Umhlanga's flagship Porsche dealership and will link to the new town rapidly growing out of the cane fields at Cornubia. Construction is expected to commence in August.
Recognising the importance of the interchange to economic development of the region, Mr Thami Manyathi, Head of EThekwini Transport Authority notes that "The movement of goods and people is essential for economic progress – without it, economies shrivel and societies wither."
"We are delighted with this project," says Karen Petersen, Development Director of Tongaat Hulett Developments, the property arm of listed agriculture and agro-processing company Tongaat Hulett. "Cornubia has been planned in line with sustainable development principles and is designed to provide for KwaZulu-Natal's largest mixed-use, mixed income, fully-integrated human settlement. It includes residential, industrial and commercial uses."
Significantly, this will form a part of the new Go!Durban Integrated Rapid Public Transport Network (IRPTN), a priority transport web that combines existing and new rail systems with Bus Rapid Transit (BRT) systems, road, pedestrian and bicycle facilities. Go! Durban is a city-wide public transport solution which will eventually comprise nine transport corridors, linking Umlazi in the south to Tongaat in the north and Hillcrest and Mpumalanga in the west, placing any area in Durban within 10 minutes' walk of a transport node.
The interchange and the associated roadworks is anticipated to cost R280 million and will be constructed as a joint project between the eThekwini Municipality and Tongaat Hulett. It represents a substantial and critically important addition to the R346million of roads, bridges, interchanges, sewer, water and electrical infrastructural investment already made or underway to service this development.
The interchange represents an excellent example of the public sector's "crowding in" of private sector cooperation and funding and ties in with the goals outlined in the National Development Plan which seeks to unlock economic growth potential.
Another party which welcomes the interchange is property development company M&F Giuricich Developments (Pty) Ltd which has recently acquired some 27 hectares with 0.8 km of frontage onto the N2 on the northern side of the new bridge from Tongaat Hulett Developments. "We are excited by the potential that this interchange will unlock," says Florian Giuricich, Director of M&F Giuricich Developments (Pty) Ltd, "and look forward to adding to the provincial economy with our project."
It also "improves accessibility and adds significantly to the attractiveness of the Cornubia Shopping Centre", says Iain Burns of Investec Properties, and adds Paulos Ngcobo, to the "development of a "retail and office precinct in the adjacent Cornubia Business Hub". Tongaat Hulett has indicated that it will shortly be releasing the last currently available business precinct in this area to the market.
The new route is expected to alleviate the congestion on the M41, and will, over time, provide road users with alternative routes in the district.
Transport plays a vital role in economic growth, from raising productivity (less time absorbed in commuting and greater access to resources) to facilitating access to higher paying jobs, to opening up new markets. This acquires greater significance in South Africa with our significant distances to cover and legacy issues regarding spatial patterns.
The more integrated a region becomes and the more goods and people can move within it, the more it is able to flourish. We only need to look at what happens to the economy of a region when mobility stops – such as being affected by a natural disaster – to realise the significance of transport on growth and development.
Issued by: Tongaat Hulett

Key contacts
Shirley Williams Communications – Shirley Williams
Telephone: 031 564 7700 or 083 303 1663
Karen Petersen – Development Director, Tongaat Hulett Developments
Tel: 031 560 1996
About Tongaat Hulett
Agriculture and agri-processing is a fundamental element of socio-economic development in Africa - particularly in the development of rural communities, farming activities, food security and water management, housing and land conversion to development as urban areas expand. This is also linked to the socio-political dynamics of the region. Tongaat Hulett is well positioned in the nexus of these dynamics.
Tongaat Hulett is an agriculture and agri-processing business, focusing on the complementary feedstocks of sugarcane and maize. Its ongoing activities in agriculture have resulted in the company having a substantial land portfolio within the primary growth corridors of KwaZulu-Natal with strong policy support for conversion at the appropriate time. A core element of Tongaat Hulett's strategic vision is to maximise the value generated by optimum utilisation of land in the portfolio through its conversion to the most productive land use thereby optimising total real estate investment on the land.