Global Property - Analysis of the world's property markets
Global Real Estate Outlook Q2 2015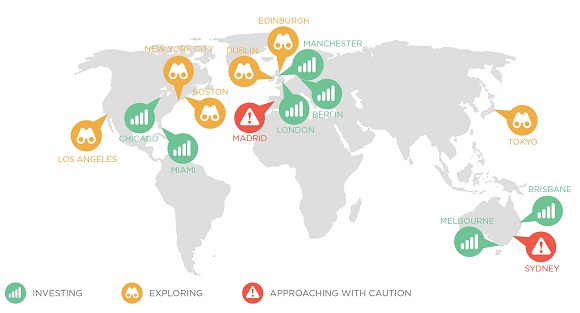 BERLIN (Investing)
Europe's third-largest city has emerged in recent years as a prime property investment market. Like many cities, demand far exceeds supply, while its cosmopolitan appeal and thriving education sector continue to drive population growth. Key regeneration projects have reinvigorated previously neglected parts of the city, but residential construction remains lacking, particularly rental stock – just 39 of the 229 developments currently in progress in Berlin will include rental apartments (1).
Apartment prices rose strongly across 2014, with the average increase hitting 10.1% (2), while the rental sector has also seen excellent recent performance with rents up 6.6% year-on-year to January 2015 (3). The city's rental market is a key factor supporting Berlin's investment case; just 14-16% of the city's residents are home owners (4), making Berlin very much a landlord's market.
At least 250,000 new residents by 2030
EUR5.4 billion Brandenburg Airport to open in 2018
Average apartment price growth of 10.1% in 2014
(1) CBRE Housing Market Report Berlin 2015 (2) CBRE Housing Market Report Berlin 2015 (3) CBRE Housing Market Report Berlin 2015 (4) CBRE Housing Market Report Berlin 2015
BRISBANE (Investing)
Investment continues to pour into Brisbane. One of the world's largest lottery operators is in the process of setting up their new AUD100 million national headquarters in Newstead, a development that will bring a further 1,300 jobs to the district, while Flight Centre will bring their global headquarters and 1,800 new jobs to South Brisbane in 2016. Investments such as this have driven the excellent performance of the city's real estate markets, with prices recording 12 consecutive quarters of growth since early 2012 (5).
This growth has seen Brisbane's median unit price reach AUD422,000, a rise of 3.6% in the year to December 2014 (6). With a shortage of housing stock still endemic across the city, further price rises are anticipated, with forecasts putting growth at 5-8% across 2015. A strong rental market, with the vacancy rate still tight at just 2.1% (7), is generating very healthy yields; properties in Brisbane average 5.4% per annum, among the highest seen in Australia, as of March 2015 (8).
Population growth forecast at 34% to 2031
Queensland to benefit from AUD134 billion infrastructure investment to 2031
GRP to grow 48% by 2031
(5) ABS (6) REIQ (7) SQM research (8) RP DATA
CHICAGO (Investing)
The third-largest city and second-largest commercial centre in the US is also seeing the highest demand from growing and relocating businesses, with Chicago topping Site Selection magazine's ranking for the second consecutive year in 2014. There are now 31 Fortune 500 companies headquartered in the city and The Loop – Chicago's primary business district – is now the fastest-growing urban centre in the country. In addition to being an important financial hub, Chicago is establishing itself as a leading technology capital – job growth in this sector rose by over a quarter between 2010 and 2013.
The condominium market slowed slightly midway through last year but picked up again in Q4 despite winter typically being the slowest season for real estate activity. Prices are up a healthy 25% in the two years to February 2015 (9), with significant room for further growth remaining given the market remains 19% below peak (10). South Loop remains a key investment focus, with the area currently commanding a 15% rental premium on the citywide average (11).
Metro population to exceed 10 million by 2030
Nearly 80,000 jobs created in 2014
Property market 17% below peak at February 2015
(9) Case Shiller (10) Case Shiller (11) Zillow rent list price in March
LONDON (Investing)
The UK's status as one of the world's leading property investment markets remains firmly in place following the Conservative party's recent election victory. After the usual pre-election lull, activity in London is picking up again, with investors buoyed by the certainty and continuity that the government will provide. Major regeneration and transport infrastructure projects, such as Crossrail, will continue to drive development across outer London, creating new pockets of value in places such as Woolwich and Ilford.
Greater London saw growth of 12% in the year to January 2015[i]. Outer London's growth potential in particular is reflected in projections for 2015-19 which put prime central uplift at 22.1% and outer boroughs at 25.8%(13). Such forecasts remain supported by a structural undersupply of housing stock – a shortfall of some 21,000 homes every year – combined with ongoing population growth; inner London is expected to add 23,428 new households in 2015 while outer London adds 32,154(14).
(12) JLL UK Research Central London Development March 2015 – "Waiting Game" (13) Knight Frank Residential Research London Hotspots Residential Development Opportunity Areas 2015 (14) Knight Frank Residential Research London Hotspots Residential Development Opportunity Areas 2015
MANCHESTER (Investing)
A new addition to our Investing category, Manchester's investment case stands firmly on its thriving economy, cosmopolitan culture, rapidly growing population and significant residential undersupply. Residents of the City of Manchester now number well over half a million having recorded growth of more than double the national average over the past decade and a half (15). The city centre has grown even faster, with the area's population quadrupling over the last 20 years (16). At the centre of the government's Northern Powerhouse vision, Manchester's pioneering of the push for increased regional devolution across the UK has allowed for the emergence of strong leadership with the scope to deliver a Manchester-focused vision for the future.
Capital growth in Manchester steadied in 2014 following a spike the year before, increasing confidence that the market presents real long-term investment potential. Prices were up 5.4% in the 12 months to March 2015 (17), while city centre apartment prices rose 6.3% (18) over the same period. Despite this record of positive growth, city centre apartment prices remain 17.3% below peak19, with the average City of Manchester home still valued at less than half the average seen in London. Prices are forecast to rise to close this gap, with new projections putting Manchester price growth at a strong 26.4% to 2019 (20).
City centre population rose 300% over past 20 years
At the heart of the government's GBP7 billion Northern Powerhouse vision
Property price growth of 26.4% to 2019
(15) Manchester Council Residential Report March 2015 (16) Manchester Council Residential Report March 2015 (17) UK Land Registry (18) JLL UK Research Northern England Residential Forecasts January 2015 – New Beginnings (19) JLL UK Research Northern England Residential Forecasts January 2015 – New Beginnings (20) JLL UK Research Northern England Residential Forecasts January 2015 – New Beginnings
MELBOURNE (Investing)
Melbourne's stable economy and swelling population continues to drive capital growth, with apartment prices up 5.2% in the year to March 2015 (21) and the city's low vacancy rate of 2.1%(22) keeping rental yields healthy at an average of 4.1% as of March (23). A 3% surcharge on stamp duty for foreign nationals in Victoria will be implemented from the beginning of July 2015, but with Australia remaining one of the most transparent and straight-forward markets for overseas investors, we expect the city to retain its status as one of the world's investment hotpots.
Fringe suburbs within ten kilometres of the CBD should be a key focus for investors, with trendy Brunswick a clear standout (24); prices in Brunswick West have risen by an average of 8.2% per annum over the last nine years (25) while the area's popularity is keeping the vacancy rate beneath even the low citywide average, at just 1.5% as of March (26). Brunswick is one of the suburbs set to be boosted by the AUD4.3 billion Regional Rail Link programme that will upgrade links to the city centre and play a key role in enhancing the area's appeal to both businesses and employees.
95,000 new residents every year (27)
42.5% of population is in further education (28)
Property price growth of up to 9% in 2015 (29)
(21) REIV (22) SQM research (23) RP DATA (24) Domain (25) Residex (26) SQM research (27) Australian Bureau of Statistics (28) Melbourne Council (29) SQM research
MIAMI (Investing)
Miami continues to rebound well from the downturn, and the city's Downtown area has become increasingly popular as a residential location. The district's population grew 99.6% between the 2000 Census and 2014 (30), while key investment neighbourhood Brickell recorded an increase of 151.8% over the same period (31). The district's population is projected to continue growing strongly, with a further increase of 13.9% forecast to 2019 (32).
Miami was one of the best performing US real estate markets across 2014, with growth in the double digits through the first nine months of the year . This levelled out over Q4 to result in annual growth of 9% to February 2015 (34), putting the market average still at a great-value 17% below peak (35). Condominium performance has been even better, with median prices up 10% year-on-year in Q1 while average sales time has fallen 17%. The strength of the US dollar has made entering the market a little more difficult for investors holding other currencies, but with very little leverage on the market, the slight slowdown this could cause shouldn't have a long term negative impact.
Downtown population nearly doubled in 15 years
3.4% job growth in South Florida professional and business services in 2015
37 consecutive months of property price growth
(30) Miami Downtown Development Authority 2014 Demographics Report (31) Miami Downtown Development Authority 2014 Demographics Report (32) Miami Downtown Development Authority 2014 Demographics Report (33) Miami Downtown Development Authority 2014 Demographics Report (34) (35)
BOSTON (Exploring)
The commercial hub of Massachusetts is also an international centre for higher education and research. The sixth-largest metro economy in the US ranks 19th on the Economist Intelligence Unit's Global Liveability Ranking and attracts some 12 million visitors every year. The southwest of the city is the subject of an ambitious government regeneration programme which has seen the Boston Redevelopment Authority approve ten development proposals worth over USD215 million.
Boston's real estate market didn't suffer a dramatic fall during the recession and has had a strong record of growth since early 2012. Inventory in the city is currently very low however, having shrunk by 28% between 2010 and 2014 (36), and this is driving prices up, with the average condominium up 8% in the 12 months to February 2015 (37). This undersupply has been exasperated by local developers' continuing focus on catering to the city's luxury segment, leaving buyers in the middle and low end of the market short of options.
(36) Curbed link (37) Case Shiller
DUBLIN (Exploring)
Dublin has been on our watch list for some time, and with a recent upswing expanding the national economy by 5% in 2014 to bring GDP within 1.7% of its 2007 peak (38), we're ready to begin exploring this recovering market for new investments. In Dublin, over 100,000 jobs have been created since 2012 (39) and net migration to the Irish capital is strong enough for the local property market to be looking increasingly appealing to investors.
On the housing market, Dublin is another major capital city where a shortage of supply in the face of rising demand is set to put upward pressure on prices. Construction completions hit an all-time low in 2013, and the scarcity of development finance remains a key issue (40). With a shortage of large-scale developments on the horizon this lack of supply will remain a feature of the market for the foreseeable future, with estimates putting the shortfall at 8,853 units across 2014-18 (41). Given this, some forecasts put price increases in Dublin at up to 20% across 2015 (42).
(38) Savills World Research Ireland Residential Property Q1 2015 (39) Savills World Research Ireland Residential Property Q1 2015 (40) Savills World Research Ireland Residential Property Q1 2015 (41) SCSI Annual Residential Property Review and Outlook – 2015 Report (42) SCSI Annual Residential Property Review and Outlook – 2015 Report
EDINBURGH (Exploring)
Edinburgh remains a strong market with high potential, but an extreme lack of supply continues to make entry difficult. The first few months of 2015 saw strong price growth, with average prices increasing 21.5% year-on-year (43), however this was also accompanied by weaker transaction growth. This temporary fluctuation of the market was due to April's implementation of the Land and Buildings Transaction Tax (44). Many buyers of properties priced below GBP330,000 are set to benefit financially so delayed their purchase until the new tax came into effect, while above this price threshold purchases have spiked to avoid the slight hike in fees. We expect the second half of 2015 to see the reverse – a higher volume of sales dominated by transactions below this price threshold.
This short term volatility in the market also preceded May's UK General Election. Now that the uncertainty of election time is over, and with the Scottish National Party proving so popular, investors can expect renewed stability within the Edinburgh market which is underpinned by a historically buoyant economy. Continued high demand within the city's private rental sector is expected to build on the 7.9% rise seen throughout 2014 (45) and with house prices forecast to rise by another 25% in the four years to 2019 (46), this is an excellent time for buy-to-let in the Scottish capital.
(43) Rettie Scottish Housing Market Bulletin Letting March 2015 (44) Knight Frank Residential Research Prime Scottish Property Index Q1 2015 (45) Rettie Scottish Housing Market Bulletin Letting March 2015 (46) JLL UK Research Scotland Residential Forecasts January 2015
LOS ANGELES (Exploring)
Los Angeles is already a top pick for Chinese buyers looking abroad, and Chinese developers are in the middle of transforming the city's Downtown area with multi-million dollar real estate investments. The city's appeal is clear; as well as its status as the hub of the entertainment business, Los Angeles is the second-largest metropolitan centre in the US and the world's third-largest economic centre after New York and Tokyo by Gross Metropolitan Product. Ranked second in AT Kearney's Global City Index 2014, it's also the US's number two hub for education, and is home to 68,000 international students (3).
Los Angeles' condominium market was hit hard by the financial crisis, with prices falling 41% peak-to-trough, but the market has been on a rapid comeback since early 2012. Prices were up 6% in the 12 months to February 2015 (47), putting them back up to 15% below peak (48). The city's rental market has seen spectacular growth in the past year, with median monthly rents up 18% in the 12 months to March 2015 (49), while the citywide vacancy rate fell to just 3.4% as of the end of 2014 (50).
(3) CBRE Housing Market Report Berlin 2015 (47) Case Shiller (48) Case Shiller (49) Zillow rent list price (50) Marcus & Millchap
NEW YORK CITY (Exploring)
New York has been a star performer for some time, with condominium prices in the city up 6% year-on-year to February 2015 (51). In Manhattan itself, price growth continues to slow; the cost of a median condominium was USD1.36 million in Q1 2015, representing year-on-year growth of just 0.4%(52). Rents were up 6.1% over the year (53), while the rental vacancy rate rose slightly to 2.4%, and with yields low due to the high prices Manhattan is looking more and more challenging for investors.
The news is brighter in New York's outer districts. The mayor announced a USD55 million six-line ferry plan to begin in 2017, which is set to connect Queens, Brooklyn and Manhattan's Lower East Side, with the scheme intended as much to spur commercial development in the outer boroughs as it is to carry employees into Manhattan. Prices in Brooklyn and Queens have already been rising as buyers are driven from Manhattan by the island's high prices; Brooklyn's median condominium price jumped 17.5% in the year to Q1 (54), while the median home price in Queens rose 20.7% (55).
(51) Case Shiller (52) Douglas Elliman Manhattan sales Q1 2015 (53) Douglas Elliman Rental Q1 2015 (54) Douglas Elliman Brooklyn Sales Q1 2015 (55) Douglas Elliman Queens Sales Q1 2015
MADRID (Approaching with caution)
Madrid is a vibrant market that stands out as among the most promising in Spain as the national economy continues to pick up in the wake of the recession. The end of 2014 saw the country record its third consecutive year of annual GDP growth (58), and forecasters expect to see that growth nearly doubling to 3% in 2015. Many commentators believe that Spain's economy has reached a turning point on the road to recovery, driven in large part by the consolidation of the tourism industry (59), the recent drop in oil prices (60) and the country's low-risk international exposure (61).
There are emerging signs that Madrid's property prices are ready to bounce back, with wealthy Latin American buyers beginning to re-enter the market after a decade-long rollercoaster ride that saw the 2008 peak followed by a price drop of 44.6% (62). Sales activity was up 17% in 2014 (63);and prices grew 1% in February 2015 (64), but the market retains disparities and insecurities that make it difficult to be entirely confident of ongoing stability. There is growing demand for residential properties in Madrid, and supply is very limited – the number of new home completions in 2013 was 93% lower than the market's peak in 2008 (65) – so there is a feeling that prices could continue to rise. However, for the time being ongoing instability of this market will see investors remain cautious as they wait for further signs of security.
(58) Savills World Research Spain Investment Market Report February 2015 Savills World Research 59 Spain Investment Market Report February 2014 (59) Savills World Research Spain Investment Market Report February 2014 (60) Savills World Research Spain Investment Market Report February 2015 (61) Funcas Spanish Economic and Financial Outlook March 2015 (62) Fotocasa.es via Financial Times (63) Property Wire (64) Fotocasa.es via Financial Times (65) Knight Frank Residential Research Spanish Prime Residential Insight September 2013
SYDNEY (Approaching with caution)
Sydney has been a favourite for investors in Australia for some time. Capital growth in the city remains high, with an increase of 9.7% in the 12 months to March making it the stand-out performer nationally. In addition, the well-performing rental market, with a vacancy rate of just 1.6% (66), is keeping yields at a healthy 4.3% (67).
However, the strong focus on Sydney from many investors has resulted in an overvaluing of the city's real estate market that only continues to grow. The median apartment price reached AUD600,000 in March, and SQM predicts recent movement is shifting the market to the point where it will be 40% overvalued. There's no doubt the fundamentals are there in Sydney, with high population growth, a stable economy and unemployment beneath the national average, but we'd urge investors to remain cautious for now.
(66) SQM RESEARCH (67) RP DATA April national news release
Courtesy: IP Gloabal

For further information please contact:
Mark Bennett on +27 31 566 4605 or [email protected]