KwaZulu-Natal - Zimbali Coastal Resort a resounding success
Zimbali Coastal Resort, Kwazulu-Natal's premier integrated resort and leisure development, is now sold out.
Over a 12 year period, Zimbali has attracted investment in excess of R5bn and fully realised the vision of Tongaat Hulett and IFA Hotels & Resorts, the joint venture partners responsible for the development since 2003.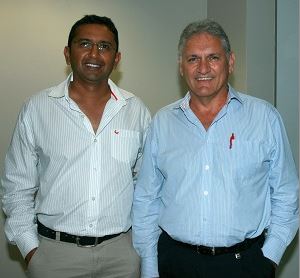 Dayalan Chetty Executive at Tongaat Hulett Developments and Phillip de Sylva, Senior Vice President Operations (African & Indian Ocean) for IFA Hotels & Resorts
The partnership has succeeded in its plan to create a trend setting integrated resort development that provides a distinctive and secure environment which complements and conserves the natural eco-system of the area.
Zimbali has won numerous international awards for the best integrated resort in Africa and is regarded as the successful example of an integrated resort development in South Africa. Keys to its success include the impressive fauna and flora, security, estate management and the amenities. Other factors that have undoubtedly contributed are the proximity of the new King Shaka International Airport and the explosive development of Ballito, shifting Zimbali from a predominantly holiday home destination towards one that now offers a permanent home.
The residential component of the Zimbali Coastal Resort comprises two estates - the Coastal Forest Estate, which includes the Beach Estate, and the Golf Course Estate.
Dayalan Chetty, said the evolution of the estate had proceeded positively over the past 12 years with the fallout from the 2008/9 global economic downturn that severely impacted the local property sector being largely contained. "Because Zimbali is a quality offering, the impact was less severe. It has been a well-established brand which provided protection from the global impact," he said.
During the course of development, the joint venture partners responded to market shifts and adjusted the product mix. In addition to single homes, they introduced cluster sites.
Phillip de Sylva, Senior Vice President Operations (African & Indian Ocean) for IFA Hotels & Resorts, said that IFA's considerable investment in the Fairmont Hotels and certain leisure components was almost complete with the Zimbali Suites that are currently under construction. He believes that there is a strong synergy between the residential and leisure components, with the latter playing an important role in enhancing the overall lifestyle experience.
These leisure components include the Zimbali Vacation Club, a weekly vacation ownership club targeting mainly Gauteng buyers, the Fairmont Heritage Place, a private Residence Club offering that appeals to frequent overseas travellers, the five star Fairmont Hotel and the Fairmont Zimbali Lodge.
Other leisure components include the Zimbali Country Club, the Tom Wieskopf signature 18-hole golf course, the Valley of the Pools, the Bushbuck Club and activities that include tennis and squash, birding, cycling, walking trails and more.
The knock on effect on the regional economy has been substantial, creating both business and job opportunities. The development has also added substantially to the region's municipal rates base.
Companies within both Ballito and Umhlanga and, in particular, many architects, building contractors and interior decorators, have benefited. The retail component of Ballito has boomed with a result that the region continues to see the development of new shopping facilities, including the recent announcement of a new regional shopping centre.
Chetty said that the success of this development was testament to the strong relationships that had formed between the JV partners and [MD1] KwaDukuza local and Ilembe district municipalities, KZN Province as well as to the confidence that these authorities have in the joint venture's ability to deliver a development of this quality.
"According to our records, contractors moving through the gates on a daily basis numbered between 3 000 and 4 000. Now that the bulk of construction is complete there are still about 3 000 employees [MD2] entering the complex on a daily basis. This indicates that Zimbali continues to generate employment," Chetty pointed out.
For investors, Chetty said that exceptional house price growth has delivered significant return on investment with sellers at Zimbali.
"Zimbali is just one of the examples of residential developments within Tongaat Hulett's portfolio. Others include Mount Edgecombe Estate 1 and 2, Izinga, and the more urban Umhlanga Ridge Town Centre and Ridgeside. Other exciting developments are being planned further up the north coast including the joint venture's next major development, the Zimbali Lakes, which is currently in the final stages of planning," he said.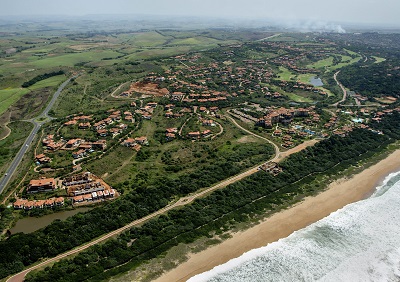 An aerial shot of the Zimbali Coastal Resort.
Issued by: Tongaat Hulett & IFA Hotels & Resorts

Key contacts
Shirley Williams Communications – Shirley Williams
Telephone: 031 564 7700 or 083 303 1663
Michelle Jean-Louis - Communications Executive
Telephone: 032 439 4101
Dayalan Chetty: Tongaat Hulett Developments
Telephone: 031 560 1900
Phil de Sylva: IFA Hotels and Resorts.
Telephone: 032 538 1205
About Tongaat Hulett
Agriculture and agri-processing is a fundamental element of socio-economic development in Africa - particularly in the development of rural communities, farming activities, food security and water management, housing and land conversion to development as urban areas expand. This is also linked to the socio-political dynamics of the region. Tongaat Hulett is well positioned in the nexus of these dynamics.
Tongaat Hulett is an agriculture and agri-processing business, focusing on the complementary feedstocks of sugarcane and maize. Its ongoing activities in agriculture have resulted in the company having a substantial land portfolio within the primary growth corridors of KwaZulu-Natal with strong policy support for conversion at the appropriate time. A core element of Tongaat Hulett's strategic vision is to maximise the value generated by optimum utilisation of land in the portfolio through its conversion to the most productive land use thereby optimising total real estate investment on the land.
About IFA Hotels & Resorts
Listed on the Kuwait Stock Exchange, IFA Hotels & Resorts (IFA HR) is a worldwide leader in the development of mixed-use hotel and residential resort projects as well as luxury leisure services. The company's main shareholder is Kuwait-based International Financial Advisors and it currently has a market capitalisation of $US1billion.
In 2010, IFA HR created IFA Hotel Investments (IFA HI) to provide strategic direction to its operational assets and to expand its portfolio within the hospitality industry. IFA HI's role is to lead, on a worldwide scale, IFA HR's operational asset portfolio including its hotels, hotel condominiums and other commercial ventures. IFA HI also oversees the company's private residence clubs and vacation clubs, including its newest venture in this arena – Aria Vacation Club. IFA HI focuses mainly on assets in emerging markets; an area in which the company has an advantage through applying proven formulae of asset class diversification. Other leading expansion efforts in developed markets is YOTEL, the world's most radical hotel concept, in which IFA HR has a majority stake and which IFA HI oversees.
To enrich its understanding of the markets in which it operates, IFA HR enters into strategic alliances and joint venture partnerships with leading local companies, such as it has done with Tongaat-Hulett Developments in South Africa.
With a proven track record of delivering integrated resorts through international hotel brands, IFA HR is one of the few global real estate developers that have demonstrated the ability to sell, develop and asset manage the full range of real estate vacation products to an international audience. Visit ifahotelsresorts.com and www.ifahi.com