United Kingdom - The lead destination for wealthy investors and entrepreneurs
Knight Frank Wealth Report
UK is the lead destination for wealthy investors and entrepreneurs
London, UK – The UK has been a top destination for investor visa applications from wealthy individuals (those with a net worth of more than $1m) - over the past decade, according to Knight Frank's Wealth Report, which includes exclusive data provided by global immigration specialist Fragomen.
Over the decade to 2013 (latest data) the UK saw the arrival of 114,100 High Net Worth Individuals (HNWIs), compared to Singapore, with 45,000.
More than 60% of these individuals originated from Europe, but with substantial numbers also coming from China, Russia, India, the Middle East (especially Saudi Arabia, Syria and Turkey) and Africa (led by South Africa, Nigeria and Egypt).
Liam Bailey, Global Head of Research at Knight Frank said: "The biggest story in terms of wealth-exporting nations is undoubtedly China. It is estimated that 76,200 Chinese millionaires emigrated or acquired alternative citizenship from 2003 to 2013. They are a significant force in Europe, and dominate Asia-Pacific schemes – with around 90% of applicants for Australia's Significant Investor Visa coming from China."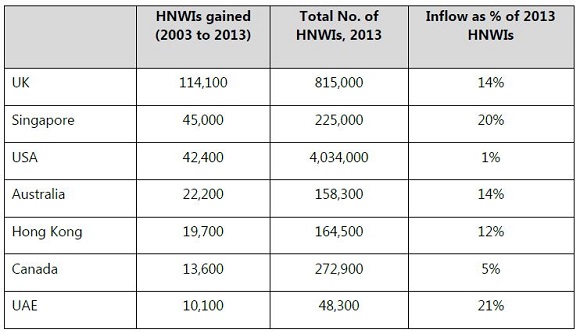 Countries with biggest inflows of HNWIs (past 10 years)
In Asia, Singapore has seen strong migration of HNWIs from China, India and Indonesia. Flows into the US predominantly come from the UK, India and Russia; although Fragomen notes that the US EB5 programme saw record applicant numbers from China in 2014.
Demand for entry to Australia has been boosted by strong inflows from across the Asia-Pacific region (India, China, Indonesia), as well as the UK, Europe and South Africa. Unsurprisingly, Hong Kong's now closed CIES programme saw most of its new HNWIs come from China.
"India's wealthy migrants tend to favour the UK, the US and Australia. French and Italian HNWIs prefer the UK and Switzerland. Some 73,000 Russians received foreign passports in 2013/14, the majority of the HNWIs amongst them focussing on the UK and the US.
Nigerians have been a growing source of demand for high-value investor programmes, with the Citizenship by Investment Program of the Federation of St. Kitts and Nevis a notable target.
Nadine Goldfoot, a partner at Fragomen who heads their Worldwide Private Client Practice, said: "We are continuing to see increasing interest in citizenship and residency planning for high-net worth individuals from across the globe. This growing trend of investor migration is spurred by globalized markets, geopolitical instability and the international outlook of our clients."
Countries with biggest outflows of HNWIs (past 10 years)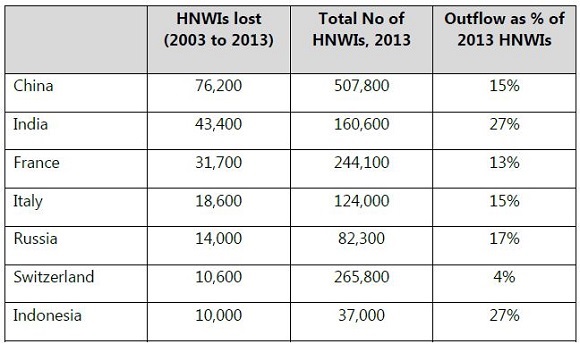 Courtesy: Knight Frank

For further information, please contact: