Global Cities Survey - Singapore to challenge London in the eyes of the Super Rich
Knight Frank Wealth Report
Singapore to challenge London in the eyes of the Super Rich
London, UK – Whilst the UK's Capital will remain the single biggest centre for global Ultra High Net Worth Individuals (UHNWIs) - those with $30m in assets or more – Singapore's rapid growth is set to challenge the city's dominance over the next decade.
Knight Frank's Wealth Report shows that London will hold the top spot for the next ten years with the most number of UHNWIs, but Singapore will have closed the gap with a 54% growth in its population of the super-rich during that period.
London currently tops the rankings, with 789 more UHNWIs residing in the Capital than its nearest rival Tokyo. However, the pace of Singapore's growth will mean the gap between it and London will narrow over the next decade, meaning that by 2024 Singapore's UHNWI population will be short of London's by just 292 Individuals With the exception of London, European cities will see a relative decline in the size of their UHNWI populations over the next decade. Europe's relative decline will be mirrored in North America, Australasia and even the Middle East, but the Asian powerhouse will continue to flourish with a 91% growth in their super wealthy population.
Cities with greatest forecast 10-year UHNWI growth (2014-2024)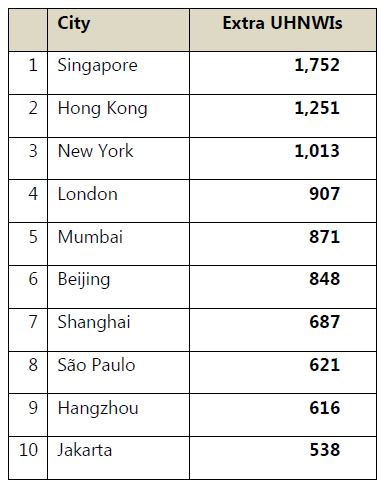 The top ten cities with the highest projected growth in UHNWIs over the next decade are all found in Asia. However, the report has also highlighted the emergence of wealth centres such as Addis Ababa and Belgrade, whose UHNWI populations are expected to grow by around 105% and 72% respectively over the decade.
Liam Bailey, Global Head of Research at Knight Frank, said: "The most rapid growth in wealth will be seen in the likes of Ho Chi Minh City, Jakarta, Mumbai, and Delhi. One fifth of the 100 global cities assessed in the Wealth Report are expected to see greater than 100% growth over the next decade, all of which are in Asia or Africa."
"The geographic concentration of wealth remains a key trend– with 10% of all additional growth in UHNWs taking place in just five cities – Singapore, Hong Kong, New York, London and Mumbai over the next decade."
London is currently host to more than double the number of UHNWIs with 4,364 more than its nearest European rival, Frankfurt, which is home to only 1,909. Asia already has three cities – Tokyo, Singapore and Hong Kong – in the top five destinations where the super wealthy live.
Where do the wealthy really live?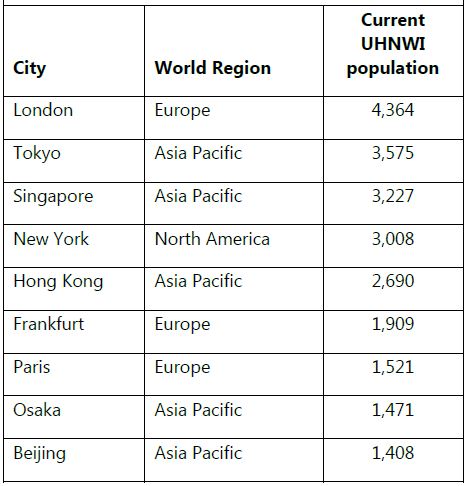 Knight Frank combines an assessment of unique city level UHNWI population counts, and its UHNWI Attitudes Survey to rate a city's business links, economic activity and lifestyle offer to create the Global Cities Survey. This year the index was expanded to 40 cities for the first time, canvassing data from 108 major metropolitan centres to rank their UHNWI population numbers.
Liam Bailey explained: "Our Global Cities Survey covers those cities where the wealthy congregate, work, invest, are educated and spend their leisure time. Future forecasts for wealth populations and judgements of the changing influence of cities from our Attitudes Survey underpin our forecast for the top 10 cities in 2025. London and New York will vie for top spot over the next decade with New York being the final winner in 2025 and Asian cities becoming increasingly important over Europe."
Knight Frank's Global Cities Survey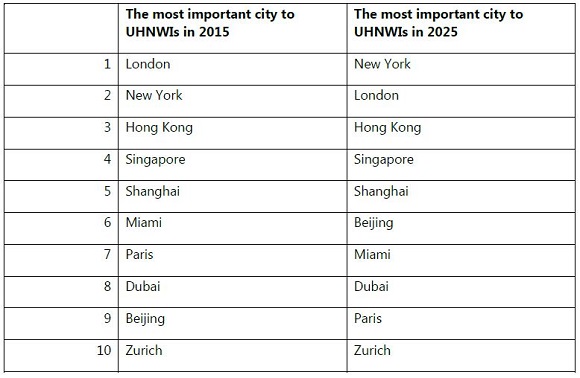 Courtesy: Knight Frank

For further information, please contact: